A redevelopment project that includes a hotel, apartments and offices at Clay Terrace shopping mall can move forward after the Carmel City Council agreed Monday night to rezone a portion of the 578,000-square-foot retail center.
Already, the project is having impacts on existing businesses, including Village Home Furniture and Clocks, whose owner said it plans to close the store this month, rather than move.
Columbus, Ohio-based Washington Prime Group filed plans in February to diversify Clay Terrace, located at southwest corner 146th Street and U.S. 31, with a planned 140-room hotel, 290 apartments, 200,000 square feet of office space and an additional 70,000 square feet of retail. Those plans were delayed due to COVID-19, but the project's first phase is still moving forward without much change, the company said.
"The number of residential units is about the same as what we've carried all along. The amount of retail, the hotel is the same size," Lisa Callahan, Washington Prime Group's senior vice president of mixed-use development, said earlier this month. "We've just scaled back a bit of the office."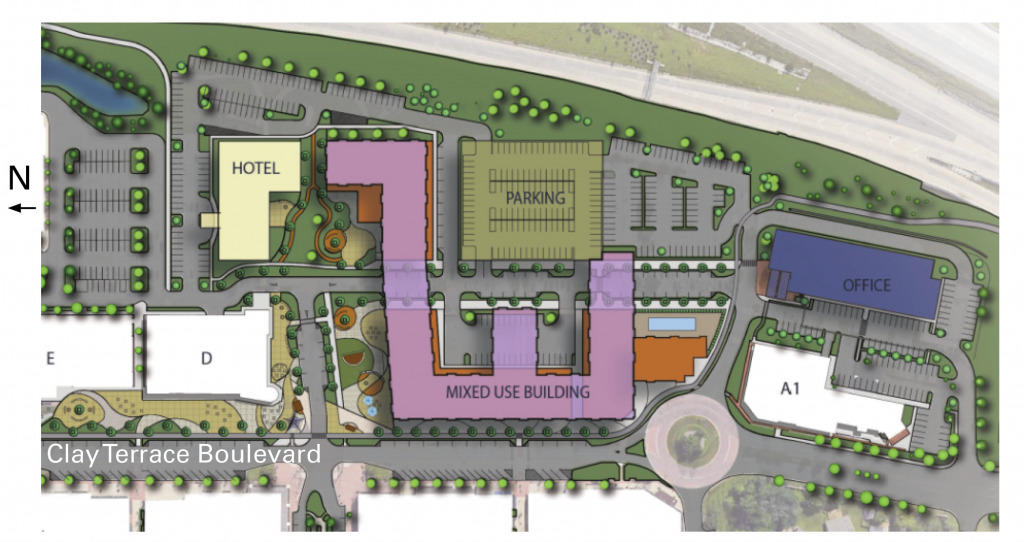 The mall's first phase of redevelopment will replace a vacant former restaurant building near U.S. 31 with a four- to six-story office building. Three other buildings on the east side of Clay Terrace Boulevard will be vacated and demolished to make way for a mixed-use building, featuring commercial space on the first floor and four stories of luxury apartments up top.
Callahan said Washington Prime is relocating four of those buildings' tenants within the mall, but she did not say which ones.
"While still in the early stages, we are excited about the mixed-use redevelopment project planned at Clay Terrace, which will benefit existing tenants, generate strong future leasing demand and solidify the town center as the place to shop, eat, play, work and live in the Carmel area," Callahan said in a written statement to IBJ.  "Additional details will be shared when we are able."
Village Home Furniture and Clocks is one tenant that will be displaced by the redevelopment. The business opened in Zionsville in 1972 before relocating to 14390 Clay Terrace Blvd. in 2012.
Owner Andy Brogden moved the store to Carmel for Hamilton County's growth, stepping up from a 1,200-square-foot showroom to a 3,000-square-foot showroom. He would've liked to keep the store open another three years, but he said he'll likely close the business for good on Dec. 31.
"I wasn't quite anticipating it yet," Brogden said. "It forced my hand, but as I've learned in life, one door closes and another opens."
Brogden said Jimmy Johns and Solid Core are both relocating to other parts of the mall, but he didn't feel it was worth the risk. He's now planning to focus on his other job as a sales representative for Montreal-based Elran Furniture. As for the clock business, he said one of his employees, Dave Grannan, will transition the repairs aspect of the business to his home.
"We tried to maybe just move the store, even within Clay Terrace, but we just couldn't come up with what I felt was a reasonable rate," Brogden said. "Growing pains are going to be tough, but I can see why the center is doing it. I'm just the small cog in that wheel. Sometimes you get chewed up, and sometimes you don't."
Other facets of the Clay Terrace redevelopment include a new parking garage, nestled between the new mixed-use building and the highway, and a hotel just north of those developments.
Council member Tim Hannon expressed concerns about Washington Prime's plans to reduce the width of Clay Terrace Boulevard, from two lanes in either direction to just one.
City spokesman Dan McFeely said Washington Prime is planning to file for the necessary demolition permits before the end of the year, but it will still need to go before the city's plan commission for a final design and architectural review.
He said the city expects Washington Prime to file those plans before the end of the first quarter of next year.
"Washington Prime worked pretty hard with the neighbors and the tenants, so when it came to this rezone there were no remonstrances and it went through pretty quickly because they'd put in the work beforehand," McFeely said. "We're just glad they're reinvesting in the property."
Also at Monday's meeting, the council voted on next year's leadership. Council member Sue Finkam will be the council's president and council member Kevin Rider will be vice president. Each vote was unanimous, with council member Bruce Kimball absent.
Please enable JavaScript to view this content.