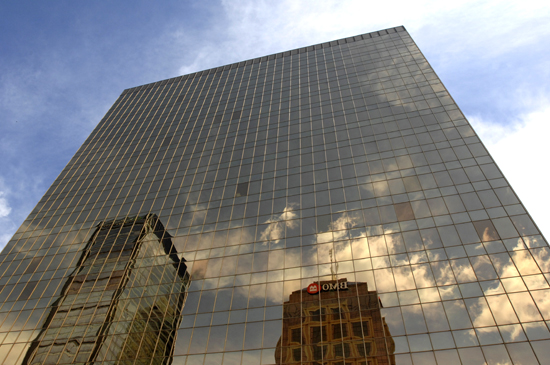 The downtown high-rise known as the Gold Building might not have its iconic shine for much longer, as its owners eye a new look for the property.
Indianapolis-based owners Gershman Partners and Citimark plan to strip the gold-tinted glass from the 20-story building at 151 N. Delaware St.—formally called Market Square Center—and replace it with a more neutral facade.
The plans were shared in public filings ahead of the city's Regional Center Hearing Examiner meeting scheduled for May 14. They call for replacing the existing curtain wall with"crystal gray" glass panes developed by Minnesota-based architectural glass fabricator Viracon.
"The replacement is sought due to the age and inefficiency of the existing system," the filing for the project says. "Additionally, replacing existing gold glass panes on an individual basis has not been successful, due to the differences in glass color."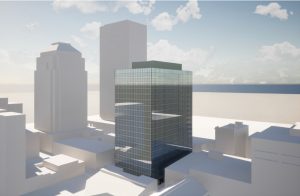 The overhaul would feature a complete glass replacement from the third floor through the 20th, and the addition of snap-on mullion caps that match the new glass. An alternate plan also calls for spandrel, or opaque, glass on the first two levels of the building to replace metal paneling.
The plan to revamp the structure comes a little over one year after the companies bought the Gold Building and the office building at 251 E. Ohio St., plus the parking garage between the two buildings, in March 2019 for a combined $30.8 million.
At the time, Gershman principal Eric Gershman told IBJ the developers were "exploring everything," in terms of overhauling the building.
He said there would also be a focus on keeping it primarily for office uses and improving the street-level portion of the building "to make it more connected to the neighborhood."
The Gold Building, constructed in 1975 and designed by Indianapolis firm Wright Porteous & Lowe, has about 420,000 square feet of office space. The 283-foot structure is the 19th-tallest building in Indianapolis and 23rd-tallest in Indiana.

The Architect's Newspaper, a trade publication, first reported on preliminary plans for the structure's redesign in October, but Gershman declined to discuss the project at that time.
In May 2017, former owner Mission Peak said it planned to spend $8 million on improvements and was contemplating enclosing the walkway between the two office buildings—plans that never came to fruition.
Gershman previously said current ownership hasn't ruled out doing something similar. He declined to comment on the new proposal.
Indianapolis-based firm DKGR is the architect on the redesign.
Please enable JavaScript to view this content.