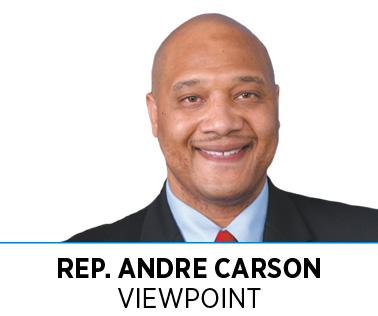 Earlier this year, a member of the extremist House "Freedom Caucus" took to social media to criticize a "Refugees Welcome" sign outside my office.
The sign sat outside my office since the early days of the Trump presidency, when daily, cruel attacks coming out of the White House led to a rise in xenophobia and Islamophobia. This wasn't a shock. There is a small but vocal—and growing—minority of extremists in Congress who have built their platforms off anti-immigrant messaging.
While this member sought to turn our sign into a political statement, to me it has always just been a symbol of my love for our country and what makes it great culturally, socially and economically: immigrants.
The week of Sept. 8-17 marks Welcoming Week, a celebration of being welcoming and inclusive to all. It's about living up to the values of our country but also ensuring a diverse, ready workforce to meet the demands of the 21st century.
Soon, the House of Representatives will vote on the Farm Bill, a package addressing the impact on farming livelihoods, how food is grown and what foods are grown. While this package goes through the House Committee on Agriculture, I will continue to support ways to empower immigrant workers, address labor shortages and provide a pathway to self-sufficiency. This is not just a moral issue but an economic one. Our country needs more workers to support the ever-changing agriculture industry.
As a co-sponsor of the Farm Workforce Modernization Act, I'm advocating for flexibility for employers and critical protections for workers. The goal is to help American farmers sustain their business while ensuring foreign workers are treated fairly and given paths to self-sufficiency.
Developed with farmers, agricultural stakeholders, labor organizations and farmworker advocates, this bill reforms the H-2A program, which brings foreign workers to the U.S. for temporary or seasonal work. The demand for H-2A workers has nearly quadrupled in the last decade, accounting for 10%-15% of the farm workforce. It's important to note: H-2A workers are hired only after farmers are not able to hire domestically. H-2A workers are about filling a necessary labor shortage gap. Without them, American farm owners would be left without the labor to keep their businesses afloat and America's agriculture industry could not survive.
The number of self-employed and family farmworkers declined by 74% from 1950-1990, necessitating the rise of hired farmworkers. Without addressing labor shortages, our reliance on imported crops grows—contributing to job loss and higher food costs for all Americans.
In Indiana, the agriculture industry contributes $35.1 billion to our economy. As the industry evolves, we must continue fighting for its long-term success. The immigrant community cares about the same issues as every other American. Supporting foreign agriculture workers is supporting the agriculture industry and our state as a whole. It's also key to recognize the importance of providing a pathway to citizenship. As United Farm Workers President Teresa Romero said, "If you feed America, you have earned the right to stay in America."
Being a welcoming city and state isn't a political statement—it reflects our state's core Hoosier hospitality values. Welcoming Week is about ensuring everyone is given the same respect and humanity. I will always fight to protect any worker in America from unfair and inhumane treatment, which is a reality for far too many foreign farmworkers. We must protect their rights and ensure our state's economy and vibrant culture remains strong.•
__________
Carson, a Democrat, represents Indiana's 7th Congressional District in the U.S. House.
Please enable JavaScript to view this content.