West-side business leaders had high hopes that a rapid-transit line along West Washington Street would usher in a wave of increased economic development, improved sidewalks and drainage, and safer walkways.
Now that IndyGo has rerouted the planned Blue Line to bypass the area west of Holt Road due to the project's increasing costs, neighborhood leaders fear they have lost out on a once-in-a-generation opportunity for economic expansion.
"I'm not sure if there's anything in line that's going to make up for that loss," said Brandon Fishburn, president of the Westside Chamber of Commerce.
The area received a bit of good news this week when Mayor Joe Hogsett announced the city would spend $20 million on infrastructure improvements on West Washington Street from Holt Road to Lynhurst Drive, part of the section that has been cut off from Blue Line plans.
Fishburn said he's pleased the city found some money for improvements after IndyGo changed direction. But he and others remain disappointed that the area is missing out on the original $52 million in area infrastructure improvements the Blue Line was once scheduled to bring, along with the residential and commercial development that was expected to follow.
Many west-side business leaders were hoping for the kind of economic boost that has been seen along the Red and Purple Lines, IndyGo's two other bus rapid transit routes.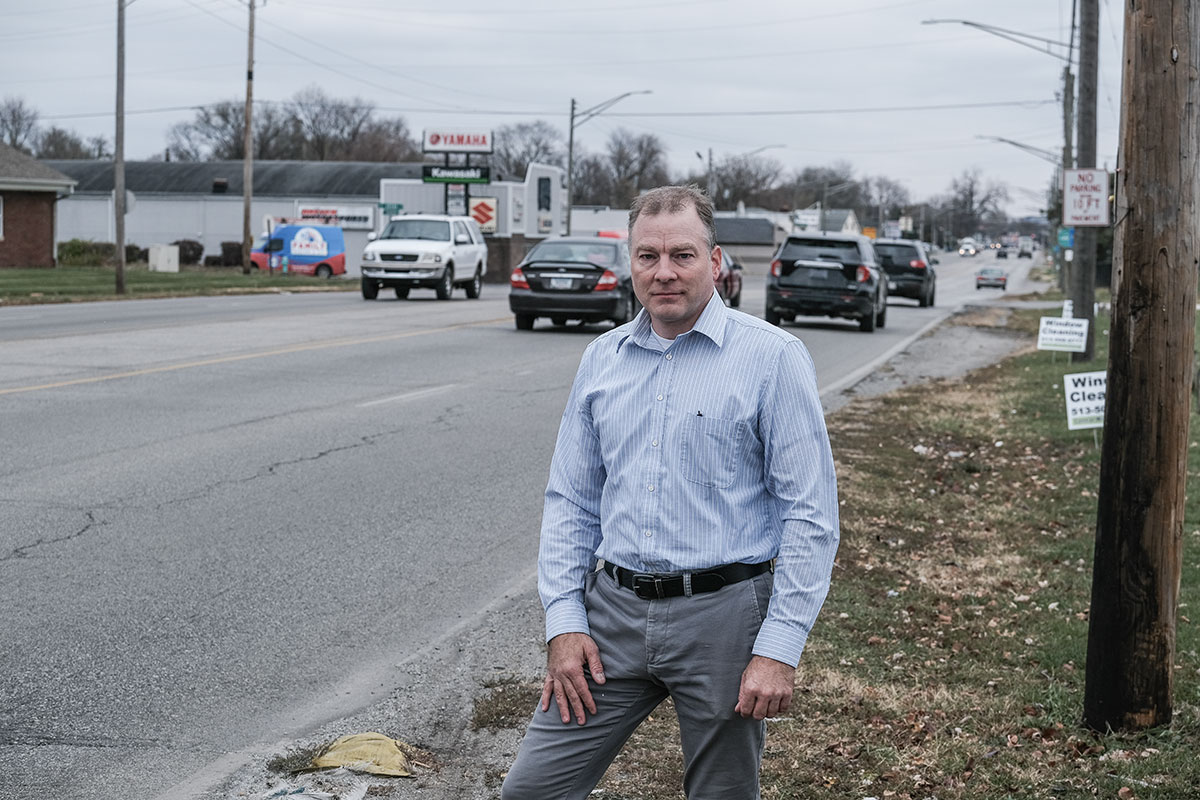 "While a long-term analysis along the corridor will provide the best review of property value impact, we've seen a boost in housing, commercial and retail development along the Red Line, and the Purple Line currently under construction," Lacey Everett, political director with the Metropolitan Indianapolis Board of Realtors, said in a written statement.
Everett noted that some buyers have been willing to pay more than asking price for property along the Red Line in order to gain better access to convenient transit.
Business leaders figured the west side would benefit just as much from rapid transit because the current, standard bus route along West Washington Street—Route 8—is IndyGo's second-most popular, behind the Red Line. It had 63,800 riders in October and nearly 700,000 year-to-date.
That's just one of the reasons that Jared Evans, the area's city-county councilor, and local business groups such as Indy Gateway Inc., the West Side Chamber of Commerce and the Indy Chamber were supportive of the project.
"Folks on the west side are interested in development," said Rick Proctor, former president of the West Side Chamber of Commerce. "And the transit-oriented development that would come from a built-out Blue Line that runs from downtown all the way down Washington Street to the airport and potentially on into Plainfield—it would bring a tremendous amount of private investment."
Lisa Bentley, executive director of Indy Gateway—an organization formed in 2015 to redevelop the West Washington corridor—said several developers were interested in the area but never made commitments because of constant pushback against the Blue Line project by Republican legislators at the Statehouse.
Altered route
The Blue Line was initially slated to run along West Washington Street all the way from Cumberland to Indianapolis International Airport.
But when estimates came in $300 million over budget, IndyGo redesigned the route to leave West Washington at Holt Road, instead taking an express route from that point to the airport on Interstate 70. That would save the cost of building the last seven bus stations planned for West Washington.
In another cost-cutting move, the agency decided to use hybrid buses, rather than the all-electric fleets designated for the Red and Purple Lines.
"The cost of the segment, the ridership in the area, design delays, property acquisition and the request for alternative analysis on the segment were all significant factors in not moving forward with segment one at this time," IndyGo said in a written statement.
The ballooning cost was not the project's only setback.
Several Republican lawmakers from Indianapolis have objected to the Blue Line's permanently taking over an existing lane of Washington Street, expressing concerns about traffic congestion. Some also attempted to pass legislation that would have taken away some of the agency's local tax revenue if IndyGo continued to fail to meet a private fundraising threshold established in a 2014 law.
Evans, a Democratic city-county councilor, blamed frequent legislative interference for delays that resulted in the rising costs and the diversion of the Blue Line from West Washington Street. To help make up for corridor's loss of that project, he worked with the mayor's office to secure the new $20 million in city funding for infrastructure improvements in the area.
The Blue Line's rising costs were revealed at an IndyGo board meeting in August. Updated estimates showed it would cost $520 million to build five of the Blue Line's six segments, up from a 2019 estimate of $220 million to complete the entire 24-mile project.
Now, even after rerouting the final segment and converting to hybrid buses, "there is still a significant gap in the project budget IndyGo is working to address," IndyGo spokeswoman Lesley Gordon said in an email.
The agency's board approved the proposal to swap out hybrid buses at a Nov. 17 meeting. The change—which requires only 18 to 22 hybrid buses instead of the planned 55 electric buses—will save IndyGo $93 million.
State Sen. Aaron Freeman, a Republican who sponsored the tax-punishment bill, said IndyGo and its supporters could have had what they wanted had the transit agency been willing to share its traffic lane on Washington Street with other vehicles, rather than insisting on a dedicated lane.
He said the entire rapid-transit project has been mismanaged and called IndyGo a "failed organization."
IndyGo said it would have received less federal funding for the project had it used only shared lanes or less than 50% dedicated lanes.
Hope for safer travel
Increased development wasn't all west-side leaders were hoping for from the Blue Line.
They were also expecting sidewalks, better drainage and better transit. The original Blue Line route also included stops at major employers FedEx and Infosys on airport property, along Perimeter Road. The express route skips Perimeter Road, and its only airport stop is at the terminal.
West-side residents affectionately refer to the heavily trodden dirt on either side of West Washington Street as "cowpaths."
"It's just where residents have to walk in muddy areas on either side of a busy street, ultimately causing that West Washington Street corridor to be highlighted as one of the more dangerous areas of town to walk," said Proctor, the former West Side Chamber president. "And yet, residents don't have a choice. If you're trying to catch the bus, you have to walk there."
A study that analyzed crashes involving pedestrians from 2010-2014 named Washington Street west of Holt Road as one of the 10 most dangerous places to walk in Indianapolis. In early October this year, a pedestrian was struck and killed by a driver on West Washington Street.
Some of these concerns will be addressed by the city's new $20 million commitment for improvements from Holt Road to Lynhurst Drive. Area residents applaud the investment but say they will continue to push for upgrades farther west, to High School Road.
"Our community deserves the amenity of sidewalks, sewers and reliable transportation," said Bentley, the Indy Gateway chief.
Despite the setback, some remain hopeful that economic growth will come.
"I know that movement can take place," Proctor said.•
Please enable JavaScript to view this content.