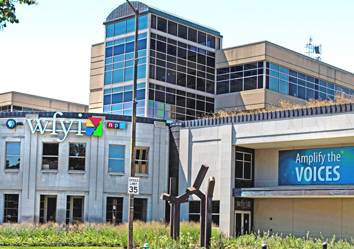 The operator of local public radio station WFYI-FM 90.1 has agreed to take over Purdue University's 99-year-old WBAA station, which also features content from National Public Radio.
WBAA is the longest continuously running radio station in the state, according to WFYI. Terms of the deal were not announced.
The university announced Thursday that it had signed a letter of intent for the transfer of both WBAA's AM and FM stations to Metropolitan Indianapolis Public Media, the parent firm of WFYI. It still must be approved by Purdue's Board of Trustees, which is expected to discuss the transfer of the station's broadcasting license on July 7.
WBAA is expected to keep its call letters and maintain a physical presence in West Lafayette while continuing to report on local news, station officials said.
Given approval from the board and Federal Communications Commission, MIMP would assume operations on or around Oct. 1.
"Like we've seen done at many other higher education institutions, Purdue University has been looking for a public radio partner to lead WBAA toward its next 100 years in Greater Lafayette," said R. Ethan Braden, Purdue senior vice president for marketing and communications, in a media release.
"We believe this agreement represents enhanced opportunities for our students, it preserves the experience that listeners enjoy today, and it extends WBAA's reach and public service offerings," Braden said.
WBAA's website lists eight staff members, including journalists, managers and fundraisers. A statement from the station says that MIMP intends to retain "several" WBAA employees.
Purdue students will have expended internship and development opportunities both locally with WBAA and through the larger WFYI organization, the station said.
WBAA first received its broadcasting license in 1922 and is a member of Indiana Public Broadcasting Stations. WBAA is broadcast on 920 AM and 101.3 FM.
Please enable JavaScript to view this content.