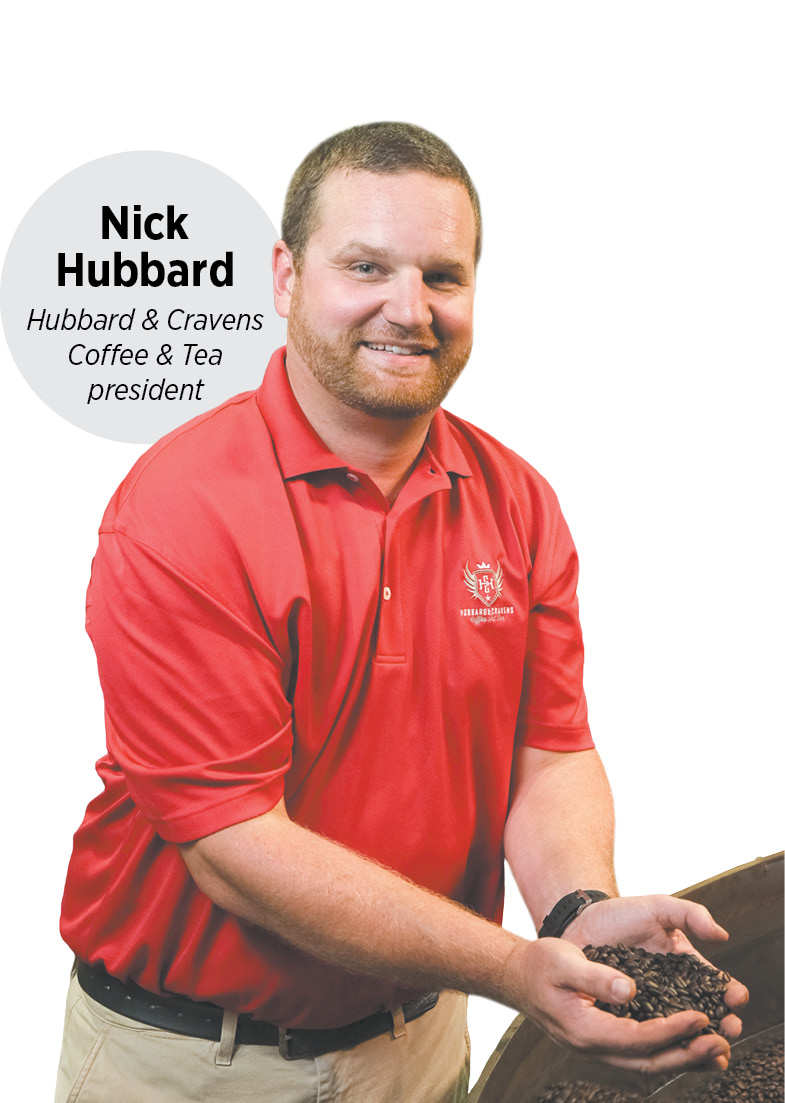 Nick Hubbard grew up working in his family's coffee business, but he didn't envision it becoming his career.
Hubbard, the son of Hubbard & Cravens Coffee and Tea co-founder Rick Hubbard, went into banking after graduating from Miami University of Ohio in 2003 and thought he'd stay there. But when his father called him in 2008 amid the mortgage-market meltdown and asked him to come work for him, he jumped at the chance.
Eleven years later, the 38-year-old Hubbard has been appointed president of the company—a position in which he oversees day-to-day operations of a growing 28-year-old retail and wholesale business with four stores, 75 employees, and annual revenue approaching $20 million.
Hubbard has immersed himself in the coffee business since returning to Hubbard & Cravens, becoming a Q Grader (a tough-to-achieve certification called the bar exam of coffee tasting) and traveling the globe to source beans.
On a recent afternoon interview with IBJ, Hubbard was on his ninth or 10th coffee of the day and wasn't finished yet.
Can you tell us about the restructuring you're doing?
We've always operated as kind of a mom-and-pop business where everybody wore a bunch of hats. You might be a delivery driver one day and package coffee the next—you'd do a little bit of everything. We've gotten to a size now where we need a bit more structure. And we've restructured the business a little bit to create more chains of command, and we've divvied up certain responsibilities that everybody here used to have a hand in.
You have four retail locations. Any plans to open more?
There are always plans to open more stores. We are contacted frequently to do more stores. But it's a big financial and time investment to open one and we have to be careful about popping stores in wherever we're offered. With all the new buildings going in, everybody wants a coffee shop. We just have to be strategic with the way we do it.
We would really like to do a roastery store where people can see us roasting the coffee, where we can show them what we're doing. It would be nice to have something with a little bit more of a lab feel to it where you can have cuppings and education classes. We're looking to do that sooner rather than later.
Have you ever considered franchising Hubbard & Cravens locations?
We have no plans to franchise as of right now. We do a couple of business arrangements called "Proudly Serving," where cafe customers use our name, but they're just serving the product. We are kind of control freaks about our products.
What's the most difficult thing about running a coffee and tea business?
Sourcing the product. You have to go a long way to get good coffee. And what we do here is visit everywhere we buy from. For example, last year I went to Sumatra. It's about 25 hours of travel to get there. And then it's hours more in a car or back of a pickup. And even if you're going from this mountain to that mountain, it's an eight-hour truck ride.
What are some of the latest trends in the coffee business?
Cold brew and nitro are hot topics. Everybody wants cold brew or nitro coffee, and we can't roast it fast enough. Nitro is cold brew but then you nitrogenate it, and it pours like a Guinness. It foams and then cascades. It changes the texture a little bit, makes it creamier.•
Please enable JavaScript to view this content.