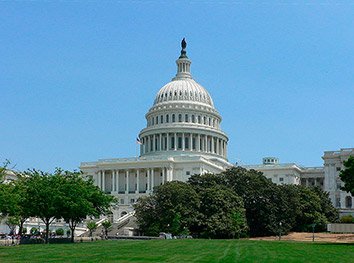 The White House and congressional leaders have reached an agreement on a $484 billion deal to replenish a small business loan program that's been overrun by demand and also boost spending for hospitals and coronavirus testing.
President Donald Trump said he would sign it into law.
"I urge the Senate and House to pass the Paycheck Protection Program and Health Care Enhancement Act with additional funding for PPP, Hospitals, and Testing," he wrote, adding a number of other issues he'd like to address in a future round of negotiations.
The $484 billion legislation would increase funding for the Paycheck Protection Program by $310 billion, boost a separate small business emergency grant and loan program by $60 billion, and direct $75 billion to hospitals and $25 billion to a new coronavirus testing program.
The new legislation would come on top of a record $2 trillion coronavirus rescue law Congress passed late last month, which created a $349 billion small business forgivable loan program aimed at keeping workers on payroll. The White House said the small business initiative ran out of money last week amid overwhelming demand as the economy cratered and millions were laid off.
"The American people are counting on Congress to put aside reflexive partisanship and work across the aisle to help our nation through this pandemic," Senate Majority Leader Mitch McConnell, R-Ky., said Tuesday.
The new agreement, which was slightly delayed as lawmakers awaited final approval from House Speaker Nancy Pelosi, D-Calif., followed two weeks of rancorous stalemate and partisan sniping after Treasury Secretary Steven Mnuchin asked Congress to add $251 billion to the Paycheck Protection Program with no strings attached. Democrats refused, holding out for money for hospitals and testing—which they got—as well as funding for cities and states, which Republicans refused to agree to.
Senate Minority Leader Chuck Schumer, D-N.Y., hailed the emerging agreement in a morning interview on CNN.
"We have a deal and I believe we'll pass it today," Schumer.
"Testing is key. We aren't going to be able to open up America unless we have a national testing strategy and the states tied into that. We got that in the bill. That's really important," Schumer said. "But we also got money for hospitals, another $75 billion."
However, there are already signs that the $310 billion set aside for the Paycheck Protection Program still might not be enough to meet surging demand for the loans.
PNC Bank has told customers that there might not be enough capacity in the program to fund all loan requests, and says any changes dictated by the White House or Congress could also complicate matters further.
"Unfortunately, with the significant volume of applications already submitted to PNC and other lenders, it is likely that not every qualified applicant will receive loan proceeds under the PPP even if Congress authorizes additional funding," PNC wrote on its website.
Officials on both sides said the goal was to pass the agreement at a 4 p.m. Senate session on Tuesday, although it was not certain whether that could be achieved. Since the Senate is not in session, agreement from all senators is required to pass the bill by "unanimous consent." If that cannot be achieved by 4 p.m., the vote could be delayed.
If the Senate does pass the bill on Tuesday, the House would probably take it up on Thursday.
Schumer said that he, House Speaker Nancy Pelosi, D-Calif., Treasury Secretary Steven Mnuchin and White House Chief of Staff Mark Meadows were on the phone "well past midnight" and that "we came to an agreement on just about every issue."
"They're still dotting the i's and crossing the t's but every major issue was resolved by the four of us last night," Schumer said.
The deal had been on the verge of completion for several days, but Democrats and Trump administration officials have been wrangling over final details, including the design of the new $25 billion coronavirus testing program. Democrats were pushing for a national approach as Republicans sought more flexibility for states.
The final agreement seems to strike a balance, requiring plans from states and localities on how they will utilize the testing funds, and also requiring a strategic plan on providing assistance to states for increasing testing and testing capacity.
The Paycheck Protection Program allows companies with fewer than 500 employees to obtain loans from banks to mostly cover payroll costs. If the firms retain employees and meet other requirements, the loans will be forgiven, paid off by taxpayers. There has been a surge in applications for these loans, and the first $349 billion was disbursed in less than two weeks when 1.6 million companies secured funding. But many other companies were unable to obtain loans, and the White House and congressional Republicans faced pressure to refine the program after it became known that some larger hotels and restaurant chains were able to tap the funds.
Of the new money designated for the Paycheck Protection Program, $60 billion would be reserved for lending by small and medium sized financial institutions.
Provisions include requiring participation by lending institutions serving minority or underserved areas, such as Community Financial Development Institutions and Minority Depository Institutions, language sought by the Congressional Hispanic Caucus and others. An additional $11 billion is included for administrative costs, meaning the total PPP spending in the bill is $321 billion.
The deal also includes another $60 billion in emergency loans and grants for a separate Small Business Administration program that is also out of money and would allow agricultural companies to qualify for these funds, as sought by some GOP senators.
Democrats failed to convince Republicans to allocate more money for states and localities. But Schumer said they'd gotten a commitment from the White House that cities and states could use $150 billion allocated in the earlier $2 trillion Cares Act to offset some of the lost revenue in their budgets. That money was initially designed to address each state's coronavirus response.
If this agreement is passed, it will be the fourth coronavirus-related bill pushed into law in the past two months, totaling close to $3 trillion in spending. Lawmakers have scrambled to deal with the economic wreckage caused by the pandemic, which has led more than 22 million Americans to file for unemployment benefits and many businesses to close.
As soon as it finishes this bill, Congress intends to begin negotiating another piece of legislation, which Democrats hope will include more money for cities and states, something President Trump has said he supports. Trump said on Twitter Tuesday that he also wants the next package to include "much needed Infrastructure Investments for Bridges, Tunnels, Broadband, Tax Incentives for Restaurants, Entertainment, Sports, and Payroll Tax Cuts to increase Economic Growth."
The $25 billion for testing and contact tracing in the pending legislation would include $11 billion for states, $1 billion for the Centers for Disease Control and Prevention, $1.8 billion for the National Institutes of Health, $1 billion for the Biomedical Advanced Research and Development Authority, $1 billion for testing the uninsured, $22 million for the Food and Drug Administration, and $825 million for Community Health Centers, rural health centers and others.
Please enable JavaScript to view this content.