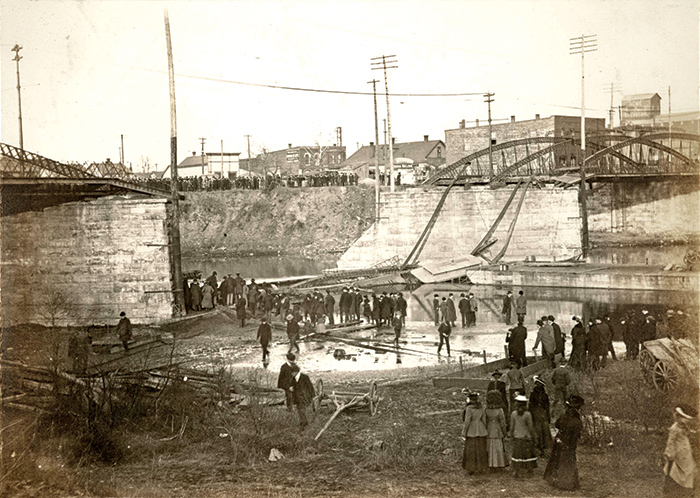 In 1870, Marion County commissioners spent nearly $48,000 to build an iron bridge to extend Washington Street west over the White River. Over the next three decades, traffic on the bridge increased significantly, leading city officials to work with the Indianapolis Street Railway Co. to spend $3,500 to strengthen the trusses and replace the bridge floor. The repairs were finished on Jan. 15, 1902—and the next day, the middle section of the bridge collapsed. A car, two trailers and four wagons fell into the water, along with 11 men and four teams of horses. No one died and only one person suffered a serious injury. But the incident drew spectators (in this photo taken Jan. 19, 1902) and critics of the railway company's work. Marion County commissioners then resumed responsibility for the bridge and planned and built a stone, arch bridge that remains today.
Sources: Annual Message of the Mayor of Indianapolis, 1904; BikeRoute.com; Indiana Historical Society
Credit: This photo is courtesy of the Indiana Historical Society. More images are available at images.indianahistory.org.
Please enable JavaScript to view this content.