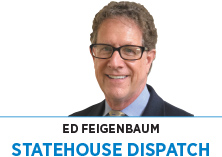 In a galaxy long ago and far away when showdowns over IndyGo funding and attorney general qualifications were legislative life-and-death issues, the General Assembly adjourned its 2020 session.
Actually, it was just March 11 when lawmakers left Indianapolis, finishing early to open up visitor lodging for the Big Ten men's basketball tournament. Then coronavirus concerns whistled it over March 12 after the initial round.
Shutting down a major event over inchoate concerns seemed an overreaction to many, but with the incredible pace of events over just the next five days, the action now seems quaint. Most are now resigned to—at best—time-shifting of the Indianapolis 500, Kentucky Derby and Major League Baseball.
Not even eight hours after adjournment sine die, legislative leaders were already contemplating whether the worldwide economic situation and social-distancing issues causing event cancellations could force a special session. "Too early to tell," said new House Speaker Todd Huston, R-Fishers, while taping a statewide public television show a few hours after gaveling out the session.
Neither the speaker nor his fellow three leaders, however, would rule out the prospect, and appeared open to it if Gov. Eric Holcomb, a Republican, deemed it necessary. "We're in uncharted waters here," acknowledged the new House leader.
Huston checked with Holcomb the weekend before he took the gavel and was assured at the time—which now seems like an eternity ago—that the governor had all the tools he needed. Huston will maintain that dialogue, and "if appropriate, we'll make those changes" to keep the state moving forward.
The speaker might be feeling a bit whipsawed. He ascended to his new role on March 9, looking forward to sprinkling around some strong state revenue collections from FY 2020 to date. But only two days later, not only might a special session be needed to address pressing fiscal issues, but an expected fiscally triumphant 2021 session had shifted course. A global recession looms—and a cash crunch is coming quickly for public, quasi-public, and private entities and workers hit by bans on public gatherings.
Rather than being the legislative candy man, Huston could become the equivalent of a wartime leader, using his fiscal expertise to help guide a legislative body—largely devoid of institutional expertise in dealing with downturns—through what could be a financial apocalypse.
Among fiscal leaders, only House Committee on Ways and Means Chair Tim Brown, R-Crawfordsville, has been involved in recovery from both 9/11 and the global financial crisis of 2008-2009 (and the bulk of lawmakers have entered the body since 2010).
Both of the state's top two taxes—sales and income (individual and corporate) are suddenly under fire for obvious reasons, and the third—gambling—is poised for a similar downturn, with casinos closed for a minimum of two weeks.
March Madness was expected to pack the casinos—basketball accounted for about half of all Indiana sports bets in Super Bowl month—but that's off the table now. Even mobile sports wagering apps won't help much in filling the state till when Class C British Darts is about the only sport left upon which to wager.
Indiana's 2019 job gains might mask a problem exacerbated by global supply chain disruption.
As the state most dependent upon manufacturing as a percentage of state output, Indiana is typically first to feel the impact of a recession, and last to fully recover. From December 2018 to December 2019, Indiana gained 4,400 non-farm jobs, but lost 8,200 manufacturing jobs. From December to January— before the COVID-19 outbreak—while private-sector employment grew by 8,400, manufacturing jobs fell by 4,800.
These will be tough times ahead for Indiana. May the force be with Huston as we shelter in place.•
__________
Feigenbaum publishes Indiana Legislative Insight for Hannah News Service. He can be reached at EDF@hannah-in.com.
Please enable JavaScript to view this content.