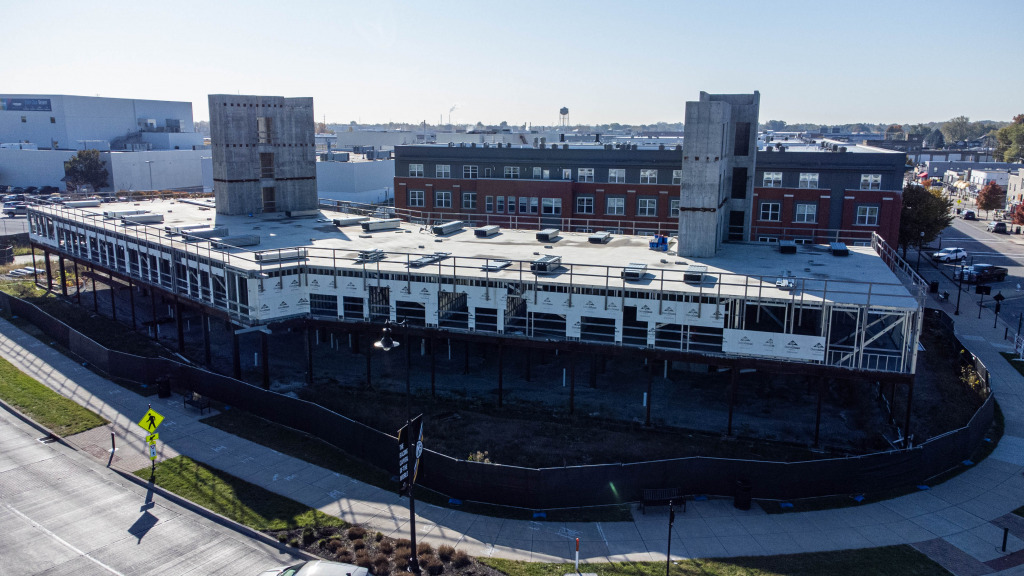 A Georgia-based development firm said Monday it hopes to take the reins of a long-delayed hotel project across from Indianapolis Motor Speedway, with hopes of completing construction by early 2023.
Hotel Equities Group of Atlanta suburb Alpharetta is conducting due diligence on the partially built, 127-room Wilshaw hotel project at the southeast corner of 16th and Main streets. It plans to assume rights to the development and finalize revised agreements with existing partners and the town of Speedway over the next several months.
Hotel Equities plans to formally acknowledge the project takeover during a Speedway Town Council meeting Monday night. The company's investment and the terms of the project's transfer from current developer Loftus Robinson have not yet been disclosed.
The town of Speedway has been considering legal action against Loftus Robinson, which signed an agreement to develop the hotel in 2016 but halted construction on the project in mid-2019. The hotel had been expected to open in 2020.
Hotel Equities is expected to take on development and management responsibilities, but maintain the existing five-story design for the Hilton Tapestry-branded hotel. Some of the current project partners will also be retained. 
The firm has far more experience in hotel development than does Loftus Robinson. It manages a portfolio of 210 hotels in the United States and Canada, including 10 in Indiana under Marriott, Hilton and IHG brands. By comparison, Loftus Robinson had only completed one hotel before signing on to the Wilshaw.
"We currently operate successful hotel assets in Indianapolis and we are excited to work in conjunction with the Town of Speedway," said Joe Reardon, chief development officer of Hotel Equities, in written remarks. "Our development services and best-in-class operations teams look forward to bringing this iconic project to fruition and becoming a lighthouse within the community. We could not be more excited to work with all project partners in the market to bring this hotel to life.
Indianapolis-based Loftus Robinson halted major work on the project more than two years ago after it encountered financial difficulties. Several liens were placed on the property when Loftus Robinson failed to pay contractors, including construction management firm F.A. Wilhelm.
Those holds, including Wilhelm's lien exceeding $4 million, have since been converted to mortgages that will be honored as part of the project's conveyance to Hotel Equities.
In September 2020, Indianapolis-based MHG Hotels boarded the project as a secondary developer to assist Loftus. It's not clear whether MHG will continue as a partner, but Loftus is expected to have a limited role with the new development team.
"We are pleased that Hotel Equities is engaged in this development, as they have a proven track record of developing hotels at various stages and managing an exceptional hospitality experience," Speedway Economic Development Director Tim Gropp told IBJ on Monday. "Tonight's meeting is an important first step in introducing the community to Hotel Equities and bringing this project one step closer to reality. We look forward to completing our due diligence and collaborating with Hotel Equities and the project partners to move this hotel forward."
Speedway officials have been frustrated by the lack of progress on the hotel over the past two years. It all came to a head earlier this year, after Loftus Robinson failed to meet a deadline in its 2017 agreement calling for substantial completion of the project by the end of January 2021.
That agreement was part of a three-party deal that also included Scannell Properties, which built the already-completed apartment component of the project directly south of the hotel property. Gropp told IBJ in February the town was considering any and all remedies for the situation.
But Monday, Gropp reiterated town officials always viewed a lawsuit as a last resort—particularly since an open line of communication with Loftus Robinson has been maintained as the parties sought a solution.
"We've talked to multiple groups and this group has looked at this project for a while, but they had to make sense of it. I think they've done that," he said. "They wouldn't be here if they didn't think they could get this done. I'm optimistic this is the right path forward, it's the right step for the town."
Gropp said the town wanted to avoid a legal fight.
"I think the knee-jerk reaction is to file a lawsuit," he said. "But by evaluating our options and seeing this path forward, this is ultimately—if it pans out—the best option."
Drew Loftus, principal at Loftus Robinson, said his firm has been working with Hotel Equities for about the past six months to finalize the deal and he's confident the hotel will be completed with the new firm at the helm.
"You can look at their track record, their history, the number of hotels they successfully operate and their financial horsepower," he said. "They check all the boxes, and I think that's what a project like this needs."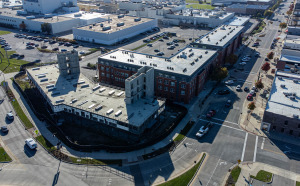 As part of the deal, Hotel Equities will need to finalize financing for the project, along with all management contracts and deals with contractors. The town of Speedway will also have to assign the existing contract with Loftus Robinson to Hotel Equities.
The firm will also need to reassess the structural steel already in place for the building, and some remediation may be necessary. Gropp said it is unlikely to need a complete rebuild, based on a structural integrity report completed this summer.
Gropp said there are hopes of completing a fourth amendment to the original agreement to update formal timelines and make it easier for the town to reclaim the project if it encounters more hurdles.
"We've talked several times about … tightening up the overall agreement and making sure that something like this doesn't happen again," he said, "So, if something did happen down the road, we would be able to easily take the project back over and go in a different direction."
In a written statement, officials with Indianapolis Motor Speedway said they're eager to work with Hotel Equities.
"Further development of this location is positive and welcome news for the Speedway community," they said. "We are excited for our new neighbor and wish the project success."
The development is named Wilshaw in honor of Wilbur Shaw, the last native Hoosier to win the Indianapolis 500. Born in Shelbyville in 1902, Shaw took the checkered flag in 1937, 1939 and 1940.
Please enable JavaScript to view this content.