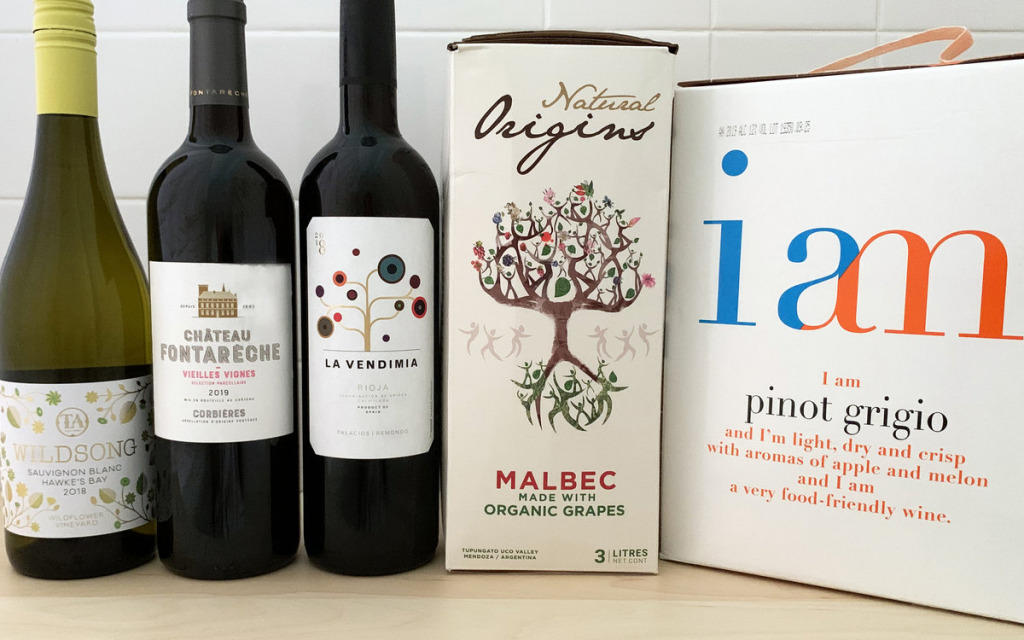 I'm always on the lookout for high-quality wine—not just drinkable, but delicious—in the box format. The bag-in-the-box keeps the wine fresh for several days and even weeks in the refrigerator, always available for a glass while cooking dinner, a splash for deglazing a pan, or a final sip while cleaning up. It is also more Earth-friendly, as producing and shipping glass bottles (full or empty) accounts for 60% of wine's carbon footprint, and much of it is not recyclable.
This week, I'm happy to introduce boxed wines that offer terrific value and quality: a variety of wines from Argentina's Domaine Bousquet, made from organic grapes in Mendoza's Uco Valley, and a crisp, refreshing pinot grigio from Italy. They are all $20 for a three-liter box, the equivalent of $5 a bottle. Enjoy—and save a little money. And remember: When you finally drain the last of these wines, tear open the cardboard box and discard the plastic liner. Then, add the box to your paper recycling. If you toss both together, the whole thing will end up in the landfill.
To complete the weekly five wine picks, we also have some worthwhile bottles: an excellent red blend from southern France, a young, vibrant Rioja from Spain and a delicious sauvignon blanc from New Zealand.
Te Awanga Estate, Wildsong Sauvignon Blanc 2018, Wildflower Vineyard
Three stars
Hawke's Bay, New Zealand, $19
"Savvie" from New Zealand can be aggressive and grassy, or tropical and exotic. It is never boring. This beauty from Hawke's Bay on the eastern side of New Zealand's north island seems to hit the alchemy just right: It tastes of wild herbs and tropical fruit, with a bright acidity that lingers on my palate while directing my thoughts to the next sip. Irresistible, that is. Alcohol by volume: 12.5%.
Palacios Remondo La Vendimia 2018
Two and a half stars
Rioja, Spain, $14
La Vendemia is a "joven," or young Rioja—that means it is aged only a few months in oak before bottling and is meant to be consumed young. This sprightly wine is a blend of garnacha (grenache) and tempranillo, with hints of spice and herbs to flavor its berry fruit. This wine brought a smile at our table. ABV: 14.5%.
Chateau Fontarèche Vieilles Vignes 2019
Two and a half stars
Corbieres, Languedoc, France, $14
Classic aromas of southern France rise from the glass: lavender, wild sage and thyme, blackberries and cherries. This blend of mourvedre, syrah and carignan delivers good depth and a long finish, too. ABV: 14.1%.
Domaine Bousquet Natural Origins Malbec
Two stars
Tupungato, Uco Valley, Mendoza, Argentina, $20/3 liter box
Wow. In addition to this tasty, gulpable malbec, Domaine Bousquet's line of Natural Origins box wine includes a cabernet sauvignon and a chardonnay. I've tried both reds, and they are outstanding. Do I really need to describe how they taste, at this price? They are freaking delicious. If you have been cutting your wine budget during this weird summer, these are wines for you. These are new to the market, and the Virginia distributor is in the early stages of marketing them, so the wines are not in stores yet but keep an eye out. ABV: 14.1%.
I Am Pinot Grigio 2019
One and a half stars
Romania, $20/3-liter box
Simple, crisp and refreshing—just what you want from a casual summer wine. Serve it well chilled. ABV: 12%.
—
3 stars exceptional, 2 stars excellent, 1 star very good
Please enable JavaScript to view this content.