Gener8tor, a Wisconsin-based business accelerator that entered Indianapolis two years ago, has sparked activity for startups that experts say wouldn't have been possible otherwise.

Accelerators are organizations that offer a range of support services and funding opportunities to help new companies flourish. Gener8tor, which has a tech focus, launched in 2012 and now has a presence in 22 cities in the United States and Canada.
"The Gener8tor founders are among the most incredibly smart individuals I've ever met, and they understand the importance of entrepreneurship and how it uplifts communities," said Aaron Vigil-Martinez, founder of the Carmel-based business consultant Mad Ventures.
"They've really perfected their startup support system and they've had a dramatic impact here," said Vigil-Martinez, who, in his former role as the Indiana Economic Development Corp.'s vice president for small business and entrepreneurship, was instrumental in recruiting Gener8tor to Indiana.
Gener8tor operates three accelerator models. The flagship—also called Gener8tor—is for startups that already have some traction. gBeta, the accelerator the organization brought to Indianapolis, is for early-phase startups. And the gAlpha accelerator, which is also here, is for entrepreneurs just getting going.
The Gener8tor umbrella organization is a for-profit business that often takes a small equity stake in companies entering its flagship accelerator.
The firms entering gBeta and gAlpha pay nothing but serve as a pipeline for the Gener8tor accelerator. The umbrella organization helps offset the costs of the free accelerators with corporate sponsorships.
Since its arrival in Indianapolis in the spring of 2018, Gener8tor has shepherded 35 Indiana startups through its seven-week gBeta accelerator. Those startups have created more than 160 jobs and raised $18 million in venture and growth capital, according to Gener8tor officials.
More recently, Gener8tor has expanded to other Indiana cities—Fort Wayne and Terre Haute—and rolled out its gAlpha accelerator here.
It also launched an Indiana accelerator focused on agbioscience and 5G-related firms and soon will launch programs here for additional business sectors.
Last year, Gener8tor and the IEDC launched the OnRamp Manufacturing Conference, a one-day event at Bankers Life Fieldhouse connecting corporations, startups and investors in manufacturing.
"Indiana has been a great location for us. It's a tremendous state for entrepreneurs and innovation, and we look forward to continuing to expand there," Gener8tor co-founder Troy Vosseller told IBJ. "gBeta Indy is now one of the most successful for Gener8tor in the country."
Nationally, 54% of the companies that have gone through the gBeta program have gone on to either join a later-stage accelerator, such as Gener8tor, or raised a round of capital of at least $50,000 within a year. In Indiana, 90% of the gBeta graduates have accomplished that.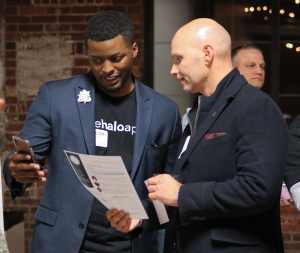 "We expected to find very high-quality startups in Indiana right from the start," said Chelsea Linder, the former director of Indiana's gBeta program who now oversees gBeta in all markets. "There was a lot of pent-up talent here that didn't have any resources. Gener8tor and the IEDC were confident gBeta would trigger growth here, and that has turned out to be true."
In the beginning
Vosseller and Joe Kirgues, both attorneys, met while handling legal transactions in Madison and Milwaukee.
"We both had a ground perspective working with startups," Vosseller said. "There was a deficiency of resources for a startup going from idea to growth to raising venture capital."
The daring duo ditched their legal careers and became angel investors and business advisers. From there, Gener8tor was born.
In 2012, the fledgling operation had 90 applicants—all from Wisconsin. This year, the organization will have more than 1,000 systemwide.
Today, Gener8tor's largest program is gBeta, which launched in 2015. Gener8tor officials say that, thanks to the organization's growing scale, the fledgling companies that participate in the accelerator have access to mentors, customers, corporate partners and investors they could never dream of otherwise.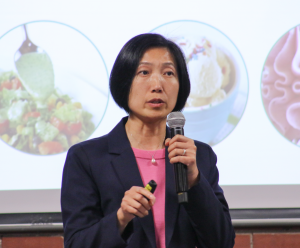 "With gBeta, we try to provide the best of both worlds," Vosseller said. "We focus exclusively on local startups, but we're not a pond unto ourselves. We have these rivers and tributaries connected to our programs across much of the country."
Partnering with Indiana
When Indiana officials began looking for an accelerator program to bolster the state's entrepreneurial ecosystem, Gener8tor quickly rose to the top, in part because gBeta participants did not have to provide ownership stakes to participate, said David Roberts, IEDC chief innovation officer.
"It had a non-equity model with all the same support as other accelerators," he said. "We didn't feel comfortable putting public dollars into an accelerator that was going to take a stake in young companies.
"Also, Gener8tor is based in the Midwest and they understand the Midwest ethos. And they had already shown success branching out to other states."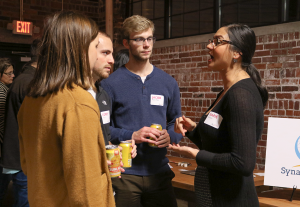 Gener8tor is ranked in the top 15 U.S. accelerators by the Seed Accelerator Rankings Project, which is run by entrepreneurship and management experts from Rice University, MIT and the University of Richmond.
"We're an odd duck starting in Madison, Wisconsin, of all places," Vosseller said. "We take a lot of pride doing that work in the middle of the country."
Gener8tor's approach
For Generator's namesake accelerator program, the organization invests $100,000 in exchange for a minority equity position—typically 6% to 8%.
It relies on corporate sponsors to raise funding for its earlier-phase accelerators, gAlpha and gBeta. In Indiana, gBeta sponsors include the IEDC, Barnes & Thornburg, mAcccounting, Gutwein Law, Hendricks Commercial Properties, Beck's Hybrids, Denison Parking, Kenwood Office Furniture and AgriNovus Indiana.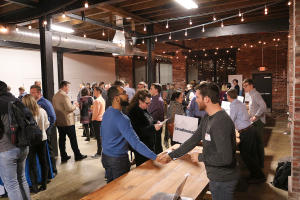 The IEDC paid $70,000 for Gener8tor to launch the gBeta program in Indianapolis and has offered Gener8tor up to $710,000 in matching funds over 2020 and 2021 to expand that program statewide as well as to launch the agbioscience accelerator.
To date, Gener8tor has conducted five seven-week gBeta programs in Indianapolis, one of which was agbioscience-specific; one in Terre Haute and one in Fort Wayne; and one Indianapolis-based gAlpha program. Gener8tor plans to continue the statewide and industry expansions.
Industry insiders say Gener8tor offers lower sponsorship rates than other nationally known accelerators. IEDC's Roberts calls gBeta a "tremendous value.
"We have anecdotes of young companies leaving Indiana to get these kinds of services," Roberts said. "We're working with gBeta to stop that."
Another attraction, Vigil-Martinez said, is that gBeta works with only local companies in the area where it locates, unlike other accelerators that bring in companies from sometimes far-flung locations.
gBeta also would consider any application, unlike other programs run by Purdue Ventures and the Indianapolis venture studio High Alpha.
"We didn't have anything that was open to all applicants. So it was very important to us that this remain hyper-local," Vigil-Martinez said. "And while they did that, they also let the local participating startups tap into its national—and even global—pool of resources."
Local success stories
The local startups that have gone through the gBeta program are a who's who of rising tech stars, including Woven, Snapshyft, Codelicious, Encamp, The Bee Corp., Cafe Baby, Qualifi, Selfless.ly, The Halo App and Compact Medical Solutions.
Josh Driver, 38, had little more than "an idea on a napkin," when he and his company—Selfless.ly—were accepted into the first gBeta Indy cohort of five companies.
Selfless.ly—a software firm that helps companies create and track corporate social responsibility programs—has raised nearly $300,000 in venture capital since graduating from gBeta and is planning to raise more funding later this year.
"We hit the jackpot with our cohort. These are people who are super smart that I just think the world of," Driver said. "We got the feedback we needed to make smarter decisions from not only gBeta but the other people in the cohort.
"It takes a village to raise a company," Driver said. "And gBeta provides that."
The only thing Gener8tor requested from Driver is that he help mentor subsequent gBeta participants. "That's a low ask," he said.
Christine McDonnell compares gBeta to a Hot Wheels track with an accelerator mechanism that boosts the speed of the cars with each passing lap.
"Like the Hot Wheels track, we shot through their mechanism and came out the other side with great momentum," said McDonnell, founder of Codelicious, an Indianapolis-based education-technology firm.
McDonnell came into the gBeta program in 2018 with high expectations.
"We wanted to nail down scalable growth and open doors to company awareness with investors outside Indiana. We achieved both of those," she said.
After going through gBeta's seven-week program, McDonnell said, her firm's year-over-year revenue increased 300% as it secured customers in nine states.
"It far exceeded our expectations," she said. "And we continue to benefit from our association with gBeta. It's the gift that keeps on giving."•
Please enable JavaScript to view this content.