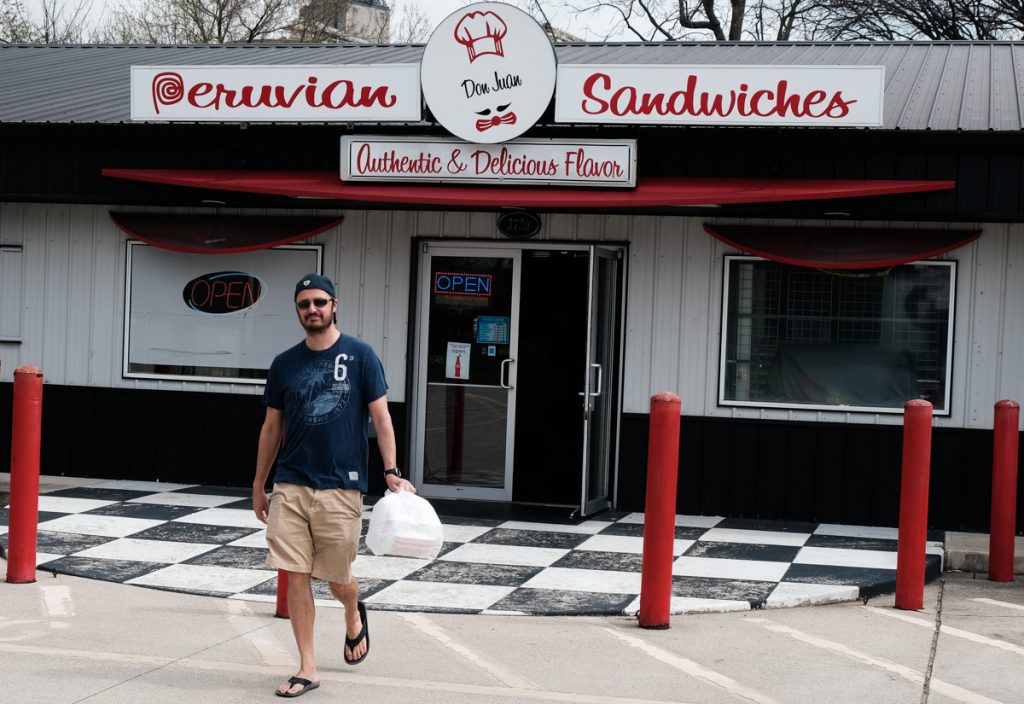 Some local restaurants trying to stay afloat without dine-in service report sales have plunged by two-thirds or more, raising questions about how much longer they'll be able to survive.
"Yesterday, we had two orders. The day before, we had one order," Elizabeth Villegas told IBJ April 3. Her husband, Valence Villegas, owns Peruvian restaurant Don Juan V's Sandwiches on East Raymond Street just west of South Sherman Drive. 
"Our sales have dropped about 75% this past week," Villegas said. "I might even say 85%."
It's a similar refrain across central Indiana, as restaurateurs cope with orders issued by Gov. Eric Holcomb and Mayor Joe Hogsett on March 16 to impede the spread of COVID-19 by halting dine-in service. The state order runs through April 20, and the city order continues until May 1.
Don Juan V's has responded to the challenge by launching delivery service and cutting expenses.
Pre-coronavirus, dine-in service accounted for about 75% of Don Juan V's sales, with the rest coming from takeout orders. It launched delivery service recently in an effort to make up for lost sales.
Elizabeth Villegas said the restaurant has done numerous things to cut expenses: It's laid off its only non-family employee and discontinued its third-party payroll, custodial and ice-machine services.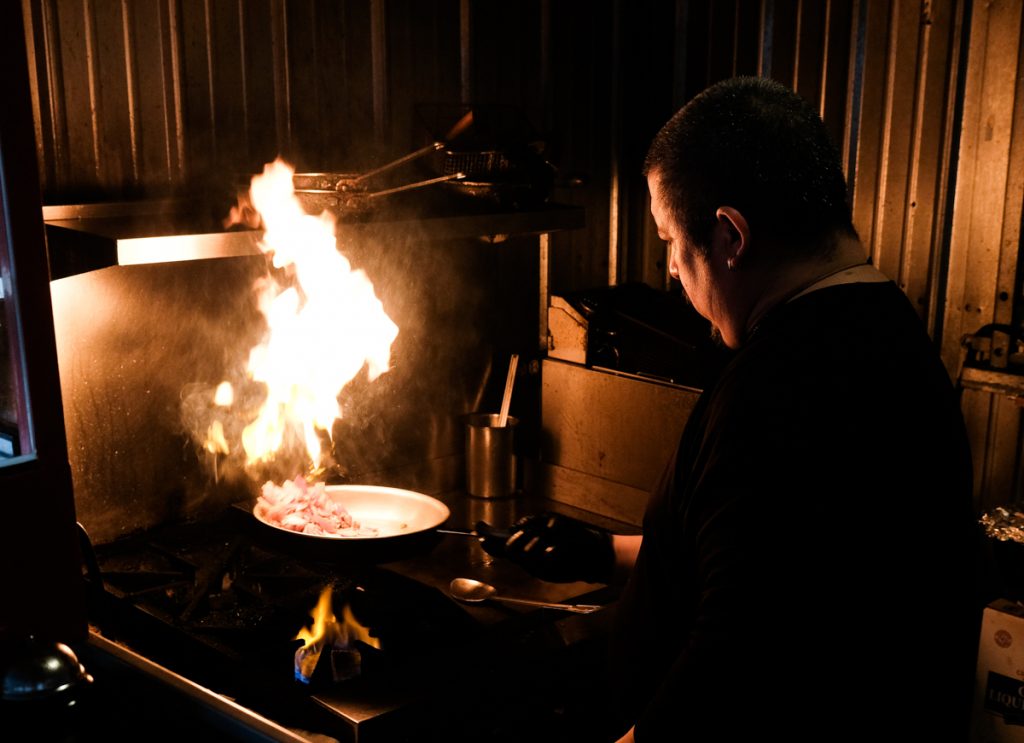 One area it hasn't cut back is its food costs. 
"We don't want to cut back on what we use as far as ingredients," Elizabeth Villegas said. "If we're going to go down, we're going to go down with good-quality food."
Villegas said she's applied for a federal disaster relief loan and is waiting to hear if Don Juan V's is approved.
On Tuesday, she said the restaurant will see how things go over the next few weeks, then decide whether it needs to cut back its days of operation. Closing outright is an absolute last option. 
"It would be so hurtful if we would have to close," Elizabeth Villegas said. "We love what we do, but we also love our customers."
Patrick Tamm, president and CEO of the Indiana Restaurant and Lodging Association, said sales drops are happening at all of the state's restaurants, from the upscale to fast-casual. 
"Everyone's down across the board," Tamm said. "No one's comfortable going out, you have mass unemployment …. people are scared out of their minds."
Some restaurants are doing better than others, Tamm said, especially those that have been able to pivot to a new business model. But each business is in a unique position, he said, and he also knows of restaurants that closed after seeing sales drop 95% in recent weeks.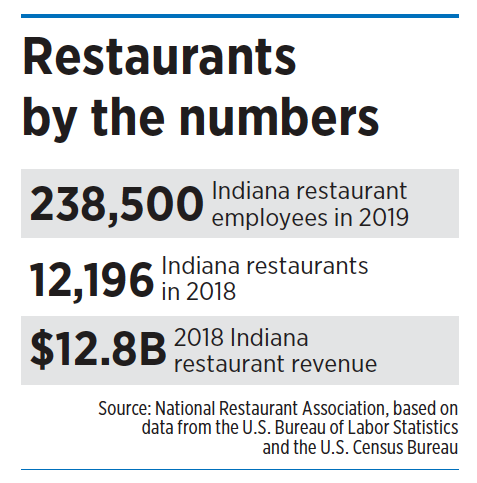 General American Donut Co. on South East Street is faring a little better than some, in large part because of lucky timing.
The coffee-and-doughnut shop, which had sporadically offered lunch in the past, restarted its lunch menu in February. The lunch menu of sandwiches, broasted chicken, chili and sides has been a hit.
"It's turned out to be a great thing that we started it when we did," said Adam Perry, who owns General American Donut with his wife, Kari Nickander. "It's really sort of sustaining us now."
Revenue is down about 30%, Perry said, and "if we hadn't started something new, we'd be down about 60%."
To cut costs, the restaurant has reduced its hours and cut operations from six days a week to four. It's laid off four of its five employees, keeping one part-timer. As bills pile up, Perry said, he and his wife are looking into applying for federal aid.
"We can't pay everything we need to pay, period, right now," Perry said. "We're going to need a little help soon for us to be able to keep going."
One potential bright spot, Perry said, is that Great American Donut is directly across from the Eli Lilly and Co. campus, which is currently offering on-site COVID-19 testing. "Literally, there are thousands of cars across the street in a line waiting to get tested." 
Perhaps some of those people will notice the restaurant is open, and decide to buy some doughnuts or a sandwich, he hopes.
In any event, Perry said, he and his wife are determined to stay open, in part because they fear customers might not return after a closure. "People can forget about you pretty quick."
It's no surprise that many restaurants are struggling right now, one expert says.
Most restaurants focus on the dine-in experience, and it's hard to translate that to a carryout and delivery model, said Carl Behnke, a trained chef and an associate professor of hospitality and tourism management at Purdue University.
A skilled server, for instance, can upsell customers by suggesting an appetizer, another cocktail or a dessert. 
 "The more that the server can relate to the customer and the more the customer engages with the server, the greater the opportunity for upselling," Behnke said.
Since customers are now ordering by phone or online, that opportunity no longer exists.
Customers also might cut back on restaurant spending now because the food quality suffers in the delivery process, or because of their own economic uncertainty, he said. 
Even carryout-and-delivery-focused restaurants are feeling the pinch.
"We're definitely down," said Gabe Connell, founder of Indianapolis-based HotBox Pizza. The chain has 22 stores in central Indiana, eight of which are company-owned and 14 of which are franchised.
Dine-in customers have traditionally made up only about 20% to 25% of HotBox's revenue, Connell said. Sales have been down 13% to 24% over the past few weeks.
Residential delivery business has picked up, he said, but all of HotBox's catering orders have vanished. Colleges and bars are also closed, cutting off important sources of late-night customers at certain locations. 
It's not all bad news, though. Among its 22 stores, HotBox has 482 employees—and it hasn't had layoffs, despite the decline in sales.
"We have not had to release anybody because of that, and actually we've been hiring," Connell said. "We're trying to build up, because we believe the business will come back at some point."
HotBox has added delivery drivers, pizza makers, managers and front-counter employees, he said. That's because the number of orders has increased overall, even though the average revenue per order has declined because of the loss of catering.
Connell said he applied for federal relief in the form of a Paycheck Protection Program loan through his bank late last week. As of Monday, he was waiting to hear back about his status.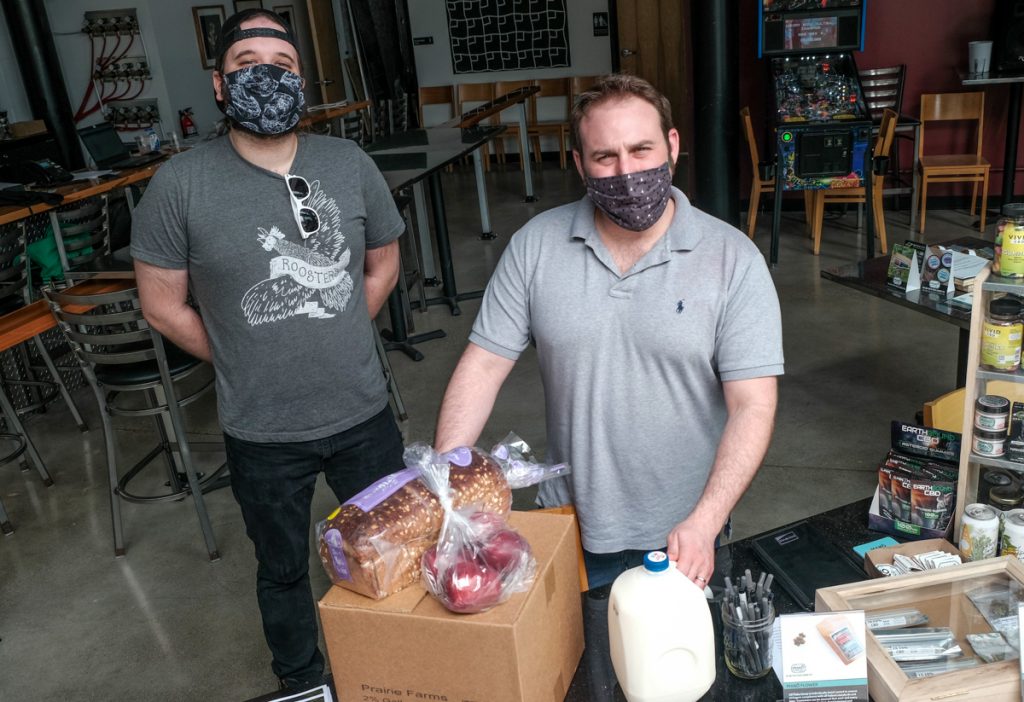 Mass Ave restaurant Rooster's Kitchen is among those that has made drastic changes to its business model because of the coronavirus.
When officials announced restaurant dine-in prohibitions last month, Rooster's Kitchen sold meals until it ran through its supply of food. Then the restaurant closed for a few days so the staff could retool.
When Rooster's reopened, it debuted a whole new concept—an online marketplace selling staples like eggs and toilet paper instead of meals.
"Within a few days, we were able to completely re-engineer the business and how we operate," said owner Ross Katz. "It was a lot of long nights—and a lot of coffee and a lot of beer."
Katz decided to shift to a marketplace concept based on customer demand. Before the closure, when Rooster's was working through its existing inventory, customers who ordered meals also asked if he had grocery staples to sell.
"In my panic mindset, I said, 'Absolutely. I'll sell anything that's not nailed down,'" Katz said.
After about a week, Rooster's began selling heat-and-eat meal kits along with groceries—things like brunch, barbecue and griller packs. A little while after that, it added a limited number of core menu items like sandwiches and macaroni and cheese.
Still, Katz said, revenue is down significantly. The first week of the shutdown, revenue was down 50%. Now, it's down about 70%.
To cut costs, he has cut his labor costs nearly 70%, reducing his staff from about a dozen to five, and forgoing a paycheck for himself.
If sales remain at this level, Katz said, he can probably keep Rooster's operating for a couple of months. If he can secure federal assistance, that will buy him another couple of months.
Whenever the coronavirus restrictions lift, however, Katz doesn't think things will ever be the same for Rooster's. "At the end of the day, we probably will never return to normal business."
When customers are able to return to restaurants, Katz predicted, many will be more price-sensitive. He's already thinking about how Rooster's can revamp its menu to become more budget-friendly.
Pre-coronavirus, the average lunch ticket at Rooster's was $10 to $15, and the average dinner ticket was $20 to $22. Katz wants to bring dinner prices down to lunch levels. He's also looking at whether to continue the marketplace concept in some form, maybe with an emphasis on locally produced specialty items rather than grocery staples.
At least one restaurant sees opportunity ahead, even though sales are down right now.
At Greenleaf Juicing Co.'s Meridian-Kessler location on North Pennsylvania Street, sales are down 25% to 30%. Meanwhile, the business has closed its downtown location just south of Monument Circle because downtown traffic has all but evaporated, said owners Garret and Laura Flynn of Indianapolis.
Greenleaf sells juices, smoothies and both sweet and savory meal bowls. The company was founded in Portland, Oregon, and also has two stores there.
The company has reduced its Indianapolis workforce from 15 to nine. 
Despite its financial challenges, this week Greenleaf is offering a special promotion at all its stores: free meals for health care workers. 
"If we're going to be losing money by being open right now, at least we're doing it for a good cause," Laura Flynn said.
"We definitely wanted to do our part to help," Garret Flynn said. "But also, selfishly, it's a good way to get our name out there."
In order to qualify for the offer, customers must e-mail Greenleaf with their name, job title and workplace. Once Greenleaf verifies the information, they send a coupon code. 
As of Tuesday morning—two days into the promotion—Greenleaf had already received nearly 300 emails.
In an effort to reach customers, Greenleaf has also stepped up its online marketing and promotions and it's been targeting specific groups—like the health care workers—in a way it hasn't in the past. 
"It's allowed us to consider a different model," Garret Flynn said.
Greenleaf also has its eye on expansion. The Flynns are scouting sites in Nora and Carmel, hoping that current business conditions will create an opportunity for good leasing deals. 
"We're kind of being opportunistic," Garret Flynn said. 
Purdue's Behnke said the current crisis might indeed provide an opportunity for some restaurants, even as others are forced to close. But, he added, it's hard to make firm predictions at this point.
"Are we going to see a reduction in restaurants [where] only the strong survive?" Behnke wondered. "It's just a giant roll of the dice."
The uncertainty is making everything worse, Tamm said.
"Let's be clear. This is worse than being in jail. At least when you're in jail, you know when you're going to get out," Tamm said. "We have no date when we're going to get out of this."
Please enable JavaScript to view this content.