By simply cutting a doorway to connect two businesses in Fountain Square, the owners of the Hi-Fi music venue intend to alter the concert landscape of Indianapolis.
The double-door passage between Hi-Fi and new diner Easy Rider allows a new entry-age policy for shows at Hi-Fi, which has operated as a 21-and-older venue since opening in 2014.
The first 18-and-older event at Hi-Fi will feature Indianapolis band Huckleberry Funk on Oct. 21. An Amanda Shires show on Oct. 28 and a Nov. 15 double bill of Welshly Arms and Motherfolk also will be open to attendees 18 and older.
Restaurant ownership made the doorway possible, and Hi-Fi parent company MOKB Presents opened Easy Rider this week in the former location of Pure Eatery in the Murphy Arts Building, at 1043 Virginia Ave.
According to Indiana Alcohol & Tobacco Commission rules, patrons younger than 21 are allowed in restaurants where bar areas are separated by barriers and annual sales of food and nonalcoholic beverages exceed $200,000 or make up 60% of gross sales.
When the doorway between Hi-Fi and Easy Rider is open, the restaurant designation applies to both spaces.
Hi-Fi, the site of early-career performances by Tyler Childers, Greta Van Fleet, Julien Baker and hundreds of other artists, is eager to connect with college-age music fans who previously weren't allowed to attend events at the venue, said Josh Baker, Hi-Fi co-founder and MOKB Presents CEO.
"We want the relationship with that person as early in their musical experience and their life as possible," Baker said. "We want them to stand next to that band onstage and have that moment, whatever it is. They'll remember that and get excited about music. Then they'll buy tickets to shows for the next 10 years."
In Indianapolis, nightclubs that present touring musicians typically adhere to a 21-and-older entry policy. The Vogue, Slippery Noodle Inn, Rathskeller and Melody Inn all do.
Laura Giffel, manager of Fountain Fletcher District Association, said she recalled the frustration of being younger than 21 and not having access to certain concerts.
"When you're in college, you think, 'Wait, why can't I do what my roommates can do?'" Giffel said.
Fountain Fletcher District Association launched this year as an organization to develop and promote businesses in Fountain Square, Fletcher Place and other nearby neighborhoods. Giffel said younger music fans will become Hi-Fi customers, and food lovers of all ages will gravitate to Easy Rider.
"This expansion is exciting for us because it brings a new way [MOKB Presents] can interact with some people who wouldn't go to a concert," Giffel said. "Now they can check out some food and maybe a concert."
Since 2020, MOKB Presents has staged nonwinter concerts in the parking lot behind the Murphy building at an open-air venue billed as Hi-Fi Annex. Because the Easy Rider space stands between Hi-Fi and Hi-Fi Annex, Baker said connectivity is one reason his company wanted to go into the restaurant business.
"We were a little bit disjointed," he said. "This was out here. That was in there."
Meanwhile, presenting concerts makes for an unusual business model because a venue is open to the public a handful of hours at a time and not on a daily basis.
"For us, this was about, 'How can we extend the hours that we're open?' The restaurant really helps that," Baker said. "It provides a needed food option for the neighborhood, plus it allows us to have an advantage with artists. We can feed our bands now."
The aspect of selling concert tickets to minors wasn't a motivating factor in opening Easy Rider, Baker said. That idea emerged during discussions with officers from the Indiana State Excise Police, when Baker learned the threshold requirement of selling $200,000 worth of food and nonalcoholic beverages likely wouldn't be a problem for the restaurant.
"Music is always first for us," he said. "We're not a restaurant trying to do live music. We're not a bar trying to do live music. We're a live music venue that's trying to do these other things."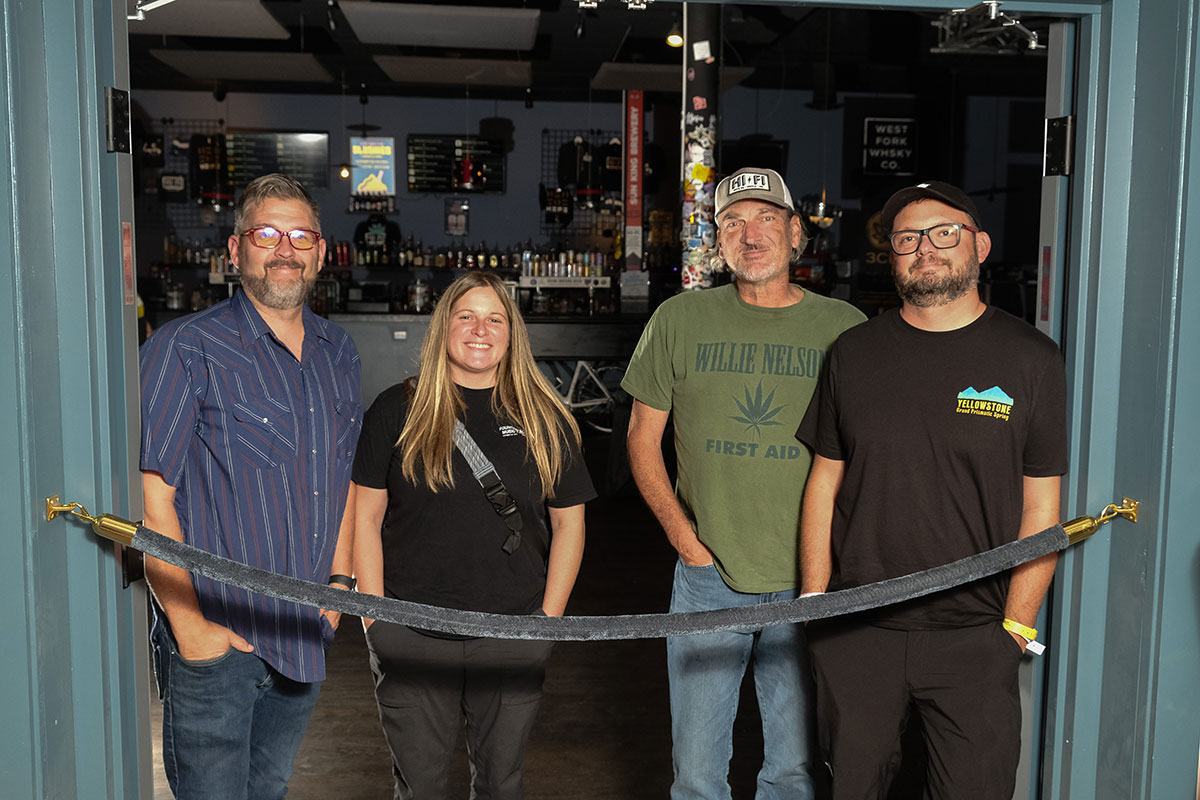 Youth movement
Jason King, MOKB Presents partner and senior talent buyer, predicted that Hi-Fi will be able to schedule touring artists who didn't visit Indianapolis when the venue had a 21-and-older entry policy. He said when booking agents request available dates for performances, Hi-Fi sends an offer. But then, "when they ask if we can do all-ages because all the other markets are, they end up skipping Indianapolis," he said.
Jackie Nalpant, a Wasserman Entertainment agent based in Los Angeles, said Hi-Fi's new format will make a difference.
"Indy has always been a challenge for touring acts with the lack of all-ages options at the club level," said Nalpant, who represents bands such as Local Natives and Hippo Campus. "This positively impacts our ability to route more shows through the market."
Hoosier Dome, at 1627 Prospect St., is an all-ages music venue, but it doesn't sell alcohol.
Baker said Hi-Fi doesn't expect a spike in revenue when ticket sales are opened to minors.
"Financially speaking, I'm sure everyone can put two and two together," he said. "Are we going to sell more drinks if we let in a 19-year-old? No. They're not buying any. It's not a decision based on, 'Let's do this and make a bunch more money.'"
Instead, the venue aspires to develop live music fans at a young age.
"As those fans get older, they don't go out as much anymore," Baker said. "When you have kids and a family, you're more selective."
In many Midwestern cities, a wristband policy is enforced when minors attend concerts where alcohol is sold. Either minors or adults wear wristbands.
Baker said Hi-Fi plans to issue wristbands to all attendees at 18-and-older shows. One color will apply to people 21 and older, and a different color will apply to attendees who are 18, 19 and 20.
In Indiana, experiments in mixing minors and drinking-age patrons at music nightclubs have been rare.
From 2008 to 2009, bygone Indianapolis venue the Music Mill installed an 8-foot wall to isolate its bar from the stage and underage audience members.
The Mousetrap Bar & Grill, at 5565 N. Keystone Ave., adheres to a 21-and-older entry policy for its indoor shows, but the business occasionally presents all-ages events at its outdoor patio and parking lot.
The Mousetrap's annual "Family Day" is scheduled for Sunday, when the Charlie Morgan Quintet will perform and youngsters will decorate pumpkins.
Mousetrap owner Mike Quarto said wristbands will be assigned to attendees 21 and older.
"If there's a teenager or anyone who looks close to drinking age, we put a big 'X' on their hand or a different color wristband," Quarto said.
For Hi-Fi shows, attendees will continue to use the Virginia Avenue entrance.
Inside, a railing has been installed near the bar to signal an obstacle to minors, who won't be allowed to order soft drinks or water there. Baker said a vending machine will be available for underage patrons.
The bar at Easy Rider is another place where 21-and-older concert attendees can buy alcoholic drinks. Underage attendees will not be allowed to walk through the new doorway between Hi-Fi and Easy Rider because the Easy Rider bar area is just inside the doorway.
If underage attendees want to buy nonalcoholic drinks at Easy Rider, they will exit the Hi-Fi's Virginia Street door and enter the door to Easy Rider.
Easy Rider will be closed to the public on some show nights when attendees will move between the concert hall and restaurant. Baker said flexible business hours at Easy Rider will be refined with time.
The ability to hire people younger than 21 to bus tables and be servers is another plus, Baker said.
"It's a tough labor market," he said. "That's adding a new demographic of staff."
People who work for MOKB Presents are easy to find on the first floor of the Murphy building.
Hi-Fi opened in 2014 and doubled its space in 2017 when the venue took over the former home of the Indianapolis Museum of Contemporary Art.
MOKB Presents moved its offices to the former location of Heartland Film this year and opened the Virginia Avenue Mercantile souvenir shop and box office.
With Easy Rider sandwiched between Hi-Fi and the MOKB Presents offices, the company occupies more than 10,000 square feet on the building's first floor.
Finding the flavor
Although Baker had modest goals for the cuisine at Easy Rider, the opening-day menu landed "somewhere between a Waffle House and Milktooth," he said, the latter a reference to a celebrated and innovative diner about a half-mile away on Virginia Avenue.
Concert promoter Baker credited chef Ricky Martinez, known for his work at Indianapolis restaurants Delicia and Bocca, for devising brunch-inspired comfort food accented by Southwestern flavors.
Easy Rider's menu includes biscuits and gravy, chicken and waffles, steak and potatoes, chilaquiles, and mac and queso.
"This is a much bigger food experience than we originally went for," Baker said.
Martinez said the menu is a hybrid of his and Baker's ideas.
"We grab the classic American favorites and add a touch of Mexican ingredients and preparation," Martinez said.
Baker said Easy Rider's name can be inferred as a reference to the 1969 counterculture film, but its origin is more closely related to touring musicians who don't make complicated demands for backstage amenities. In music-industry jargon, an easy rider is a basic list of requests for a concert promoter to fulfill.
The rear dining room at Easy Rider may be used for upgraded fan experiences at 2023 Hi-Fi Annex shows just outside the restaurant's back door.
While 2022 was expected to be the final summer of performances at the temporary Hi-Fi Annex venue that launched during the pandemic, Baker said some of this year's shows have been pushed to 2023 due to COVID-related delays.
The future of Hi-Fi Annex depends on the city's approval, Baker said.
"Our intention is to keep going as long as they will let us go with this," he said. "It just makes sense. It's been a great piece of the puzzle for our business and for the neighborhood."
To serve alcoholic beverages at Hi-Fi Annex, where attendees of all ages have been present, MOKB Presents uses a supplemental catering permit that's connected to Hi-Fi's liquor license, Baker said.
Bike racks and stanchions are used to signal the bar area in the parking lot as off-limits to minors.
"The idea of running a tight ship is something that has been super important to us," Baker said. "We expressed that to [the excise police] and a lot of the folks early on when we started the business."•
Please enable JavaScript to view this content.