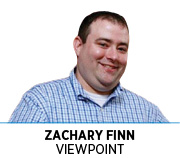 I had been hearing about this pandemic since maybe September or October 2019. It might have been later for you, but I'm a risk management professor so I am supposed to be looking for these kinds of things. And so I was teaching about the business interruption and insurance ramifications of such an event at Butler University as early as mid-fall of 2019.
You see for all my prior experiences as a risk manager, responding to losses resulting from events like Y2K, 9/11, Katrina, fires, etc., I thought I had seen it all. I thought I understood the implications of the pandemic wave that was building. I thought I understood what we would need to do as a society to combat it.
I was wrong and I truly didn't understand the war we were about to fight until the NCAA had the courage to cancel its championship games last year.
I was so flabbergasted when that was announced, that it finally made COVID-19 real for me. Not a classroom lecture about what might happen, but serious implications to everything in our lives. And for some, their very lives and livelihoods.
It was a bold decision, it was the right decision, and frankly it gave every other league, venue, convention, etc. the cover they needed to do the right thing. In my mind it was the first domino to fall in society shutting down.
When the Indianapolis Business Journal called to ask me about the economic implications to Indianapolis and the region from this decision, I knew it was going to be bad, and largely uninsured.
I knew our businesses, particularly restaurants, venues, bars and hotels, would suffer quite significantly from this loss. That's a tough hit, and it makes me very proud that Indianapolis was the first city in the country willing to take a huge COVID hit for the larger good.
Hoosiers, it was our wisdom and pragmatism that helped shut this country down to combat the coronavirus. Sports and conventions are a big part of our economy. Not everyone is willing to do the right thing against their own self-interest. Fewer still are courageous enough to be the first to make such a sacrifice.
So it's only fair that the NCAA tournament comes to our city, in its entirety, so we can lead the charge to open the world back up again!
Risk and opportunity are two sides of the same coin. There will be risks in hosting this tournament and bringing more guests to our fine city. We've all had to make too many sacrifices already, and perhaps there will be further still to pull the NCAA tournament off right.
That is a price worth paying in my mind. Indianapolis has the opportunity to put the first bit of normalcy back in everyone's lives. Our sacrifices from the nightmare that was last year's Covid-19 March Madness is about to be rewarded.
I think our city deserves credit for starting America's fight against the pandemic, and I think we're going to end this war right here in Indianapolis!
So let's take this spotlight on our great city and use it as a beacon of light. Let's maintain whatever bubbles are required and dish out Hoosier Hospitality like only we can do. And if we do it right, we can give America the dream of a better tomorrow as Indianapolis restores the true March Madness. you know the one with basketball and Butler University in the tournament.
Finn is a professor of risk management at Butler University.
Please enable JavaScript to view this content.