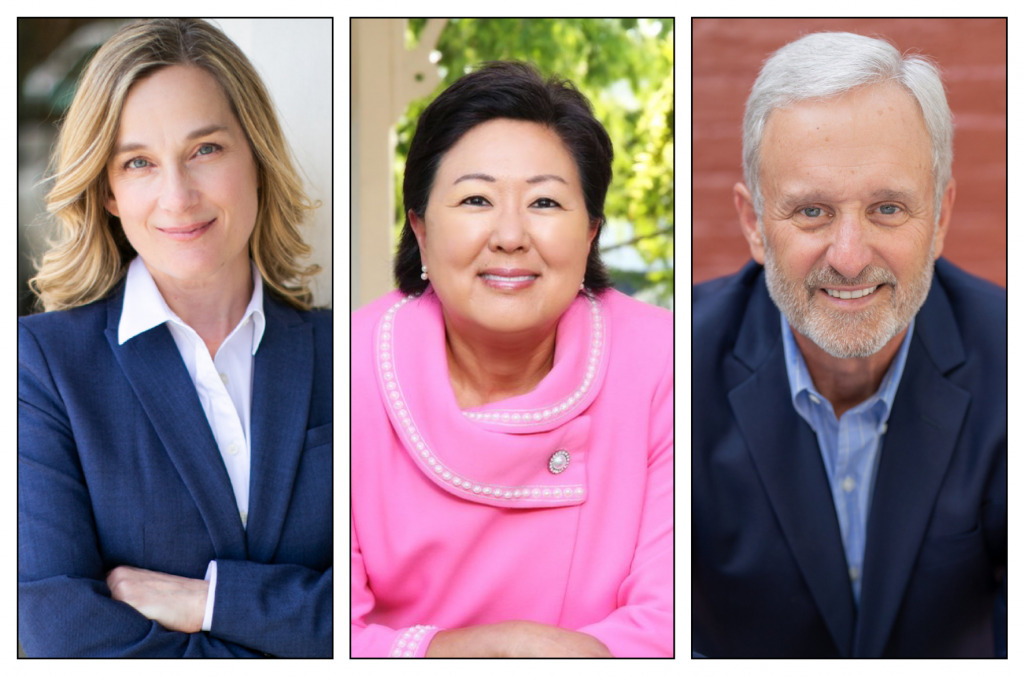 Zionsville Mayor Emily Styron—a Democrat who unseated a Republican incumbent in 2019 by just 88 votes—told IBJ on Monday that she will not seek a second term.
Styron said she made the decision not to run in October after talking to her team about whether her administration had accomplished its primary goals, especially related to economic and community development.
"It's clear we're crushing it," Styron told IBJ. "And I want to go out a good note."
But Styron acknowledged that her contentious relationship with the Zionsville Town Council, whose members are all Republicans and have raised questions about her leadership, contributed to her decision.
Styron and the council have battled over who has authority over personnel and spending decisions and how the council reviews the town's finances.
One of the issues—related to the demotion of the town's fire chief—led to a court battle, while another played out in a state audit, which raised questions about an overdrawn payroll account and $200,000 that Styron's administration spent on building renovations without council approval.
Styron said her quarrels with the council are "not unique, but it's not a fun experience."
"I know I can do a lot of good work in the state of Indiana outside of being an elected official," she said. "I'm ready to go on to something new."
Already, two candidates have announced they will seek the Republican nomination for Zionsville mayor in 2023: Jane Burgess, a former member of the Zionsville School Board, and John Stehr, a former news anchor at WTHR-TV Channel 13.
Both have been critical of Styron. Burgess blamed Styron for handling the town's finances in such a way that it led S&P Global to lower the town's bond rating. And Stehr said on his campaign website that the town needs to "clean up our accounting systems and re-engage with a municipal financial consultant to help guide us so that the town council has the transparency and information it needs to make appropriate decisions for the people it represents."
Styron said she expects a Democratic candidate to emerge as well, although she declined to say who might be interested. She said she needed to announce her decision to clear the path for a Democratic candidate.
Zionsville, which reorganized its system of government in 2014, is one of two towns in Indiana to have an elected mayor. The reorganization merged Zionsville's government with Perry Township in southeastern Boone County and created the position of mayor to serve as the town's chief executive.
Styron said that transition—and its unusual nature—have likely contributed to the tension between the mayor's office and town council.
But Styron said that did not hinder her administration's ability to make progress on its primary goals, which included boosting economic development at Creekside Corporate Park, which opened before she became mayor but had remained largely empty, and creating more recreational opportunities for residents.
Rahal Letterman Lanigan Racing recently opened a headquarters building in Creekside, and Graham Rahal Brands is in the process of purchasing two lots in the park. Styron said she expects announcements about additional development in the park this year.
Styron also worked with Jim and Nancy Carpenter, a Zionsville couple, to create the 200-acre Carpenter Nature Preserve, which will be a park in Zionsville. The town also launched the Zionsville Parks Foundation, a not-for-profit organization to support the town's parks department. In addition, the town established a dog park, and construction is set to begin this year to extend and widen the Big-4 Rail Trail, which runs through Zionsville.
"I'm not a career politician," Styron said. "It's been about the community's needs from the very beginning, wanting to see local government provide more community development and economic development for our town. We've done that in a tremendous way even in light of COVID and so many obstacles in front of us."
In 2019, Styron beat Republican incumbent Tim Haak, who was running for a second term, by 88 votes. Haak was elected in November 2015 to serve as the town's first elected mayor. He succeeded Republican Jeff Papa, who was appointed when the town transitioned to a governmental structure and did not seek a full term.
Earlier this year, Styron faced criticism—and also support—after she posted profanity-laced comments on Facebook following a school shooting in Texas that took the lives of 19 children. Styron's comments were part of an online conversation about gun-ownership rights involving several individuals on the Facebook page of Robert Goodman Jewelers, which had opened the thread by asking for political change and showing support for gun-free spaces. Styron's comments supported gun control.
"As a mom and a mayor, I woke up that morning just so angry and so frustrated that it takes more work to be able to exercise our constitutional right to vote than it does to get a semi-automatic weapon and go in and shooting a whole classroom of people," Styron said at the time. She called the system of gun regulation in the United States "broken."
Please enable JavaScript to view this content.