A Michigan-based retail developer that's bullish on Indianapolis is about to break ground on a Carmel retail center and has snapped up former Jack in the Box restaurant sites in Fishers and Avon that it plans to redevelop.
Alrig USA is buying the Fishers site, at 11614 Allisonville Road; and the Avon site, at 9769 E. U.S. 36, from the burger chain that closed both locations in March 2017. The Fishers store will be retrofitted for Dunkin' Donuts and the Avon Jack in the Box will be leveled to make way for a three-tenant, 8,000-square-foot retail building.
Alrig Managing Director Gabe Schuchman said he expects to close on both deals next week, with construction to begin immediately after that.
In Avon, Alrig has secured Denny's and Smoothie King as tenants and is working to sign a third tenant for the 2,100 square feet that remains, Schuchman said.
Alrig, which is based in the Detroit suburb of Bingham Farms, is also beginning construction next week on a 11,760-square-foot retail development at 1424 W.Carmel Drive. The site is a Meijer store outlot that Alrig is buying from the grocery chain. The Carmel center has secured Moe's Southwest Grill and Eat the Frog Fitness as tenants. The third spot, which occupies 5,810 square feet, is for lease.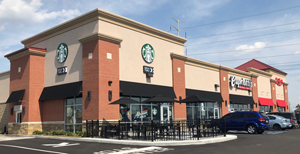 Alrig developed a similar project that opened this spring on the south side of Indianapolis, at the corner of U.S. 31 and Stop 13 Road just north of County Line Road (see image at right). The four-tenant, 10,872-square-foot development has three tenants—Starbucks Coffee, Capriotti's Sandwich Shop and pizza restaurant Giordano's. A fourth spot, which is for lease, is 2,600-square feet.
Since its launch in 2010, Alrig has completed more than 50 retail developments around the U.S., including projects in Elkhart, Marion and Merrillville. But the developer has not done any work locally until now.
"This is our first round of projects in the greater Indianapolis area," Schuchman told IBJ. 
There's more to come, he said.  "This is just the beginning for us in the Indianapolis market."
 
In other retail news:
— Ragnarok Axe Throwing, a Viking-themed axe-throwing lounge, opened Aug. 3 at 8445 Castle Corner Drive in Castleton. This will be the second location for Ohio-based parent company Bucket List Productions, which has a similar facility in Chicago. Bucket List President Marty Parker describes the Ragnarok experience as a 90-minute axe-throwing session that is run like a game show or a theater production, complete with team competition and lively session leaders. Parker said the Castleton facility is working to secure an alcohol permit so that it can serve wine and beer.
— Aldi's newest local store, at 1440 E. 86th St. in Nora, will have its grand opening Aug. 16. The store occupies a portion of an existing 49,000-square-foot building that formerly housed a Marsh grocery store. Marsh, now defunct, closed its Nora store in April 2017. Germany-based Aldi, which now has 1,800 U.S. stores, is in the midst of investing more than $5 billion to remodel existing stores and build new ones. The company plans to expand its store count to 2,500 by the end of 2022 and expand its inventory to include things like kombucha, veggie noodles, organic meats, meatless burgers, gluten-free bagels and other items. 
— The Shops at Perry Crossing will soon welcome two new tenants: the athletic-event management company RaceMaker Productions and Level Two Inc., a coworking space that's set to open in October.
Please enable JavaScript to view this content.