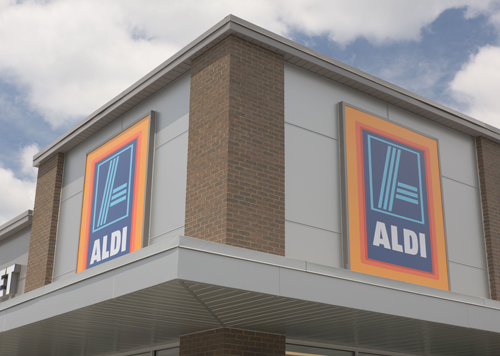 The former Marsh Supermarkets store in Nora is being redeveloped, and the discount grocer Aldi plans to open in a portion of the 49,000-square-foot space.
Work crews have already started façade renovations for the storefront, located in Nora Corners at 1440 E. 86th St.
IBJ was unable to reach Aldi on Monday morning, but one of the property's owners confirmed that the Germany-based chain is planning a store that will occupy about half of the old Marsh store.
The Nora property has been vacant since now-defunct Marsh closed that store in April 2017. The grocery chain filed for bankruptcy in May 2017, and within a few months all of the chain's stores had either closed or been acquired by affiliates of Kroger Co. and Fresh Encounter Inc.
Aldi's current operations in central Indiana include stores in Indianapolis, Greenwood, Carmel, Columbus, Greensburg, Lebanon, Noblesville, Plainfield and Shelbyville. 
Aldi is in the midst of spending $30 million to revamp 22 stores in central Indiana, as part of a $1.6 billion nationwide effort by the German chain to add more high-end products and shed its image as a discount grocer. Aldi also has said that it wants to open 400 stores nationwide within the next three years, including up to five more in the Indianapolis area, to better compete in the cutthroat grocery industry.
Founded in 1913, Aldi historically has been known for its no-frills approach to grocery shopping, mostly selling non-perishable items under its own brands direct from the pallet. As part of the revamp, those brands are becoming more upscale, as Aldi expands its meat and wine offerings while jumping into the organic and gluten-free markets.
The former Marsh property's owners are talking with "traditional retail tenants" to find a use for the other half of the building, said Jeffrey Kimbell, a partner at Market Holdings. Market Holdings is a part-owner of the property.
Kimbell said his preference would be to fill the non-Aldi portion of the space with a single tenant, but also said talks are in the early stages: "We've been talking to some people but we don't have anything even moving toward a lease."
Kimbell declined to reveal when the Aldi store would open, saying he would defer to Aldi on that announcement.
He also said it's likely to be a while before another tenant opens alongside Aldi. Interior work wouldn't begin until a tenant is confirmed.
"It's still possible that another tenant could get open in that remaining space by the end of this year, but it's unlikely," Kimbell told IBJ.
Please enable JavaScript to view this content.