River West Coffee & Tea launched last month in a truck that roams the city's near-west side, but its owners say they plan to open a brick-and-mortar coffee shop in the area within the next two years.
"We saw the truck as a good way to build our customer base and capitalize on the traffic that goes downtown," said Bo Zgirta, who owns the business along with his wife, Marcia Zgirta. "Even though the community might not support a coffee shop right now, we're mobile so we can go anywhere."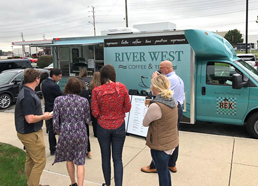 The River West Coffee & Tea truck patrols the near-west side, which has few chichi retail amenities. (Image courtesy River West Coffee & Tea)
In its first few weeks of operation, the truck has been a frequent presence on the IUPUI campus. It's also set up shop near the Haughville branch library on West Michigan Street; the Kroger store on West Michigan; the Indianapolis Motor Speedway and other spots. The truck is also available for bookings at public and private events.
Startup costs for the mobile business were about $95,000. The couple's ultimate goal is to open up a shop on West Michigan Street between North Belmont and North Holmes avenues.
Both Bo and Marcia have backgrounds in youth ministry. They met in Romania in the 1990s when they were working with high school students. 
That background helps explain why the couple is targeting the near-west side, a lower-income area that has struggled to attract the development activity happening in other emerging neighborhoods. 
The Zgirtas envision River West Coffee and Tea as a place where business people can meet and area teens can do homework after school. They also want to hire local youth to run the store.
Right now, "There's no place for people in the neighborhood just to gather in a peaceful environment," Marcia Zgirta said.
But the near west side is starting to see positive changes, and the Zgirtas are eager to be part of them.
Development activity includes new houses planned in Stringtown; a 208-unit apartment project being built at the corner of Michigan Street and White River Parkway; and the planned redevelopment of the 103-acre former GM stamping plant.
"It's a tension between people who have lived in the neighborhood for generations and the people coming in to develop," Marcia Zgirta said. "We want to walk that line between them." 
The couple now lives in Noblesville, but they purchased property in Haughville and plan to relocate to that neighborhood in the next 18 months or so.
Please enable JavaScript to view this content.