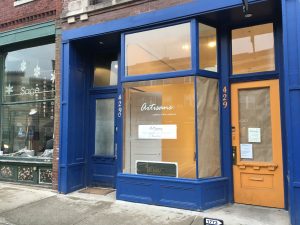 Artisans, a shop with handcrafted items from the United States and beyond, is set to open March 21 at 429 Massachusetts Ave.
The 1,000-square-foot space formerly housed the gift shop Pumkinfish, which vacated the spot in January. After a few months off, Pumkinfish plans to reopen in the Bottleworks District's Garage Food Hall, which is expected to open this fall at 850 Massachusetts Ave.
Artisans will carry an array of decorative items, home items, gifts and accessories, most of it handmade. Items will include glass paperweights made in Indiana; mantle clocks from a South Carolina artisan, jewelry from makers in California and Israel; carved wooden ducks from Colorado; and scarves from Guatemala.
"Everything I sell in my store is somebody's baby," said store owner Jennifer McDaniel.
McDaniel said she aims to carry items in a wide range of prices, from $5 to $500.
Artisans is across the street from gift shops Global Gifts and Silver in the City, but McDaniel said she doesn't view those shops as competitors because her selection of merchandise is different.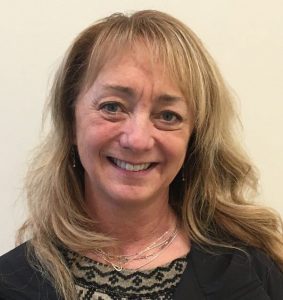 McDaniel got the idea—and the name—for her shop from her brother, Michael Michlig. Michlig and his wife, Bridget, opened their Artisans shop in 2001 in Bigfork, Montana, a small town about 40 miles south of Glacier National Park.
The Michligs also have two other stores in Bigfork: a gift shop called Bird in Hand Gallery and a T-shirt shop, Buffalo Creek Trading Co.
McDaniel, who grew up in Anchorage and has also lived in California, Arizona and New York, moved to Indianapolis with her husband, Mick, 10 years ago. Her previous jobs include time spent as a paralegal and as a safety coordinator for a construction company. She learned the retail trade by spending summers working at her brother's Artisans shop to help him through the busy tourist season.
"I got to learn from the bottom up," McDaniel said.
About three-quarters of the artisans represented at the Mass Ave shop also sell their work through Michlig's Montana store. McDaniel is borrowing the logo her brother uses for his shop.
"I'm copying everything. If it's not broke, don't fix it," McDaniel said.
McDaniel said she and her husband had been looking around town for the right retail spot for several years. When the Mass Ave space became available, they jumped at the chance and signed a 15-year lease.
The retail shop will occupy the first floor. Later, McDaniel intends to renovate the second floor and rent it out for overnight stays via Airbnb.
In other news this week:
A new MAC Cosmetics is now open at Indianapolis International Airport. The store, in Concourse B past the airport's TSA security checkpoint, had its grand opening Wednesday.
The MAC store is part of the airport's larger concessions refresh initiative that is bringing a host of new restaurants and shops to the airport as original tenants' leases expire.
Other local MAC stores are at Greenwood Park Mall and the Fashion Mall at Keystone.
MAC, which stands for Make-Up Art Cosmetics, launched in 1984 in Toronto. The company was acquired by Estee Lauder Cos. in 1994 and is based in New York City.
Burlington Stores will have a grand opening March 20 for its new store in the Marketplace at Saxony development in Noblesville, 14120 Brooks School Road.
The off-price retailer formerly known as Burlington Coat Factory is based in Burlington, New Jersey. At the end of 2019, the company operated 727 stores in 45 states plus Puerto Rico.
The discount grocery chain Aldi is having a grand opening March 12 for its relocated Fishers store at 9774 E. 116th St.
Aldi's Fishers store was previously located at 9505 Uptown Drive. That store was expected to close Wednesday.
The 116th Street location previously housed Fresh Market, an upscale grocery store. Greensboro, North Carolina-based Fresh Market closed the Fishers store in summer 2018 as one of 15 locations the company identified as weak performers.
Please enable JavaScript to view this content.