Coronavirus-related business restrictions have delayed the openings of some new retail sites, but the businesses' owners say they're still planning to open once restrictions are lifted.
Azzip Pizza, an Evansvillle-based quick-serve pizza chain, had planned to open its first Indianapolis location this month in a newly constructed building at 1120 E. Stop 11 Road, just west of U.S. 31 on the city's south side.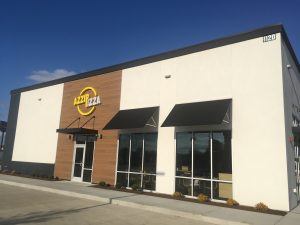 Coronavirus concerns have now thrown its opening date into question.
"We are currently delaying opening until we feel safe bringing the team in for training," Azzip founder and co-CEO Brad Neimeier told IBJ via e-mail. "Training inherently involves bigger groups than an actual shift, so we are in holding mode."
Another consideration, Neimeier said, is that Azzip wants to "get off on the right foot, giving our new customers the best possible experience and that is made much tougher by the curbside delivery only."
Azzip has passed all its inspections and is ready to go once it can begin training, Neimeier said, but with so many uncertainties it's impossible to set an opening date for the Indianapolis location.
Azzip's first store opened in Evansville in 2014. The company now has seven stores in Indiana and two in Kentucky.
Here's a look at some other local retail projects:
— Jennifer McDaniel was set to open her new gift shop, Artisans, at 429 Massachusetts Ave. on March 21.
But that became impossible after Indianapolis Mayor Joe Hogsett and Governor Eric Holcomb issued separate orders that non-essential businesses close.
McDaniel said she pivoted to online sales, and expects to launch an online store this week to sell her shop's handcrafted items from the U.S. and other countries. "It's (online retail) a little bit of a different animal, so I kind of had to switch gears."
In the meantime, McDaniel has set up her shop's first window display, and she is ready to open as soon as COVID-19 restrictions end.
"I would open it tomorrow if I could," McDaniel said. "We're just really ready to roll."
— Gallery Pastry Shop still hopes to open its second location next month at the downtown Hyatt House hotel across from Bankers Life Fieldhouse.
"We're still full-steam ahead there," said Alison Keefer, who owns Gallery along with former boyfriend Ben Hardy.
Assuming coronavirus restrictions are lifted by then, Keefer said the downtown location should be ready to open in late May.
That location, to be called Gallery Pastry Bar, will be a 3,000-square-foot space that includes a production bakery plus a retail operation with daily brunch as well as beer, wine and cocktails; and grab-and-go pastries, sandwiches and coffee.
But Gallery's planned third location, to be called Gallery Pastry Brunch, is likely to see a delayed opening, Keefer said.
That site, which will be at 319 E 16th St. and will operate primarily as a restaurant, had originally been slated for a fall opening.
Keefer said Gallery Pastry Brunch will likely now open in the winter, because the challenges of working from home have put the project's designers behind in their work.
Gallery started as a wholesale baker in 2015 at 1101 E. 54th St. It added a retail space there the following year.
— Restaurant Gold Leaf Savory & Sweet at 1901 E. 46th St., which had been working toward an early April opening, now won't open until after coronavirus restrictions are lifted.
"We think we could open very soon after this is all said and done," said Kristine Bockman, who owns Gold Leaf along with her husband, John-Christian Bockman.
Kristine Bockman said construction of the 2,200-square-foot space is almost complete.
Gold Leaf's menu will include espresso drinks, house-made grab-and-go items for breakfast, and small plates of appetizers and desserts in the evenings. The establishment is also pursuing a liquor license so it can sell wine and beer.
Gold Leaf will also provide food for neighboring Loom, which operates as a satellite location for Black Circle Brewing Co. Black Circle's main location is at 2201 E. 46th St.
Black Circle has shifted its beer production to Loom, which opened March 20. The 1,300-square-foot space also includes a bar and a work area for customers, with amenities such as coin-operated washers, dryers and printers.
Black Circle is selling carry-out beer at its original location, but for now all that's happening at Loom is beer production.
"We're pretty much running everything out of Black Circle right now so the brewer can work in isolation over there (at Loom)," said owner Jesse Rice.
— And in Bates-Hendricks, the housing rehab business Two Chicks and a Hammer Inc. is taking a wait-and-see attitude toward the opening date for its retail project, Two Chicks District Co.
The "two chicks" are the mother-daughter team of Karen Laine and Mina Starsiak, whose remodeling work is featured on the HGTV show "Good Bones." Two Chicks District Co., the pair's first retail operation, will be in a 2,765-square-foot building at 1531 S. East St.
Starsiak's sister, Kelsy Gray, is in charge of developing the retail project, which will include a home décor shop along with a small bar/bistro space.
"We were planning to open late May, but are kind of on hold until we see how the COVID-19 restrictions develop" Gray told IBJ via email.
We also have an opening and a reopening to report this week:
— The restaurant Dawson's on Main, at 1464 N. Main St. in Speedway, has reopened for lunch and dinner carryout and curbside service.
Dawson's had temporarily closed amid the COVID-19 pandemic, and it reopened on Wednesday with a limited menu.
Lunch is available from 11 a.m. to 4 p.m. and dinner is available from 4 p.m. to 7:30 p.m.
— Chipotle Mexican Grill opened Tuesday in Westfield at 829 E. Indiana 32, Suite 835.
The location includes a drive-thru lane and is open from 10:45 a.m. to 10 p.m. for takeout, pick-up and delivery.
Please enable JavaScript to view this content.