Workout chain L.A. Fitness plans to open a new Indianapolis gym next year in a portion of the former Marsh grocery store at 5151 E. 82nd St.
The site is just west of Allisonville Road in the Clearwater Springs Shopping Center, which is owned by Indianapolis-based PK Partners LLC. The firm's senior vice president, Wesley Podell, confirmed to IBJ Wednesday that PK Partners has signed a lease with the California-based fitness company.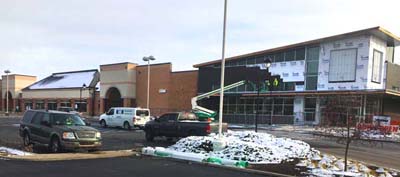 L.A. Fitness will occupy about 43,000 square feet, or two-thirds of the former Marsh space. The remaining 22,000 square feet is occupied by discount grocery chain Aldi, which plans a grand opening for that store on Dec. 5.
The 82nd Street Marsh grocery closed in mid-2017 after the company filed for bankruptcy.
A rendering of the new L.A. Fitness indicates the 82nd Street gym will be one of the chain's "Signature Club" locations—a more upscale version of the typical club, with better equipment and a higher membership fee. Less than 10% of L.A. Fitness locations are Signature Clubs, and the 82nd Street location will be the first such club in Indiana.
L.A. Fitness clubs are operated by Irvine, California-based Fitness International LLC. The company opened its first L.A. Fitness in 1984 in Covina, California, just east of Los Angeles.
The company now has more than 700 clubs in the U.S. and Canada. It has 11 in Indiana—all of them in Indianapolis, Greenwood, Carmel, Fishers and Noblesville.
L.A. Fitness is among a growing number of fitness centers that have either entered the Indianapolis market, expanded their presence here or announced their intent to do so since the beginning of last year.
Most are smaller-footprint, specialty fitness studios, including The Barre Code, Class UFC Gym, Club Pilates, Cyclebar, Eat the Frog, Epic Interval Training, Farrell's eXtreme Bodyshaping, Orangetheory Fitness and Spenga.
But at least one chain of traditional fitness centers, Vasa Fitness, is also entering the market. Vasa plans to open its first Indianapolis gym in a 60,000-square-foot former Kroger store at 5325 E. Thompson Road on the city's southeast side.
Fitness centers are opening at a rapid clip nationwide, according to a report from real estate firm JLL. The U.S. has 111,055 fitness centers, up 23.5 percent from 2010; and the number of fitness centers is expected to grow another 8.7 percent by 2024, the report says.
In other news this week:
— The former Cheeseburger in Paradise at 4670 Southport Crossing Drive, just south of Southport Road and west of I-65, will soon become a Chuy's restaurant. Austin, Texas-based Chuy's lists the Southport Crossing location as coming soon, with a planned opening in Spring 2020.The Tex-Mex restaurant chain operates more than 90 restaurants in 19 states, including three in Indiana: Carmel, Noblesville and Clarksville. Cheeseburger in Paradise closed in August 2018.
— Vinny's Drive Bar, a sports bar and grill that also offers a driving range, opened earlier this month at 707 N. Lynhurst Drive, just south of West 10th Street. Open for lunch and dinner, Vinny's is a franchisee that is licensed to sell and cater menu items from both Rolyno's Original Pizza and Bar-B-Q Heaven.
Please enable JavaScript to view this content.