Kountry Kitchen Soul Food Place, which has been on hiatus since a fire destroyed the longtime restaurant in January, expects to begin construction on a brand-new and larger facility this fall.
The new structure will be built on the same site as the original restaurant at 1831 N. College Ave., at the southeast corner of College Avenue and 19th Street in the city's Kennedy-King neighborhood.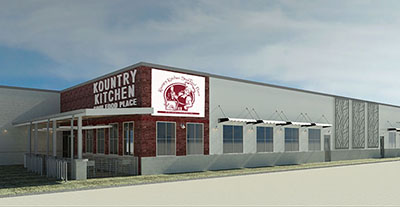 Plans call for a one-story building with about 15,000 square feet of space, including both a restaurant and an adjacent space for special events. That's about double the size of the two-story building that previously occupied the site and has since been demolished.
"I'm trying to let people know—we will be back," said Cynthia Wilson, who owns the restaurant with her husband, Isaac.
The Wilsons are soliciting construction bids for the project, with the goal of starting construction in October. Once work is under way, the project should be finished in 10 to 12 months.
Kountry Kitchen was established in 1988 by Isaac Wilson's late first wife, Rosie Nell Wilson. Its menu features Southern-style dishes like catfish, pork chops, fried chicken wings and freshly prepared vegetables.
The restaurant has a national reputation in soul-food circles and is often a must-stop itinerary item for politicians, entertainers and athletes. Notable customers through the years have included President Barack Obama and former U.S. Attorney General Jeff Sessions, comedians Mike Epps and Jimmy Fallon and numerous Indianapolis Colts and Indiana Pacers players.
The restaurant has also become known for its annual Christmas dinner for the needy.
"All kinds of people from all walks of life have eaten at the restaurant," Cynthia Wilson said.
Kountry Kitchen has been closed since a fire ripped through the establishment in the early morning of Jan. 11. Investigators determined that the fire began in the restaurant's office, and no foul play is suspected.
After the fire, Kountry Kitchen had planned to continue operating in limited fashion by offering pop-up meals at a site in Broad Ripple. But once the coronavirus hit, the Wilsons scrapped that idea and have been devoting themselves to their rebuilding plans. They've also been using the opportunity to take a break from the seven-day-a-week grind of running a restaurant, Cynthia Wilson said.
Shortly after the fire, the restaurant's supporters raised $50,000 through a GoFundMe campaign, which went to support Kountry Kitchen employees.
A combination of insurance proceeds and a bank loan will fund the expansion project.
Kountry Kitchen has had its eyes on expansion for years. Back in 2013, the business filed plans with the city for a new building with space for banquets, but those plans never came to pass.
Even with the double whammy of the fire and the pandemic, Cynthia Wilson said she and her husband decided to press ahead.
"We know, we pray, that COVID is going to be over with eventually and so we have to get back to our normal life," she said. "We're at the age in our lives where we can't reinvent the wheel. … We have to lean on what we know, and this is what we know."
Wilson said she still gets calls and messages from customers wanting to know when Kountry Kitchen will reopen. That gives her faith that when the time comes, customers—and maybe even some of the restaurant's longtime employees—will return.
"We're just hoping that our reputation and word of mouth will bring people back in."
In other news this week:
— Ohio-based nail salon chain The W Nail Bar plans to enter the Indianapolis market with a salon inside the Bottleworks Hotel. Both the hotel and the nail bar are expected to open this coming winter.
The hotel is part of the Bottleworks District, a 12-acre, $300 million mixed-use development on the north end of downtown's Mass Ave district.
The W Nail Bar, which opened its first salon in 2015 in Columbus, Ohio, now has five locations in Columbus, two in the Virginia suburbs of Washington, D.C., and two in Austin, Texas.
— A Mexican sandwich shop called Crazy Tortas opens Aug. 27 at 825 Broad Ripple Ave. The establishment takes a space formerly occupied by the Gyro Joint. It will be open Thursdays, Fridays and Saturdays from 5 p.m. to midnight.
Please enable JavaScript to view this content.