The business assets of Thr3e Wise Men microbrewery and restaurant's now-closed Broad Ripple location will be sold at auction next month, giving a new operator a chance to take over the site.
The eatery and watering hole at 1021 Broad Ripple Ave. was part of Indianapolis-based restaurant and microbrewery chain Scotty's Brewhouse. Scotty's filed for Chapter 11 bankruptcy protection in December. The Broad Ripple Thr3e Wise Men, which had produced beer for all the company's locations, closed on June 9 and is one of 10 sites that have closed since the bankruptcy filing. Another Thr3e Wise Men location in Muncie remains open, along with eight Scotty's sites.
On Aug. 1, Indianapolis-based Key Auctions LLC will conduct an on-site and online auction of the Broad Ripple site's equipment, furnishings, lease and liquor license as a turn-key business operation.
The auction includes the 12,500-square foot site's physical assets, including its 30-barrel beer brewing system, kitchen and bar equipment and seating for 200. It also includes assumption of a lease that runs until January 2021, with options to extend the lease until 2036; and a three-way liquor license that expires in November.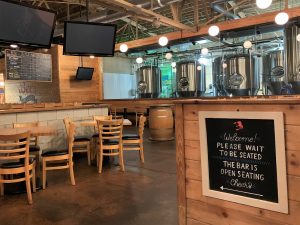 The minimum bid is $299,000.
"There's so much value in the buildout," said Seth Seaton, Key Auctions' president. "The cost to startup is substantially lower than having to put it all together on your own."
Seaton said his company has already been fielding inquiries about the property.
Financial due diligence for bidding approval is due July 23. If no one submits the minimum bid for the entire package, on Aug. 2 Key Auctions will begin auctioning the assets on an individual basis.
Proceeds from the auction will go to Scotty's bankruptcy estate to be distributed to creditors. Details of the distribution have yet to be determined.
Per the bankruptcy court order, the new owner won't be on the hook for any of the debts that Thr3e Wise Men incurred.
In other news this week:
Kopetsky Auto Wash plans to build a facility in Greenwood at 5865 State Road 135, just south of Smokey Row Road.
This will be the second location for the company, which also has a car wash at 3433 W. 16th St. in Speedway.
Hendricks County Bank and Trust Co. has a new corporate office and banking center at 1 E. Main St. in Brownsburg.
The newly built facility, which occupies nearly 16,000 square feet replaces the bank's previous office which was built in the early 1960s on the same site. That building was torn down to make way for the new one.
Chuy's, a Tex-Mex restaurant chain based in Austin, Texas, opened an eatery July 9 in Carmel at 10325 N. Michigan Road. This is the second Indianapolis-area location for the restaurant, which also operates at Hamilton Town Center in Noblesville.
Ross Dress for Less will open a location at the Shoppes at Whitestown shopping center on July 20.
The location is at the northeast corner of the intersection of I-65 and Whitestown Parkway.
Based in Dublin, California, Ross is an off-price apparel and home goods retailer with more than 1,500 locations. The Whitestown location is the company's 19th Indiana store.
And finally, news of a few new tenants at local Simon Property Group malls.
Aerie, a sub-brand of clothing retailer American Eagle Outfitters, is set to open in late fall at Greenwood Park Mall. Aerie sells lingerie, swimwear and other women's attire.
The Aerie store will be adjacent to the mall's existing American Eagle store. The stores' interiors will connect but Aerie will also have its own mall-facing entrance.
At Circle Centre, Indy Jewelers opened July 2.
Tiger Nation, which sells men's, women's and children's clothing and accessories, opened June 20 at Castleton Square Mall.
Please enable JavaScript to view this content.