Scotty's Brewhouse owner Scott Wise is a busy guy these days.
He's set to open a restaurant in Brownsburg on Monday and another in Carmel on April 21, his eighth and ninth Brewhouse locations.
Wise is taking 4,500 square feet formerly occupied by a wing joint in Brownsburg at 251 W. Northfield Drive near North Green Street and Interstate 74, and 6,500 square feet in Carmel at 110 W. Main St. where Detour: An American Grille was located. It abruptly closed in February.
The Brownsburg space is a bit smaller than a typical Scotty's—about 6,000 square feet—but Wise thinks the restaurant will work just fine.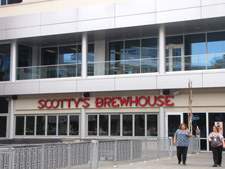 "We started getting too large at 10,000 square feet, and downtown is even 12,000," he said. "It's a little tight in certain areas, but sometimes that's how you maximize your profit and sales."
Regarding the downtown location at 1 Virginia Ave. (pictured), the space is so large that Wise told Property Lines in August that he had started searching for a tenant to sublease about 2,500 square feet.
Wise said he's still interested in shrinking the space, although nothing is being actively pursued. He's had a few discussions with Wheeler Mission about a soup kitchen that would be a "pay-what-you-can-afford type of thing," he said.
In other news:
• Chipotle opened April 6 at 6 E. Washington St. as part of Uptown Realty Investors' Six East development. The Denver-based fast-casual Mexican eatery has five restaurants in Indianapolis, and one each in Carmel and Avon.
• Lorenzo's Ristorante at 15 E. Maryland St. downtown closed April 4 and is being rebranded as either a Mo's steakhouse or Mo's Irish pub, according to the restaurant's website. Mo's A Place for Steaks opened in 2003 at 47 S. Pennsylvania St. just north of Bankers Life Fieldhouse and last fall was taken over by new owners. Its name was changed to J Hamman Prime and then to Prime 47. The second name change was necessary after former operator and co-owner Jeremiah Hamman left in October.
Mo's website says former Lorenzo's partner Geoffrey Browning will play a "significant role" in the new venture. The upscale Italian eatery opened in 2011 in the space formerly occupied by Ambrosia Centro.
• Chuy's is set to open April 22 at 14150 Town Center Blvd. in Noblesville's Hamilton Town Center. Founded in 1982 in Austin, Texas, the Tex-Mex chain is known for its eclectic atmosphere.
• Charlotte Russe also is set to open, in June, at the center. The boutique offers clothes, shoes and accessories for young women.
• Chelsea's at 902 E. Westfield Blvd. in Broad Ripple will close sometime in May, according to The Indianapolis Star. Ellen Morley Mathews and husband David C. Matthews opened the card and gift store in 1984 and bought the building that houses the current location in 1990. They hope to find a retail tenant to take the space.
 
Please enable JavaScript to view this content.