A local joint venture wants to build a four-story, $26 million apartment project on the near-west side that would be geared toward middle-income workers who can't afford higher downtown rents.
Strategic Capital Partners is partnering with Goodwill of Central & Southern Indiana on plans to construct 220 units, 10,300 square feet of commercial space and 220 parking spaces at the southwest corner of West Michigan Street and White River Parkway—directly west of the White River. The project is named Riverview. (Click accompanying image below for larger view.)
The joint venture hopes to start construction by fall, if it can secure federal New Market Tax Credits from the city to offset the cost of the project. Strategic Capital CEO Gene Zink said the assistance is necessary because the rents will be cheaper than what developers charge at newly constructed downtown apartment projects.
Rental units will be reserved for those with incomes between 61 percent and 120 percent of the area median income, which works out to about $40,000 to $60,000 annually. Riverview units will start around $600 per month for a 450-square-foot studio.
"What we're trying to do is to build housing for people who work in downtown but live in Greenwood or somewhere where housing is more affordable than in downtown Indianapolis," Zink told Property Lines.
"We recognized downtown rental options for people and families at a mid-income level are increasingly limited," said Goodwill CEO Kent Kramer in a media release. "Many professions fall squarely in this income range. This is especially true when people are at the beginning of their careers."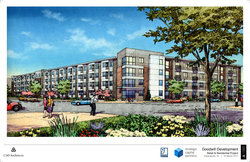 The city announced in January that it secured $55 million in New Market Tax Credits from the U.S. Department of Treasury to help fund "transformative neighborhood projects."
The Riverview site, which sits just east of Goodwill's local headquarters on West Michigan Street, is an empty lot made up of properties owned by Strategic Capital and Goodwill.
The groups chose to develop the "workforce housing project" to stay true to Goodwill's mission to help people increase their independence. "It also helps keep these workers in the neighborhood, closer to their downtown employers, and they will contribute to the vitality of our area," Kramer said.
Zink formerly chaired Goodwill's board.
"We stood in the parking lot [of Goodwill], and we thought, 'My God, there's 30,000 jobs right across the bridge," Zink recalled. "If we built student housing, that wouldn't be consistent with Goodwill's mission. But what would be? We don't want it to sit vacant. It's workforce housing."
Amenities are expected to include a fitness center, coffee bar, first-floor retail and office space for Goodwill workforce job training programs.
A block to the north, at East 10th Street and White River Parkway west of the IUPUI campus, Annex Student Living is building a $32 million student housing project called Annex at 10th.
Please enable JavaScript to view this content.