Developers wanting to build a $15 million mixed-use development next to downtown's historic Athenaeum building will need to wait even longer to start construction, now that neighbors have taken their court challenge to the next level.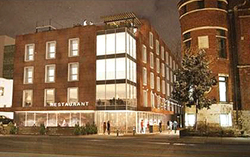 On Tuesday, they filed to appeal Marion Superior Court Judge Michael Keele's July 6 decision ruling in favor of the developers.
The attorney for the neighbors, James Gilday, didn't return phone calls seeking comment on the appeal. And developer Dan Jacobs declined to comment. He's partnering with the Athenaeum Foundation to build the project, known as Block 20.
The development is slated for a lot immediately east of the Athenaeum and fronting Michigan Street. The project would include 67 apartments, roughly 10,000 square feet of retail space, and a 229-space parking garage. The Athenaeum Foundation, which owns the historic building, bought the lot in 2001.
Wanting to stop the development are the Lockerbie Glove Factory Town Home Owners Association Inc., and Lockerbie residents Andre B. and Julia L. Lacy, Elliot J. and Serena Androphy, Cherri D. Hobgood, James and Cheryl Arnold, and William B. Young.
The neighbors in January filed for a review of the Indianapolis Historic Preservation Commission's approval of the project.
They argued that the project violated a restrictive covenant on the property for only "residential" construction and that the IHPC was obligated to enforce the covenant. They also cited the Historic Area Preservation Plan governing Lockerbie Square and dividing it into two sections: the historic core and the secondary area.  
But Keele ruled in favor of IHPC and Jacobs, both named in the complaint.
Please enable JavaScript to view this content.