There are thousands of retail stories in the big city. Here are a few, starting downtown:
• Starbucks has agreed to take the remaining 2,000-square-foot retail space on the ground level of 360 Market Square, Flaherty & Collins Properties, the developer of the 27-story mixed-use apartment tower, told Property Lines.
The Seattle-based coffee chain will set up shop at the corner of Market and New Jersey streets. That's east of the 40,000-square-foot Whole Foods store that will anchor the retail portion of the tower complex.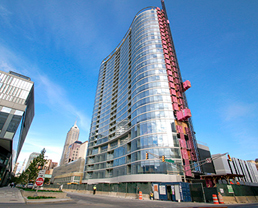 The Starbucks will occupy the east end of 360 Market Square. (IBJ Photo/Lesley Weidenbener)
Both tenants are expected to open in the spring, said Brian Moore, Flaherty & Collins' vice president of marketing.
Moore said the developer targeted Starbucks from the beginning.
"That was the tenant we wanted to have in this space," he said. "It's a great neighborhood service."
Tower residents will be able to access the Starbucks directly without having to walk outside.
The $120 million tower that's under construction on the north end of the old Market Square Arena site should be finished by the end of the year. On Oct. 4, Flaherty & Collins released rental rates for the 292 apartments, ranging in size from 729 square feet to 1,289 square feet.
Starbucks already has downtown locations at 55 Monument Circle, 430 N. Massachusetts Ave. and in the Hyatt Regency, Omni, Sheraton, Marriott and JW Marriott hotels.
The coffee giant also has filed plans to open a shop in the downtown headquarters of Simon Property Group Inc. at 225 W. Washington St.
Also downtown:
• A handwritten sign on the door of Mo's … A Place for Steaks says the restaurant at 15 E. Maryland St. is closed for remodeling. The sign gives no indication as to when Mo's might reopen
Owner John Vassallo could not be immediately reached for comment.
Mo's reopened at the location in 2014 after leaving 47 S. Pennsylvania St. just north of Bankers Life Fieldhouse.
Mo's operates another steakhouse in Milwaukee, and Irish pubs in Houston and Cypress, Texas, and Milwaukee and Wauwatosa, Wisconsin, in addition to Noblesville. Its steakhouse in Houston closed in October.
In other restaurant news:
• Newk's Eatery on Monday opened its first Indianapolis-area location at 1279 N. Emerson Avenue, Suite A-1, near County Line Road in Greenwood.
The Jackson, Mississippi-based fast-casual dining chain announced in September 2016 that it reached a development agreement with local investors to open 15 locations in the Indianapolis area and southern Indiana over the next several years.
Indy Eatery LLC, which is co-owned by Stephen "Kent" Mabe and Mitias Garrett Investments LLC, has agreed to serve as local franchisee.
Founded in 2004, Newk's features an open-kitchen concept and a menu of sandwiches, salads, soups and artisan pizzas, as well as some unique offerings like Red Velvet Whoopie Pies and Crawfish Pimiento Macaroni and Cheese. It was founded by dentist and entrepreneur Don Newcomb, who also founded McAlister's Deli.
Newk's has 116 locations in 14 states.
Also on Monday:
• Rize opened inside the Ironworks Hotel at 2721 E. 86th St. The first-floor, 50-seat breakfast and lunch spot is operated by Indianapolis-based Cunningham Restaurant Group. Cunningham also operates Provision, a more upscale lunch and dinner restaurant on the second floor of the hotel.
Please enable JavaScript to view this content.