Local developer Keystone Group has closed on its purchase of the 20-story AT&T building and plans to convert four floors of the downtown tower into a parking garage.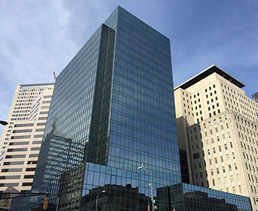 Keystone expects to redevelop the office building with a mix of residential and retail space with restaurants at street level. (IBJ Photo)
IBJ reported in September that Keystone was poised to buy from Geis Properties the 558,000-square-foot building just north of Monument Circle, at 220 N. Meridian St.
Terms of the deal were not disclosed.
The lack of on-site parking apparently vexed Geis Properties, part of suburban Cleveland-based Geis Cos., which put the property on the block last February.
Geis bought the hulking structure for $16.5 million in May 2013 from AT&T. It had planned to convert the first-floor lobby into restaurant and retail space with office tenants above.
The company even rebranded the building as Monument City Center as part of its redevelopment effort, to no avail.
Keystone said in a press release that it plans to address the need for on-site parking by constructing the parking garage above the first floor and is evaluating its options for the rest of the building.
A mix of residential and retail is most likely, Keystone said, with plans already under way to bring three restaurants to the ground level.
"We're anxious to begin work on this landmark building," said Mike Patarino, a senior vice president at Keystone, in the release. "The tower's superior location and mixed-use potential will make for an exciting project."
AT&T fully occupied the building until 2013. The building opened in 1974 as the headquarters of Indiana Bell, a forerunner of AT&T. AT&T sold it to Geis after sharply scaling back its downtown office space.
Please enable JavaScript to view this content.