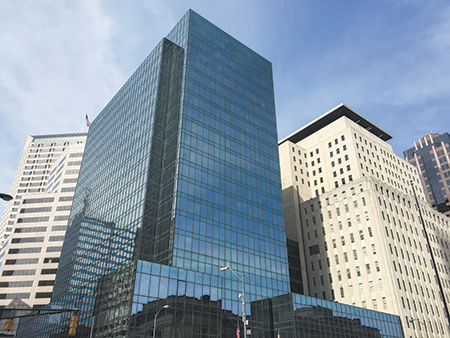 Local developer Keystone Group is nearing a deal to buy the 20-story AT&T building just north of Monument Circle and is considering a range of possibilities for the half-million-square-foot property, including condominiums or apartments, real estate brokers said.
The building is currently used for offices but is mostly vacant—a problem that stems partly from its lack of on-site parking, an obstacle Keystone would have to overcome with its redevelopment plans, the brokers said.
A residential project could benefit from the strong downtown housing market and from the building's proximity to Salesforce Tower immediately to the east. San Francisco-based Salesforce in May began leasing 11 floors of the 48-story building, which now is teeming with young tech workers, many of whom favor downtown living.
Keystone declined to comment on the status of the sale or what its plans might be for the 558,000-square-foot structure.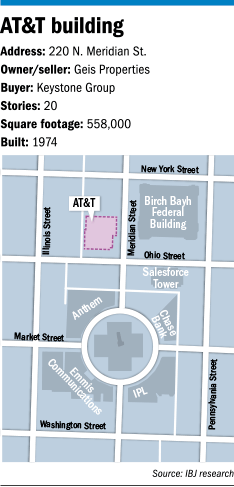 The lack of on-site parking apparently vexed the current owner, Geis Properties, part of suburban Cleveland-based Geis Cos., which put the property on the block last February.
Geis Properties bought the hulking structure for $16.5 million in May 2013 from AT&T. It had planned to convert the first-floor lobby into restaurant and retail space with office tenants above.
The company even rebranded the building as Monument City Center as part of its redevelopment effort, to no avail.
"Geis struggled with no dedicated parking; it's something that needs to be addressed," said Catherine Esselman, Downtown Indy's real estate development manager.
John Merrill of the local office of Houston-based Holliday Fenoglio Fowler LP, whom Geis hired in February to market the tower, did not return calls from IBJ seeking comment on how many bidders the building attracted.
HFF's marketing materials, which did not specify an asking price, promoted the building's floor-to-ceiling windows, its location a block from Monument Circle, and the more than 12,100 parking spaces within two blocks of the property.
The flier also points out that floors two through four at the north end of the building can be converted into a parking garage to solve the on-site parking problem. Geis even went so far as to have plans drawn up to show how it can be done, Merrill told IBJ in February.
"We're going to market it to developers for potential hotel, residential, mixed-use and, of course, office use," he said in February. "With Salesforce moving in across the street, it can drive demand for all those uses, potentially."
The building opened in 1974 as the headquarters of Indiana Bell, a forerunner of AT&T. AT&T sold it to Geis after sharply scaling back its downtown office space. It still occupies at least two floors in the building.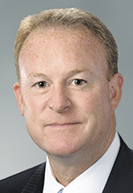 Owens
Without on-site parking, it would be implausible for Keystone to line up office tenants, said Jon Owens, an office broker at Cushman & Wakefield who nonetheless thinks office is the building's best use.
"A Meridian Street address is always a positive, and so is its proximity to Salesforce Tower," he said. "You could get other providers [for Salesforce] that want to be in the same neighborhood as them, or even more space for [Salesforce]."
Salesforce announced in the spring of 2016 that it would add 800 workers by 2021, boosting its downtown employment to 2,200.
Just a few months later, Santa Monica, California-based Hertz Investment Group, which already owns downtown's Capital Center North and South, bought the tower and accompanying Circle Building, which collectively contain 1.2 million square feet.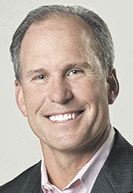 Ehret
Hertz since has added several amenities, increased security and has attracted Yolk as a restaurant tenant—helping to nudge occupancy from about 86 percent at the end of 2016 to 89 percent now.
At the same time, overall downtown office vacancy continues to fall, from 17.1 percent at the end of 2016 to 16.2 percent in the second quarter of this year, according to Cushman & Wakefield.
Even so, office demand might not be strong enough to justify keeping it as an office building, said Bill Ehret, managing director of the local Avison Young office.
"If parking were properly addressed, there is the potential for future office uses," he said. "But do you put more Class A-type space into the market?"
Esselman at Downtown Indy favors a conversion to condominiums—a housing option that is sorely lacking in the apartment-heavy Mile Square, she said.
"If I could choose, I would like to see it be condos; I've told Keystone that directly," she said. "Those floor-to-ceiling windows, the location of the building and the ability to convert some of the floors to parking make sense to me for condos."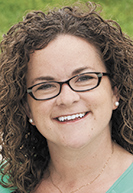 Esselman
Esselman also wanted Kansas City, Missouri-based Mission Peak Capital and Kansas City, Kansas-based Mariner Real Estate to convert Two Market Square at 251 E. Ohio St. to condos. The companies in 2016 bought Two Market Square and Market Square Center at 151 N. Delaware St., commonly known as the "Gold Building."
The owners considered residential for Two Market Square. But "at the end of the day, it just didn't make sense," Chris Dunn, a Mission Peak partner, told IBJ in May. "We had [office] tenants there that wanted to stay."
The AT&T building, though, has virtually no tenants, which brokers say would ease the conversion to a condominium development.•
Please enable JavaScript to view this content.