The downtown Pie Five Pizza Co. has closed, and another fast-casual restaurant will be taking the space at the northwest corner of Washington and Pennsylvania streets.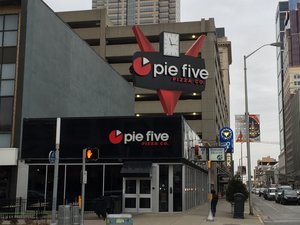 Pie Five, at 48 E. Washington St., stopped serving its fast-fire personal pizzas on Saturday, said Carl Dissette, a franchisee of the Dallas-based chain.
Dissette, who bought the building before opening the Pie Five in July 2015, said the store was "marginally profitable." But the Lorton, Virginia-based Five Guys burger chain made him an offer to lease the space that he couldn't refuse.
"They want to open their concept in our building," Dissette told Property Lines. "It was a very difficult decision."
The franchisee who will operate the downtown Five Guys is Scott Greaves, who also owns the five current Indianapolis locations under the Five Guys banner. Overall, Five Guys has nine metro-area restaurants. Greaves said he hopes to open downtown in March.
Founded in 1986, Five Guys has roughly 1,000 locations globally. Its menu consists of hamburgers and cheeseburgers, kosher-style hot dogs, and grilled cheese and veggie sandwiches. French fries are the sole side item.
Five Guys has picked up numerous awards since its inception, including being honored for seven years as "Number 1 Burger" by Washingtonian Magazine.
Dissette, meanwhile, in the past year has closed four of his seven Pie Five restaurants, as the fast-casual industry struggles with over-saturation. He also owns six Jimmy John's locations in the Chicago area.
"There simply are too many restaurants," Dissette said.
Several high-profile and well-reviewed eateries in the Indianapolis area have closed this year, amid speculation that the restaurant industry is going through a recession.
Dissette shut the doors late last month to his Pie Five at 5320 E. 82nd St. in Castleton Crossing, and also stores at Rowling Meadows and Schaumburg in suburban Chicago. That leaves him with three—in Zionsville and Mishawaka—in addition to another in Ankeny, Iowa, near Des Moines.
Company-wide, Pie Five is feeling the effects of the restaurant industry's woes. In May, the chain closed 18 locations—nine franchised and nine company-owned—leaving it then with 86 total units.
Pie Five is a subsidiary of Rave Restaurant Group Inc., which also operates about 200 Pizza Inn restaurants.
Rave in January hired Scott Crane, formerly of Smashburger, to help jumpstart the once thriving operation. Pie Five's sales in 2015 grew 151 percent as unit counts increased 165 percent in the previous year, according to QSR magazine.
But the saturation of the fast-fire pizza segment has dampened plans for growth. Shares of Rave opened Wednesday morning priced at $1.40 each.
Please enable JavaScript to view this content.