We'll kick this post off with updates from the south side.
• Giordano's is progressing on its south-side location, where construction is under way (see accompanying image) on the former Max & Erma's restaurant just north of County Line Road.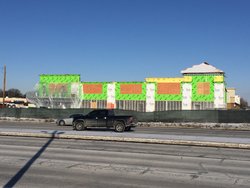 IBJ reported in November that the Chicago-based pizza chain applied for a beer, wine and liquor permit from the state for a new restaurant that would be located at the intersection of U.S. 31 South and East Stop 13 Road.
A state construction permit, filed on Wednesday, lists the address as 1901 E. Stop 13 Road, where the Max & Erma's once sat.
The building totals nearly 3,600 square feet, according to the permit.
A Giordano's spokeswoman didn't return a phone call seeking comment on when the pizzeria might open.
The location would be the chain's third in the Indianapolis area. In January 2015, it entered the market with a 4,000-square-foot restaurant at the Rivers Edge Shopping Center on East 82nd Street. It proved so popular that the chain sought out a downtown outpost. In May 2016, it opened on the ground floor of the Illinois Building at Illinois and Market streets.
• To the east, at County Line and Emerson Avenue, Weekends Only Furniture & Mattress is renovating the former Kroger store and should open in February, the St. Louis-based furniture chain said in a press release.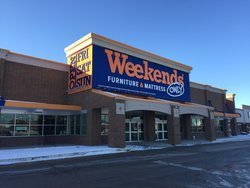 The store near Greenwood is the retailer's second in Indianapolis. The company opened its first in Castleton in 2015.
As the name suggests, Weekends Only is open Friday through Sunday and during holidays on Monday. The company says the limited hours help it pass on savings to customers. The retailer carries mid-priced furniture, but it frequently offers special buys, overstock items and truckload purchases at discounts.
Kroger left the 65,000-square-foot building in September 2015 upon opening the larger Marketplace across the street, on the east side of Emerson.
• In the same shopping center as Weekends Only, Gauchos Brazilian Steak House began serving in mid-December.
The restaurant is open daily from 5 to 10 p.m. For $36.50 each, patrons can experience the "full rodizio," which gives unlimited access to the salad and hot bars, along with special cuts of meat.
• Complete Nutrition has opened a store in the Meridian Meadows Shopping Center.Greenwood at 1001 N. State Road 135, south of County Line Road in Greenwood.
The location, operated by Cory and Charrie James, is the first in the Indianapolis area for the Omaha, Nebraska-based franchise. It has roughly 140 stores throughout the country, including one each in Fort Wayne, Lafayette, Mishawaka and Terre Haute.
Elsewhere:
• Ukiyo is set to open Wednesday at 4907 N. College Ave., in the space formerly occupied by Recess.
Ukiyo is the Japanese farmhouse bistro from local restaurateur Neal Brown. He operates Pizzology in Carmel, and European restaurant Stella at 611 East St., with the Libertine bar in the basement.
• Pet Supplies Plus has opened a store at 6177 S Main St. in Whitestown, near the corner of Whitestown Parkway and South Main Street.
The 7,500-square-foot store features a self-service dog wash station and a carry-out service to help customers with heavy items.
• Massage Heights opened its second Indianapolis-area location, on Dec. 21 at 1438 W. Main St. in Carmel.
Local franchisees Cristina and Matt Goebel operate both. They launched their location in the Ironworks Hotel Indy in October.
In other news:
• Return of The Mac: Indianapolis will be held from 11 a.m. to 6 p.m. Feb. 4 (Super Bowl Sunday) at the Circle City Industrial Complex, where attendees can sample cheesy creations from up to 30 local restaurants.
It also is an official qualifying event for World Food Championships, the largest competition in food sport, with the nation's best chefs competing in a multi-round culinary showdown. The winning chef from Return of The Mac: Noblesville in 2017, Craig Baker, represented Indianapolis at WFC in November and took home the grand prize in the "Best Chef Category."
Tickets are available at 10 a.m. Friday at www.returnofthemacfest.com and www.ticketfly.com. Ticket are $25 for general admission and $40 for VIP early entry, which includes unlimited sampling and participation in the Yelp! Crowd Favorite Vote.
Participating chefs and restaurants so far include: Mac Genie, ClusterTruck, Wild Cat, Big Poppa's, Silkelicious, Livery, LouVino, Rooster's Kitchen, Tulip Tree Creamery, Union Jack Pub, American Culinary Federation, Red Frazier Bison Ranch, Hops and Fire Craft Tap House, Arnie's, and Nada.
Closings:
• Happy Chicken at 130 N. Delaware St. downtown has shut its doors, after a brief five-month stint. The location at 6693 E. 82nd St. in Castleton remains opens.
• Houlihan's at Castleton Square Mall has closed.  
Please enable JavaScript to view this content.