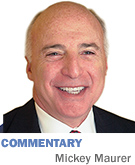 I am in the midst of a new book project with the working title "19 Stars of Indiana—Exceptional Hoosier Men." It will complement my similarly named book about Hoosier women that was published earlier this year by Indiana University Press. Many of the subjects of the new book have been chosen. They include Sen. Richard Lugar, the Rev. Theodore Hesburgh, Garfield comic strip creator Jim Davis and Dr. Larry Einhorn. My research assistant, Susan Roederer, and I are searching for a few more living Hoosier men with exciting, inspirational stories. Your suggestions would be appreciated.

I have met some extraordinary people in this endeavor. Earlier this year, we read an article in The Indianapolis Star about the World War II squadron of black pilots who fought our enemies overseas and discrimination and segregation at home. Known as Tuskegee Airmen, they flew more than 1,500 missions destroying more than 100 enemy planes in the air and many other targets on the ground.

According to the article, there are believed to be at least seven surviving Tuskegee Airmen in Indiana of the 994 men who were trained in Alabama at the Tuskegee Institute. We found one. In Gary, we located Quentin Smith, who served as a first lieutenant in the U.S. Army Air Force from 1942 to 1945. Smith, whose nickname is Big Q, was indeed big—6 feet 2 inches tall with good carriage for a guy in his 90s—and sharp mentally and physically.

He was a likable chap over the phone, and I was excited about the interview and depicting his life—the life of a Hoosier American hero. When we met, we discussed his Army service and the prejudice of the 1940s. As a fully trained bomber pilot, he sat idle until black support personnel were trained because, according to Smith, "They would not let white navigators and gunners take orders from a black commander."

I inquired, "Then what did you do during this time?"

The Big Q smiled. "I instructed cadets and I chased chicks. I chased chicks to Los Angeles and New York. I stole an airplane on Friday at the end of the day and didn't come back until Monday morning to report. It was a good gig and it lasted about four weeks before they found out."

I was stunned.

"Well, didn't you ever fly any missions?" I asked.

His reply: "That was the mission."

Smith never fought overseas. I was disappointed that he was unable to regale me with stories of sorties over the Rhine, but I was impressed nonetheless. Big Q is a Hoosier American hero after all.

In 1945, while stationed at Freeman Field near Seymour, Smith and fellow Tuskegee Airmen were barred from the officers' club. They were instructed to sign a directive agreeing to this segregation. Smith and another 100 black officers were arrested for not signing the order, even under threat of Article 64 of the Articles of War, which stated, "Any person subject to military law who … willfully disobeys any lawful command of his superior officer, shall suffer death or other such punishment as a court martial may direct." All 101 were confined to quarters and three days later sent to prison at Fort Leavenworth. Future Supreme Court Justice Thurgood Marshall won their releases and honorable discharges.

Although Smith never had an opportunity to prove himself in combat, his brave action garnered national attention, forcing the military to rethink its policy of segregation. Two years later, President Truman signed an order to desegregate the military.

In 2007, Smith received the Congressional Gold Medal, the highest civilian award in the United States that can be bestowed by a legislature. Last year, Smith attended the inaugural ceremony for President Obama as the guest of California Sen. Dianne Feinstein.

I hope you will enjoy his story and others in the book scheduled to come out next year. If you want a warm-up, e-mail me at the address below and I'll sell you the women's version.•

__________

Maurer is a shareholder in IBJ Corp., which owns Indianapolis Business Journal. His column appears every other week. To comment on this column, send e-mail to mmaurer@ibj.com.