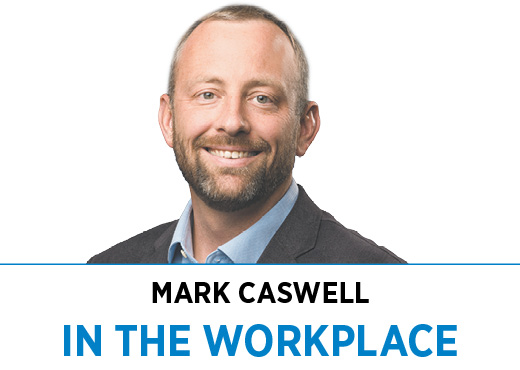 Pre-pandemic, it seemed like there was a lot more "serendipity'' to go around.
Beneficial chance encounters—"happy accidents" if you're a fan of the late painter Bob Ross—with people from different teams seemed to take place a lot more often. I know I'm not the only one who misses spur-of-the-moment, informal conversations that just "happened" when people worked in close physical proximity to one another.
In some ways, remote work has made communication feel less "human." Conversations are more like transactions when every interaction is formal, scheduled and agenda-driven. It's a lot more challenging to sustain relationships with people outside your immediate team when those "happy accidents" become fewer and farther between.
Lately, I've been asking myself how we can not just replicate serendipitous moments in this new world of dispersed work but also improve them. Is it possible to create the conditions for people across an organization to engage in random conversations that drive connection and collaboration from home? I think so. You just have to apply some intentionality to the notion of serendipity.
Break down silos with common interests
Business experts have long preached the dangers of "silos." When people within a team have relationships and share information only with one another, the whole organization suffers the consequences. Author and digital business expert Pearl Zhu puts it this way: "With a silo mentality, organizations lose their collaborative advantage."
It's no secret that we build friendships upon shared interests. To help our team members across the nation create connections outside their department, team and metro, we're encouraging the formation of "gathering groups." These groups center around hobbies and interests like cycling, rock climbing, cocktail-making, houseplant care and fantasy football—just to name a few. These are topics that aren't likely to come up naturally during a meeting, so the groups are paving new pathways for people who enjoy the same things to find one another.
Social connections support business collaboration. When you genuinely care about seeing a friend succeed, you're more likely to offer that person your time and energy. When people voluntarily opt-in to build stronger relationships across the organization, everyone benefits.
Embrace micro-mentoring
Mentoring programs are a tried-and-true method of promoting development and connection. But a 2019 Harvard Business Review article revealed that "many employees—especially women—prefer mentorships with a more reciprocal and mutual character. Single mentors are also less career-enhancing than robust developmental networks or mentoring constellations."
One-on-one, mentor-mentee pairings can be beneficial in the right settings, but because they're formal and hierarchical by nature, they don't lend themselves to serendipitous exchanges. Instead, I've found the "micro-mentorship" mentality creates even more opportunities for relationship-building and collaboration. The idea behind micro-mentorship is that everyone seeks opportunities to be a mentor and makes themselves available as such. Think about it: How much better off would a junior employee be if she had an entire network of people within the company she could approach for support?
The key, though, is reciprocity. Where traditional mentors are expected to have all the answers, in cultures of micro-mentorship, both parties approach an interaction expecting to learn from each other. It doesn't matter if you're in the position of mentor or mentee—you should be authentically learning and authentically teaching at the same time.
Scheduled and unscheduled moments
Left untended, calendars can fill up quickly. It's easy to get "tunnel vision" when your workday consists of leaving one meeting just to join another. To make space for serendipitous conversations to take place, sometimes you need to schedule them. These informal "meetings" don't have to be time-intensive to be effective—sometimes just 15 minutes is all it takes to make a beneficial connection.
On the flip side, if you find yourself with a few minutes to spare during the day, sometimes a spur-of-the-moment phone call or text message can open serendipity's door. Just resist the temptation to bring an agenda or expected outcome. Your goal is simply to connect and listen—no strings attached.
Serendipitous conversations might not happen as naturally in remote work environments, but that doesn't mean we should give up on them altogether. Quite the contrary—with a little creativity and intentionality, we can not only re-create beneficial chance encounters but also improve them to build stronger relationships across an organization.•
__________
Caswell is CEO of Resultant, an independent technology, data analytics and management consulting firm based in Indianapolis.
Please enable JavaScript to view this content.