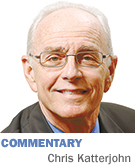 With apologies to the rock group King Crimson, who recorded a song in the late '60s called "21st Century
Schizoid Man," I'd like to draw attention to our city's split personality.
Good Indianapolis.
Bad Indianapolis.
Good Indianapolis for passing the Wishard Hospital bond issue. The turnout was small when compared
to that of a general election, but more than 80 percent of voters Nov. 3 pulled the lever in favor of the project.
It was heartening to see such a landslide.
It's a good thing because Wishard plays a big role in the community,
the most important part of which is that it provides care to more than two-thirds of the city's indigent population.
Where were those people going to go for health care if Wishard weren't around?
Not to mention the
high quality of care the hospital provides, as well as its renowned burn unit and Level-1 trauma center, and its teaching
function related to the Indiana University School of Medicine.
On the other hand … bad Indianapolis for
not demanding that our anti-smoking laws be tightened.
Our City-County Council showed little spine when it failed
to pass an ordinance a couple of weeks ago that would've extended the existing ban to all public places, including bars,
bowling alleys and private clubs.
Mayor Ballard didn't help matters by saying he'd veto the extension
as it was proposed. OK. So, Mr. Mayor, lead the effort to fix it and get it passed, but make sure the ban extends to all public
places.
I read a letter to the editor in The Indianapolis Star recently from a reader who thanked the
mayor for his veto threat and praised him for "treating residents of Marion County as adults and not children."
The writer was pleased that the "anti-smoking cabal" lost and said the mayor showed "common sense
and savvy to end the madness of social correctness and to end the loss of freedom of choice for Marion County residents."
Is the writer clueless?
It's not about personal freedom—not with this issue. It's about
secondhand smoke and protecting innocent bystanders from people who don't have sense and consideration enough to stop
filling the air around them with toxins.
The dangers of secondhand smoke are well-documented by the scientific
community, and in the hundreds of cities and majority of states that have already adopted bans, there's no evidence
to suggest businesses are harmed.
When are we going to get the gumption to make it happen?
As we editorialized
in last week's issue, our failure to pass such a law doesn't look good for a city interested in economic development,
and particularly for one that markets itself as a medical and life sciences hub.
While the council's vote
two weeks ago was a blow to the city, the Nov. 3 election was a significant day for all of us. Wishard's new facility
will be a critical, modern component in the city's health care delivery system.
The day was obviously a great
one for Wishard. Not only did the vote go the hospital's way, but the Fairbanks Foundation announced a $6 million gift
toward funding the new facility.
Basking in the afterglow late that evening, Marion County Health & Hospital
Corp. CEO Matt Gutwein was understandably pleased, but I fear he may have lost touch with reality in his euphoria.
During a press conference, he slightly missed the mark with one of his comments.
"What [the ballot victory]
tells us is, we have a city that cares," he said, "a city of compassion, of decency, a city that looks at every
one of our neighbors and cares about those people."
It's a lovely sentiment, but with the anti-smoking
ban still unfinished, it's yet to be proven in this 21st century schizoid town.•
__________
Katterjohn is publisher of IBJ. To comment on this column, send e-mail to ckatterjohn@ibj.com.
Please enable JavaScript to view this content.