Green building projects dripping with sustainable features, such as the Nature Conservancy of Indiana's new downtown
headquarters, tend to grab the spotlight. Behold its use of salvaged bricks, a carbon-quenching green roof, geothermal HVAC
and wind turbines.
But the green revolution is also under way in more obscure locations—parking garages,
for example.
Denison Parking's ongoing replacement of about 500 lights at its Plaza Park, an eight-level
garage at 109 S. Capitol Ave., may in fact pay bigger green dividends than its high-profile sustainability counterparts.
Denison's lighting replacement project also is evidence of an expanding green vendor base in the region. And
the products being sold don't always match what is perceived to be the latest and greatest technology.
Denison, for example, decided against buying LED lighting, which currently is the cat's meow in the green business for
its bright illumination, longevity and low energy consumption.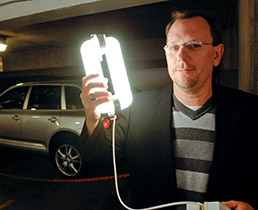 Induction lighting is among the latest gadgets local firms
like Fishers-based Eco Parking Lights and partner Jeff Pinyot are selling to firms trying to reduce energy costs. Eco is helping
Denison Parking replace hundreds of lights at the Plaza Park garage. (IBJ Photo/Robin Jerstad)
Rather, Denison is
installing "induction" lighting, which is what Denison's Fishers-based supplier—induction light manufacturer
Eco Parking Lights—is betting its business model on.
Induction is similar to fluorescent lights but doesn't
include the metal electrodes that wear and fail over time.
Induction fixtures cost about one-third that of high-quality
LED lights. They last about 11 years, which is believed to be at least as long as relative newcomer LED. Induction lights
were first produced commercially 10 or 15 years ago, but refinements since then have made them more environmentally friendly.
Eco Parking Lights' Jeff Pinyot, who has become in the parking industry the Johnny Appleseed of induction
lighting, says the units should shave at least 50 percent off Denison's electric bill, which for Plaza Park now comes
in at about $4,400 a month.
Only a portion of the garage's lighting has been replaced so far, but "the
bill has come down about 25 [percent] to 30 percent," said Scott Gould, a Denison manager overseeing the project.
At about $350 per fixture, versus about $900 for a good LED unit, Denison may end up spending $100,000 to $150,000
for the retrofit by the time it's finished.
Besides the cost advantage over LED fixtures, Gould said the
units don't have the stark glare of LED lighting that might cause liability issues for Denison as motorists navigate
the low-ceilinged confines of the garage.
Gould is banking on zero maintenance costs for the induction lights
for at least five years, unlike the orange-glowing high-pressure sodium lights that require frequent bulb changes. He's
figuring on a return on investment payback in three to four years.
The system Pinyot's company makes also
includes a Web-based networking capability. On sunny days, a photoelectric eye mounted outside the garage will trigger the
shutdown of lights on the brighter, outer perimeter of the 758-space garage.
Pinyot said he's talked a
number of garage operators out of LEDs, including city leaders in Frederick, Md., who opted for induction lighting in six
of the city's garages. Pinyot also has a number of lights installed on a test basis at airports, including Chicago O'Hare,
in hopes of winning more disciples to induction lighting.
Eco and its subsidiaries have just seven employees.
The company currently taps a Chicago contract manufacturer to assemble its lighting fixtures. Pinyot, a University of Pittsburgh
engineering school graduate, said Eco would like to set up manufacturing in the Indianapolis area as business grows.
And like a growing number of companies in the region, he's tying to sell photovoltaic solar panels to commercial
clients like Denison.
The city's largest parking garage operator looked at installing solar panels on
the roof of its garages as a veritable "energy garden," but balked at how long it would take to get a return on
its investment.
"It's like 17 years. It just made no sense" at this time, Gould said.
But Denison might be a pioneer of sorts for another emerging green technology—plug-in electric hybrid cars. General
Motors, for example, plans to sell its Chevy Volt plug-in as early as next year.
Gould said he is looking at
how to install charging bays in garages for plug-in hybrids and is in discussions with Indianapolis Power & Light for
just what that might entail. Among his questions: Can Denison come up with a flat monthly fee for a charging space or will
it have to install a meter for each vehicle?•
Please enable JavaScript to view this content.