The Indianapolis Museum of Art must live with $2 million less in endowment revenue next fiscal year, and prominent donor
Wayne Zink won't be on the board of governors to help close the gap.
Zink, CEO of Endangered Species Chocolate,
an Indianapolis candy maker, resigned from the board this month. Zink's name is on a reception hall at the museum, and
he's served as chairman of two gala events this year.
Zink's departure came about a month after the
museum trimmed $1.1 million from its current budget because it was about 30-percent short of its quarterly fund-raising goal.
The budget for the year beginning July 1 dropped from $24.9 million to $23.8 million. The savings will come mainly through
one-week furloughs for 281 full- and part-time employees.
It's unclear exactly why Zink would leave now.
He declined to comment, and people close to the matter offered different explanations.
Martin Radecki, a former
IMA conservator who has worked with Zink on other charitable causes, claims Zink had a difference of opinion with CEO Maxwell
Anderson.
"Wayne was very upset with Max on this latest budget issue," he said.

IMA CEO Maxwell Anderson

Anderson and other board members would not comment on Zink's reasons. Vice Chairman Stephen Russell chalked it up
to exhaustion.
"Wayne has been passionately involved," he said.
Zink recently served
as chairman of a black-tie reception for the current special exhibit, "Sacred Spain." He was also chairman of
a 125th anniversary gala.
The IMA's 375-seat reception hall, the Deer-Zink Pavilion, is named after Zink
and his partner, Randolph Deer.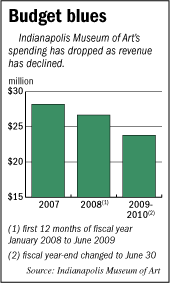 "Wayne decided he has spent so much time involved in the
IMA. There are other things in his life," Russell said.
Russell added that he thinks Radecki simply has
an ax to grind in linking Zink's departure to Anderson and the museum's budget woes. A senior conservator, Radecki
was one of 21 full- and part-time employees who lost their jobs when the IMA restructured in February.
The recent
budget cut isn't likely to be the last. The IMA is on a long-term schedule to reduce dependence on its $313 million
foundation.
Investment losses from 2008, plus a reduction in the draw rate, mean that, in the 2011 fiscal year,
the IMA will see about $2 million less in endowment revenue, Chief Financial Officer Anne Munsch said.
Anderson
thinks he can recoup some of that money through a successful exhibit in the fall of 2010, a revival in donations, and growth
in the event-catering business.
"I'm working like the devil, like the rest of the staff, to have
the best possible result," he said.
Although the number of museum members has slipped below 10,000 over
the last few years, Anderson said there's a glimmer of hope among higher-end supporters. So far this year, the museum
has collected $186,000 in dues from "council" members—who pay $1,500 or more. That's up $35,000 over
the same period last year.
He also sees an opportunity for the museum to collect more money through its new catering-operations
agreement with Maryland-based Sodexo. So-called earned income now accounts for 12 percent of annual revenue, and Anderson
said, "Earned revenue can be a more significant source of revenue for us going forward."
But Anderson
declined to make any broad predictions, saying he prefers to "calibrate" the budget on a monthly basis.
Early in the current fiscal year, the IMA looked to be in danger of going into the red. First-quarter contributions
were about $457,000 short of the target of $1.5 million.
Munsch said a quarterly gap like that is not unusual,
but, "We chose to take early action. We want to be more conservative, and be pleasantly relieved if the numbers are
higher [by year-end]."
Hitting budget targets on donations and earned income will become more important
as the IMA weans itself off a heavy reliance on endowment revenue.
The IMA's endowment is one of the largest
among art museums nationally and by far among Indianapolis cultural institutions. It stood as high as $393 million at the
end of 2007.
This year, the endowment provides $16.4 million, or 69 percent of IMA's annual operating revenue.
The stock market crash sent it south of $281 million by the end of 2008.
The endowment became more
important after the museum's $74 million expansion in 2006, which drove up operating expenses, including such items
as utilities and especially security personnel, Munsch said.
The IMA covered its higher costs by drawing a larger
percentage from the endowment.
A not-for-profit typically spends 5 percent to 6 percent of its foundation's
value, based on a 12-quarter rolling average.
The IMA's board ramped up the spending rate from 7 percent
in 2006 to 8.5 percent in 2007, the first year the museum fully occupied its new galleries.
Munsch said the plan
was to eventually cover the costs by netting more annual donations and increasing revenue from things like retail sales and
special-exhibit admission.
The recession hit before those efforts could close the gap, Munsch said.
The IMA sustained its spending rate at 8.4 percent for 2008 and the first half of 2009. (The museum changed its bookkeeping
to a July-June fiscal year during that 18-month period.)
Now the draw rate is 7.5 percent and is expected to
drop another half-point in the 2011 fiscal year. The board's goal is to take spending back to 5.5 percent, Munsch said.
Considering the early action on the current budget, board member John Krauss said he feels good about the IMA's
financial management. "The IMA is being prudent," he said.•
Please enable JavaScript to view this content.