Donnie Babb knows what it's like to be patient, have an eye for minute details, and be prepared to scrap something and rebuild it when it's not working.

That's how Babb operates when he's building tricked-out cars and trucks that take off like a hare. He used the same principles to create Gauge Media Group, a company that started in his basement at tortoise speed but now churns out $2 million in sales with a staff of nine full-time and 15 part-time employees.

Babb, 37, has spent the last decade building Gauge—first launching an online magazine for auto enthusiasts during the dawn of dial-up service. Then he started a custom print shop for the automotive sector to keep the doors open. And when he became disgusted that auto-parts dealers wouldn't advertise on his Web magazine, he opened a specialty auto-parts store—sans brick and mortar.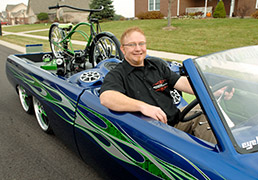 Donnie Babb sits in a 1980 Dodge D50 truck that is his pride and joy as well as his firm's marketing tool. (IBJ Photo/Robin Jerstad)

Babb admits that building the business has been as painstaking as laying on a custom paint job. The man with speed in his wheels and bounce in his suspension wouldn't have it any other way.

"All the trials and tribulations made the success that much sweeter," Babb said with a broad smile.

Gauge Media survived the Internet startup era and the dot.com bubble burst. Babb weathered a breakup with a business partner that almost caused the startup to go belly-up. And he heard so many people tell him "no" along the way that it made his ears hurt—and sometimes the hair on the back of his neck stand up.

"In 10 years, I've learned a lot of lessons," Babb said. "Most of them the hard way."

But Babb wasn't about to let Gauge die. After all, he used his prized souped-up truck as collateral for the $30,000 needed to start the company in 1999.
Even Babb had his doubts along the bumpy road.

"It was a time before everyone had the Internet," he said. "We couldn't get people to see the benefit of advertising with our online publication. At one point I said, 'Holy cow! Can I really make this happen?'"

Babb wondered more than once if he made the right move leaving his job as a logistics manager for Oregon-based Evergreen Aviation, where he oversaw 20 central Indiana ground crews.

Then he recalled why he left Evergreen, whose biggest local client was the U.S. Postal Service.

"I said, 'I'm a car guy,'" he recalled. "'I need to find a way out.'"

Cars were part of Babb's life from the start.

"I sat in class and listened to the guys run at the track all day," said Babb, a 1992 Speedway High School graduate. "I was pounded with automotive all day, every day. And I loved it."

When Gauge was new, Babb spent more time teaching himself about things like Internet search engine optimization and HTML code than he did thinking about cars and trucks.

But the entrepreneur who dropped out of IUPUI after two years said he learned more on the job than he ever did in class.

He realized he couldn't afford the costs of producing a print publication and felt he could—eventually—reach more people through cyberspace.

He learned other things, too. A computer crash that destroyed four years' worth of data taught Babb he couldn't run his company without the proper tools—including a sufficient backup system.

Babb also learned to improvise.

In 2000, after seeing some poorly designed auto show brochures, he launched Gauge Studios.

"I thought, 'I can do better than that,'" Babb said.

And he did, nabbing several key clients and bolstering revenue of the division to more than $400,000 within a few years.

"We immediately saw Donnie had real talent in designing promotional pieces," said Dale Minnix, sales and marketing manager for Detroit-based Championship Auto Shows, which produces the World of Wheels auto shows. "But it's more than that. Donnie's a real motorhead. He understands the auto show industry in a way few do. He eats and sleeps this stuff, and it shows."

Sleeping this stuff meant quite a few sleepless nights. Despite the success of Gauge Studios, Babb was bent on growing Gauge Magazine. He went door-to-door meeting parts dealers.

"I thought they'd be perfect advertising customers for our magazine," Babb said.

He got lots of rejections, even when offering $50-a-month banner ads. Babb got so upset after a rejection in 2001, he told the prospective advertiser, "Fine, you don't want to advertise, then I'm going to become your biggest competitor."

On the flight back home, Babb started designing an e-commerce site to sell auto parts.

"At that point, I knew all I needed to know about Web site development, and I figured, without the brick and mortar overhead, I could be competitive," Babb said.

Gauge Store launched in 2001—the same year Babb moved the business from his house to a tiny shop in Camby. In 2003, Gauge moved the company to its current office on West 21st Street.

Babb's online store and magazine are known for connecting with the niche audience they serve, said Jenny Schmitz, an executive at Los Angeles-based Source Interlink Media, which publishes Hot Rod and Car Craft Magazine.

"One of the things that makes Donnie good at what he does is that he understands the lifestyle," Schmitz said. "He knows exactly what auto enthusiasts are looking for."

Air suspension systems are Gauge Store's biggest seller, but Babb stocks a bevy of aftermarket parts from air horns to racing seats.

Babb said his staff, including his wife Ginger, who came up with the Gauge moniker and runs the parts department, deserves credit for the company's success. Even Babb's dog—a black lab who shadows him around the office—gets a nod.

"He keeps everyone mellowed out," Babb said.

Car and Driver Magazine rated Gauge's truck as one of the top 10 at the Specialty Equipment Market Association Show in Las Vegas this November.

"It's a really good marketing tool, because we demo all the parts we sell on our show vehicles," Babb explained.

Babb's marketing is working. The company's revenue has increased steadily, even as the automotive market has tanked.

Automotive aftermarket sales are down about 1.5 percent this year, according to the Maryland-based Automotive Aftermarket Industry Association. It's the first decline the market has seen in more than 12 years. And 2010 isn't looking any better.

But Babb's turtle vs. hare approach is paying dividends. Gauge's revenue is projected to be up $800,000 over last year.

Gauge Store, which operates with a 30-percent margin, now accounts for 60 percent of the company's revenue. The magazine accounts for 20 percent. But Babb thinks his plan to upgrade the Web site next year and add more news content will boost advertising income.

The business that was started on a first-generation iMac is now powered by a room full of servers that blaze information to customers via high-speed connections.

Amid all the mistakes, Babb said, "We did one thing right."

"We stayed true to what the dream was: an operation by auto enthusiasts for auto enthusiasts."•