Sarah Fisher Racing moved just a few suites down from its Park 100 facility, but team officials said it's a big move
for the Indianapolis-based Indy Racing League operation.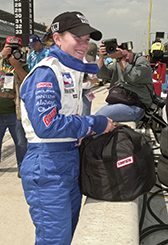 Sarah Fisher is one of the few IRL team owners
growing her operation. (IBJ File Photo)
At 15,000 square feet, the new facility is triple the
size of the team's original home, featuring a "design area and state-of-the-art machine shop,"
according to team owner Sarah Fisher.
Fisher for the first time has
added a second car to her team. She said the former location was simply too small to house the expanding
enterprise.
Earlier this year, Fisher signed an expanded sponsorship
package with Dollar General Stores to put her on the track for nine races in 2010, and in November, Fisher
signed a deal with AAA Hoosier Insurance for 2010 and 2011.
Please enable JavaScript to view this content.