Indy Racing League driver Danica Patrick's move to NASCAR could pay off for Indianapolis-based MainGate Inc.
On Dec. 8, Patrick announced she will drive a limited number of races in the NASCAR Nationwide Series. Her first race
will be Feb. 6.
MainGate holds an exclusive license to make and sell Patrick's IRL-centric merchandise,
and is now in negotiations with New York-based IMG, which represents Patrick, to get part of her NASCAR-related business.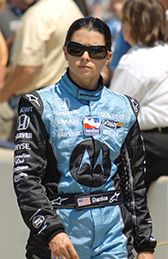 Sports business experts think Danica Patrick's crossover to NASCAR could boost the IRL. (IBJ File Photo)
Patrick's
main representative at IMG, Alan Zucker, also represents Peyton and Eli Manning.
MainGate President Dave Moroknek
thinks Patrick's NASCAR merchandise sales could easily match her IRL merchandise sales. While sports marketers estimate
racing fans buy $6 million to $10 million worth of Patrick's IRL merchandise each year, Moroknek would say only that
Patrick sells more merchandise than all other IRL drivers combined.
If Patrick becomes a big NASCAR star, her
stock-car merchandise will likely dwarf anything she made in the IRL. Top NASCAR stars such as Jeff Gordon and Dale Earnhardt
Jr. sell about $30 million each in NASCAR-related merchandise annually, according to sports marketers.
"From
every indication, the sale of Danica goods when she signs with NASCAR is going to be absolutely huge," Moroknek said.
And Moroknek thinks the crossover will be good for the IRL as well.
"She has a real shot at being
the first successful female driver in NASCAR history," Moroknek said. "And if that happens, watch out. I think
you'll find people that follow Danica, will follow her in all the series she participates in."
Please enable JavaScript to view this content.