Bruce White joined Bennett Music in 1989 as the sole director, cameraman and editor in a new division called AB Video.
Clients jokingly referred to the operation as "all-Bruce video." White, 48, still runs the show, but now
he owns the renamed Bennett Innovations, a seven-person production house that counts among its clients IUPUI and Indianapolis-based
Rolls-Royce North America.
White took ownership in February 2009, one of the toughest years in company history,
but he's optimistic about the future. Greater Internet capacity has opened the door to online video with professional
quality, and businesses are loosening the purse strings.
White recently hired a second salesperson and hopes to
see revenue surpass $1 million this year.
"In late '09, people started returning our phone calls,"
White said. "It feels like the early indicators of a change."
Bennett's offices and studios are
housed in a small building south of Broad Ripple. Movie posters and album covers decorate the walls, and metal lunch boxes
stuffed with candy sit open on the conference tables.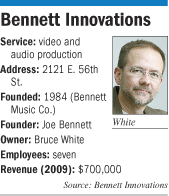 "We like to keep people hydrated and their blood
sugar high—they tend to like our work better that way," cracked Editor and programmer Mark Arenz.
Arenz
and Music Director Greg McGuirk are two of the key talents at Bennett Innovations, founded in 1984 by marketing consultant
Joe Bennett. White said Arenz has worked hard to ensure that Bennett's videos can be delivered easily online or through
e-mail, iPods and iPhones.
McGuirk, who plays keyboard with singer Jennie DeVoe, is a versatile jingle writer.
Just for fun, he cranked out a Super Bowl pep song, "Blue Sunday," the day after the Indianapolis Colts won the
AFC championship.
The team can make anything from in-house training videos to national-quality television commercials,
White said.
Last year, they produced a series of TV spots for IUPUI that featured Chancellor Charles Bantz.
"Our chancellor didn't like being in front of the camera, but they really made him comfortable,"
said Troy Brown, executive director of marketing for IUPUI. "That's probably why that relationship will continue."
IUPUI also hired Bennett to make commercials and presentation videos for the School of Education and to shoot footage
for spots that will tout the athletic program, Brown said.
Video production has always been a competitive business.
The affordable tools that hit the market in the late 1990s turned the heat up even higher.
"Pretty soon,
everybody had a camera, and everybody had a Mac," White said. "I had friends who were losing jobs to a high school
kid in their basement."
Bennett began striving to overcome its original low-budget reputation. White emphasizes
quality and service, especially for companies that need to maintain a polished image. The firm works closely with marketing
and public relations teams so the product fits the client's message, he said.
"We try to stay focused
on the goal, rather than the nuts and bolts."
Mark Jeffrey, a senior lecturer at Northwestern University's
Kellogg School of Management and the author of "Data-Driven Marketing," said companies place a premium on firms
that can deliver a whole package of print, video and online tools.
Thanks to Youtube, however, do-it-yourself video
continues to bring results, Jeffrey added. He noted the 7 million hits on the video of Blendtec founder Tom Dickson using
his product to blend an iPhone into dust.
"This is an example of super-low-budget advertising having a huge
impact," he said.
Marketers are seeing opportunity in how-to videos, and Bennett has landed some of that
business. One client is a group of heating and cooling companies, which have found that educated consumers will spend more
on their services. So their marketing firm hired Bennett Innovations to make a series of Web-based demo videos.
For
Chase Bank, Bennett made Web-based videos about college-tuition financing.
These days, Bennett draws 80 percent
of its revenue from relationships with marketing and public relations agencies. But White hopes to see a return of business-to-business
work, which is more profitable because it can be done with a smaller crew.
Contracts with Oklahoma-based Citgo
Petroleum, Indianapolis-based Allison Transmission and Rolls-Royce fueled Bennett Innovations' growth in the 1990s.
The firm went from renting the basement of its current headquarters to buying the building, as well as one next door. By 2000,
Bennett employed 10 people, but that number has since shrunk to seven.
Corporate marketing budgets evaporated after
9/11, and remained low throughout the decade, White said. He believes executives will have to uncork the bottle soon.
"While things are difficult, you can't show a product piece that's 10 years old."•
Please enable JavaScript to view this content.