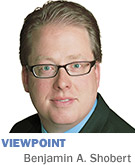 Coming to terms with the economic events of the last two years has not been easy.
For most businesses, the good news is, in 2009 they found a new center of gravity where they can profitably manage their business.
This is no small accomplishment, considering how many head-count reductions and how much idled capacity it took.
But with this stabilization comes a dawning realization, a looming question: where to go now? Many of us share a fear that
the next decade will be characterized by a stagnant domestic economy. Sometime between year end and now, your senior managers
may have gotten together and begun wrestling with this very realization.
Times like this are ripe for pioneering activities. Now that your business knows it can operate profitably even in a down
economy—no small thing—the next question is what you need to be doing to grow.
But businesses wrestle with having this conversation internally, in large part because the administrative skill sets that
were so critical to growing profitably and satisfying the needs of existing customers are typically not well-suited to this
new challenge. The foraging and exploration by companies who find entirely new markets, develop new technologies, and get
serious about selling into international markets often require new competencies.
During the dot-com 1990s, it was common for startups to have what they called an "entrepreneur in residence,"
a resource for the team whose role was to find entirely new homes for their technology. What was once a luxury may now be
a necessity, and it begs the question: Who's your in-house entrepreneur? Many businesses have clearly defined roles
staffed with personnel that may seem to bleed over into this, people who manage R&D, product managers and the like. But
what business needs is to go back to our roots, to draw upon dormant entrepreneurial energy.
To do this we need to find and empower individuals whose job is to wander and wonder, to explore and strategize. Such a message
might seem most sensible for high-technology industries, but this sort of in-house entrepreneurship can be practiced by the
most traditional of industries.
Here's the thing: Without realizing it, or without being able to describe it as having an "in-house entrepreneur,"
companies in emerging economies like Brazil, China and India practice this every day. Many are run by founders, so thinking
like an entrepreneur comes easily. They do not mind the chaos that tends to characterize their cities, or the fractured distribution
channels across their country: They have an innate ability to adapt and overcome these. But many also rub shoulders with large
social problems. Their response is to see these as business opportunities, problems that can be solved with the right combination
of innovation and engineering.
Over the last several years, in particular as our own economy has slowed, it has become increasingly common to hear people
express concerns over jobs lost and factories shipped overseas. While these are all important questions, perhaps they overlook
a more significant concern: Have we exported our entrepreneurial capacity? Have we become so focused on product-line extensions
and incremental features and benefits that we have forgotten how to engage in pure missionary activity?
If we have, maybe now is a good time to revisit this and ask, "Who's my in-house entrepreneur?"•
__________
Shobert is managing director of Teleos Inc., a local firm specializing in taking products and technologies to market.
Please enable JavaScript to view this content.