Indianapolis' new public safety director says the city's pound is woefully underfunded. But he also takes umbrage at critics who call it a dirty death row for unwanted cats and dogs.
"That's an inappropriate criticism of the facility," said Frank Straub, 51, a former public safety commissioner in White Plains, N.Y., who assumed his post here in January.
While Straub acknowledges the description might have fit before Teri Kendrick, a former city prosecutor, became executive director of Animal Care and Control in October, "it's not what it is now. It's an extremely well-run facility, and the animals are extremely well cared for."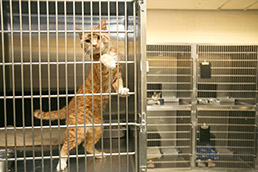 A six-month-old male cat who is up for adoption at Indianapolis Animal Care and Control. (IBJ Photo/ Perry Reichanadter)
Straub and Kendrick are attempting to turn around ACC, a troubled city department that made headlines last year when Mayor Greg Ballard fired its former director, Douglas Rae.
Like their predecessors, Straub and Kendrick are struggling to solve one of Indianapolis' most intractable and unpleasant problems: what to do about the thousands of unwanted pets—some cute and cuddly, others ill or vicious—that annually end up on the streets, then in the city's shelter.
The pair shares Mayor Greg Ballard's philosophy of smart Six Sigma management, tightly controlled budgets and, ultimately, individual citizen responsibility. And they've taken early steps toward an ambitious goal: entirely eliminating the city's need to euthanize an animal due to lack of space.
Kendrick and Straub are aiming high thanks largely to an emerging coalition of volunteer groups called Indy's Animal Welfare Alliance. Together, alliance members have crafted a 10-year plan to share and reduce ACC's load.
"The end game should be that we put ourselves out of business," Straub said.
That's clearly a long way off. ACC, which has 32 employees and another seven currently vacant positions, has an annual budget of just $3.5 million—a figure Straub flatly calls "insufficient" given its enormous task. The ACC is responsible for safely removing every unwanted stray cat and angry pit bull roaming the city's streets. In February alone, ACC received 1,910 calls for service. More than one-quarter were priority one, meaning the animal was aggressive.
Then there's kennel capacity. The city's shelter at 2600 S. Harding St. has space to accommodate a maximum of 301 dogs and 126 cats. Last year, ACC received 8,141 dogs and 6,343 cats.
Only about 13 percent of cats and 8 percent of dogs were adopted.
It used to be worse. In 1999, ACC and the Indianapolis Humane Society euthanized a combined 22,000 animals. By 2008, that figure dropped to 12,000.
The Humane Society has made the most progress. The not-for-profit, which handles fewer than half as many animals as ACC, has a $2.8 million budget and euthanizes only about 10 percent of its animals. Meanwhile, ACC is often stuck with the hardest-luck cases.
"We are not required by law to take in every animal. If someone brings a horse to Animal Care and Control, they have to take it in," said Humane Society Executive Director John Aleshire. "So Animal Care and Control is then left with decisions it has to make about euthanasia."
"I have no doubt Teri and her management staff are doing the best they can with the resources they have," he added. "She has nothing but my undying admiration. It's a very tough job."
A grim tour
Straub and Kendrick encourage people to visit the city shelter—and preferably stay to volunteer, then take home a furry friend or two. There's no denying it's a grim place, despite their clear attempts to spruce it up.
Cats are kept in rooms filled to the ceiling with rows of steel cages. Two adoption kennels contain the cream of the canine crop. These dogs and puppies have passed health and behavior screenings. Their brief posted histories often involve heartbreaking stories of owners who simply didn't want them anymore.
Next door are the temporary kennels. City law requires ACC to hold every stray it receives for four days, giving owners an opportunity to reclaim them. It's much louder in here, because some of the concrete pens also hold truly scary-looking dogs the city has seized in raids of drug dealers' homes or from dog fights.
On a recent tour with an IBJ reporter, Kendrick, 50, paused to apologize for the "smell of death in the air." She went on to explain that the shelter's freezer was on the fritz, and Indianapolis' Department of Public Works had failed to make its scheduled pickup of carcasses the previous day. Kendrick wondered aloud what reward to offer employees who volunteered to wear hazmat suits and clean up the decaying animals.
That's the reality of ACC, locked into an aging facility and a strict budget.
Kendrick doesn't want to cast aspersions on her predecessors, but said that, when she took over ACC, she found nearly 1,200 animals crowded inside a shelter with capacity for 427.
Administrative offices were overflowing with temporary cages, Kendrick said. Cats roamed free in the breakroom, wrecking furniture. She pointed to stains on the floor where she found feces, urine and blood.
Hard choices are ACC's daily grind. And it traditionally hasn't spent much for professional help to make them. This month, ACC released a request for qualifications from veterinarians willing to assist. Last year, the contract with its sole vet required just 10 hours of visits per week, spread across three weekdays.
That's 520 hours of vet attention for 16,569 animals, or less than two minutes each. Critics are appalled at that equation.
"A place that houses the number of animals Animal Care and Control does needs a full-time vet, not one that comes in 10 hours a week. There just can't be any kind of care of substance with this skeleton provision," said Warren Patitz, the former president of ACC's advisory board, whom Ballard dismissed in September.
"Right now, what's happening is that unqualified staff are making determinations of who lives and who dies. I find that rather disturbing."
In contrast, the Humane Society, which deals with about 6,000 animals a year, maintains a pair of full-time vets on staff, plus five vet technicians.
"We don't have the luxury of treating every single ailment or injury that an animal has when it comes in," Kendrick said. "Shelter medicine, any vet that's practiced in that area can tell you, is a different animal than working in a private vet clinic."
Spay/neuter clinic
Few vets have as thorough an understanding of ACC's challenges as Dr. Phil Borst, the former Republican City-County Council president who sees patients daily at the Shelby Street Animal Clinic.
He said ACC's 16 dogcatchers long have been able to point out the neighborhoods where most stray animals originate. However, like cops in the Indianapolis Metropolitan Police Department, they can't enforce personal responsibility.
"A lot of people just don't care. That's the shame of it," Borst said. "And if you look at the rest of their life, that's how they run the rest of their life, too. Talk to police officer after police officer. They say it's how they treat their kids and property, too.
"How much money [does ACC] need?" Borst added. "It's kind of like, how much money do you need to solve crime? You just don't know."
The best way to improve ACC, animal welfare advocates agree, is by making it as unnecessary as possible. In January, the new Indy's Animal Welfare Alliance—which includes more than a dozen groups such as the Humane Society, IndyFeral, FIDO and Indy Pit Crew—released a 10-year strategy. It turns on dramatically increasing the city's spay/neuter capacity by building a low-cost clinic.
Humane Society's Aleshire is still pushing in that direction. But in the aftermath of the Great Recession, he's struggling to raise the $3 million needed.
"Nobody wakes up in the morning thinking, 'I wonder how many animals we can euthanize today,'" Aleshire said.
"The reason Animal Care and Control has so many animals is, we do not have access here in this city to adequate, low-cost, high-volume, targeted-to-low-income spay and neuter services."
Straub likens ACC's challenge to the fight against crime. He said he's planning to comb the entire public safety budget to seek resources for ACC, and will pursue grant money.
In addition to pushing for more spay and neutering servings, Straub wants to provide education in the neighborhoods, mostly on the south and east sides, that are responsible for 72 percent of the animals in Marion County's shelters.
Just as cops lean heavily on neighborhood watch programs, Straub knows ACC will need a lot of help from volunteer animal welfare groups.
"This conversation can't be all about the city, just like crime can't be all about the police," Straub said. "Everybody needs to have a role in this."•
Please enable JavaScript to view this content.