By the fall of 2024, IndyGo's Purple Line is expected to provide some of the city's most distressed neighborhoods along the East 38th Street corridor and northward with better access to jobs, groceries and safe travel.
But before the $188 million rapid-transit bus line moves its first passenger, there's still a lot of work to do. Building of passenger stations has yet to begin; all progress so far has laid the groundwork for future construction.
IndyGo broke ground on the Purple Line in late February, and construction has been on track since, said IndyGo spokeswoman Carrie Black, although she cautioned that supply chain challenges or other problems could still cause delays at some point.
"Right now, we're going through and laying the groundwork and infrastructure for the line, including some storm sewer separation, street paving, sidewalks and curb ramps," Black told IBJ in an email.
The agency has also acquired all necessary land for the line, which will include dedicated bus lanes. The Purple Line will run from downtown to the Ivy Tech Community College campus just south of Fort Harrison State Park, in the heart of Lawrence. It replaces Route 39, one of IndyGo's busiest, and will provide more frequent service.
Improvements to the rapid-transit version of the route, besides the dedicated bus lanes, include nearly 10 miles of additional or repaired sidewalks and nearly 27 miles of street resurfacing. IndyGo is also working with Citizens Energy Group on stormwater improvements.
Purple Line construction is currently causing its second major detour. Westbound lanes of East 38th Street from Keystone Avenue to Emerson Avenue closed July 11; they are scheduled to reopen in November.
Contractors have recently poured concrete for the terminus, a bus-charging facility at the end of the line, at Ivy Tech. It will include a break area for bus drivers.
The first 12 stops of the Purple Line, starting downtown, are shared with the Red Line, IndyGo's first bus rapid-transit line, which opened in September 2019. The remaining 18 stations on the 15.2-mile line, mostly along 38th Street and Post Road, will not be built until next year, Black said.
The Purple Line is partially funded by an $81 million U.S. Department of Transportation grant. The rest comes from a combination of local and federal sources.
Bloomington-based Crider & Crider Inc. is being paid $95.6 million for its work on roads, drainage and sidewalks. Indianapolis-based F.A. Wilhelm Construction Co. is building the bus stations, for $18.2 million.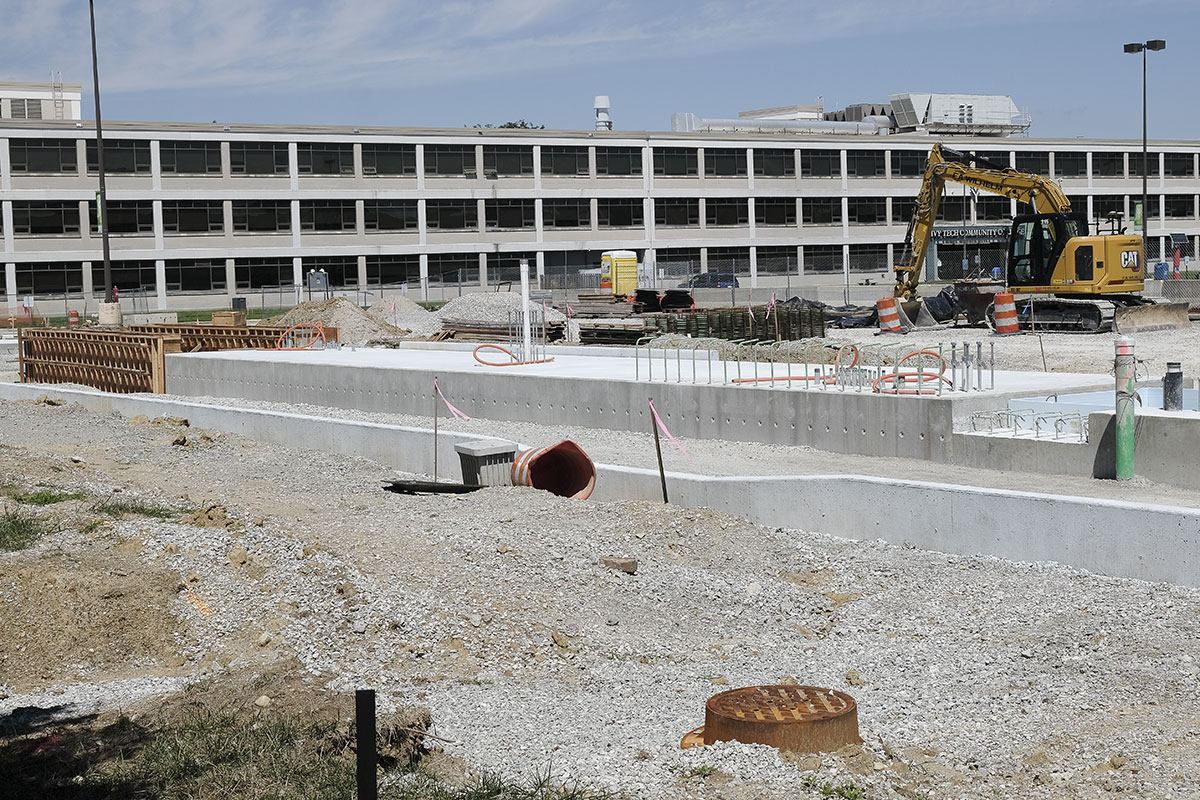 Necessary infrastructure
The Purple Line is more than a transit project, Black said. Improvements to sidewalks and road resurfacing will help the community.
While construction crews are creating a base for the Purple Line, they'll also be adding 392 curb ramps and improving stormwater infrastructure.
"In an area of the city that is historically economically depressed, this is going to mean a huge boost," she said.
The Purple Line will also link residents to some new economic development projects, most notably jobs at the new Cook Medical manufacturing facility operated by Goodwill of Central & Southern Indiana at East 38th Street and Sheridan Avenue and an affiliated grocery store under development.
The area is a food desert; nearly 6,000 nearby residents live over a mile from the nearest grocery store, according to a study by SAVI, a project of The Polis Center.
The grocery, Indy Fresh Market, will bring an estimated economic impact of $11.1 million, according to research by the Indiana University Public Policy Institute released Monday.
"When you talk about transit, you know, we're connecting people to jobs, we're connecting people to their doctor's appointments, we're connecting them to education, and we're connecting them to a grocery store so that they can get the essential supplies that they need to be able to feed and take care of their family," Black said.
The line also connects to the Indiana State Fairgrounds, which means the Indiana State Fair in 2024 or 2025 could see visitors arriving via a 60-foot electric bus.
Parking fees for the fair this summer were $10. An all-day bus ticket costs $4.
District 5 City-County Councilor Ali Brown represents Lawrence and noted that the area needs user-friendly public transportation.
"There's a severe lack of infrastructure, whether it's sidewalks, crossings—safe ways to cross Post Road, safe ways to cross 38th Street—that this will also provide," Brown said.
She said she's heard from her constituents about the need for the line, which will create more food access. One Purple Line stop will be right in front of a senior living community, which will help its residents attain groceries, Brown said.
But until more local lines are created—along with more sidewalks—the Purple Line will only begin to address Lawrence's public transportation needs, she said. "I am a big proponent of mass transit, and I'm very happy for it, but it's not enough."
Expanding local lines is complicated because it requires cooperation among Indianapolis, IndyGo and Lawrence, Brown added.
Mixed reviews
Republicans on the City-County Council haven't been as supportive of IndyGo's rapid-transit lines as the majority Democrats.
Republican District 25 Councilor Brian Mowery, who represents southeastern Marion County, has expressed concerns about the rapid transit lines in the past and they remain.
Mowery said his concerns began with the purchase of the BYD buses used on the rapid-transit lines; they failed to meet the contractually specified battery travel range.
This required BYD, which stands for Build Your Dreams, to spend millions on en route charging infrastructure and equipment retrofits. As a result, IndyGo withheld payment for the buses.
Black said IndyGo still has not paid BYD, but discussions continue.
The transportation agency will spend $52 million on the buses for the Purple Line from the China-based manufacturer. The current infrastructure, like the stations and chargers, are built to BYD's bus height and specifications.
Mowery also expressed concerns about the dedicated bus lanes, which can slow car traffic.
"Unfortunately, Indianapolis does not have that same infrastructure set up to where we can afford to give up lanes to buses," Mowery said.
Black said the dedicated bus lanes provide some traffic calming.
"It eliminates what sometimes can be a little bit of a raceway for cars," she said.
Speed was identified as a common contributing factor in the 160 crash-related metro-area deaths identified from 2016 to 2020 in a recently released Indianapolis Metropolitan Planning Organization draft of the Safe Street and Roads for All plan.
The plan studied parts of Boone, Hancock, Hamilton, Hendricks, Johnson, Morgan and Shelby counties as well as Indianapolis.
Revenue outlook
General ridership at IndyGo suffered from the pandemic. In 2019, it recorded 9 million passenger trips; that number dropped to about 5 million for 2020 and 2021.
The rapid-transit lines are set up for passengers to pay at the platform before boarding. Concerns over fare avoidance on the Red Line have risen recently, but Black said IndyGo believes the problem comes mostly from a misunderstanding of fee policies.
For its debut, the Red Line was free. Then, a fee was charged. Through most of the pandemic, the fee was again waived.
So now, IndyGo is launching an education campaign, Black said. This will include increased signage and inspectors to educate riders who haven't paid the fare, she said.
"Eventually, it will transition more into, you know, a fine or something like that down the road," she said. "But we just want to be clear we're not trying to be punitive anytime soon."
In IndyGo's 2023 proposed budget, fare revenue is noted as a "challenge area."
The budget assumes fare revenue next year will mirror the $5.2 million collected in 2021.
In the years following 2023, IndyGo is expecting fare revenue to bounce back, growing 5% a year.
Overall 2023 revenue is projected to remain solid despite the estimated dip in fare revenue because of a 30% increase in federal funding. Of the organization's projected $129 million in revenue, $29 million is federal assistance. Almost $50.1 million will be put toward the Purple Line in 2023, with an additional $15.6 million in 2024.
IndyGo will submit its proposed budget to the City-County Council next month.
It includes capital spending of $122.6 million, and a five-year capital improvement plan of $580.9 million for rapid transit, on-street infrastructure, facilities, fleet and information technology projects, according to IndyGo documents.•
Please enable JavaScript to view this content.