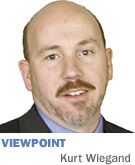 Sixteen years ago, I was part of a team given the task of estimating the total cost
to repair substandard housing in low-income areas on the near-east side of Indianapolis. I worked for a not-for-profit that
did housing rehabilitation and we needed to understand the overall magnitude of the problem.
The total estimated cost to repair the roofs, foundations, furnaces, etc., in our target area was overwhelming. The exact
figure isn't important; the point is that there weren't adequate government programs, grant sources or tax-credit
financing to begin to fund the scope of work that was needed.
Why were other neighborhoods not faced with the same vast and unmet need? The obvious answer is private investment. Individual
property owners in other neighborhoods paid to maintain their own property.
To be fair, some areas of the city—such as Fall Creek Place, Fountain Square and the Central Canal—have received
public money that has provided a catalyst for private investment. Other areas—such as Woodruff Place, Cottage Home,
Fletcher Place and Irvington—have revitalized a little less suddenly; however, in every case, where neighborhoods
are well-maintained or restored, it's because of a large amount of private investment by individual homeowners.
The message to neighborhoods couldn't be clearer: It's absolutely essential to attract and retain middle-class
homeowners with the resources to invest in—and maintain—their own homes, as well as support surrounding businesses.
The message to the city, not-for-profits and community leaders is that providing an environment that encourages middle-class
homeownership and investment in the core of the city should be a defining organizing idea.
There are many thoughtful people who are offended by the potential displacement of low-income people from older neighborhoods.
However, the reality is that, with few exceptions, in Indianapolis, it simply isn't on the radar. Census data show the
trend over more than four decades has been the dramatic loss of middle-class families from neighborhoods, not the displacement
of poor people.
How did we get the idea that it was advantageous to low-income families to be housed in dwellings that need significant and
unaffordable repairs? With the needed investment, many of these homes can be real jewels. But without that investment, they
are unsafe, difficult to maintain, costly to heat, and have unpredictable expenses.
And the problem isn't just housing. It's often not advantageous for low-income families to stay in neighborhoods
where poverty is concentrated. Entry- and second-level employment opportunities tend to be in the suburbs, not downtown. With
the notable exception of some charter schools and Indianapolis Public Schools magnet programs, the township public schools
are probably better. Retail is often nonexistent in poor neighborhoods because income demographics don't support it.
We need only look at the shuttered businesses that litter East Washington Street to see the results.
By now, we have several decades of experience to show that concentrated poverty simply doesn't work. Unfortunately,
when things don't work, our instincts often lead us to precisely the wrong conclusion—that we need to do the same
thing, only more of it. If only we had more housing subsidies, if only the schools had more money, social programs, etc.
It's said that bankruptcy is nature's way of telling a business owner he should be doing something else. Likewise,
we should make a realistic assessment of parts of the city, recognize that they are unviable, and dramatically change our
approach. It's time to stop focusing low-income programs in urban neighborhoods in Indianapolis, as well-intentioned
as they are, and instead coordinate efforts to aggressively compete for middle-class homeowners. The future of the neighborhoods
and the city depends on it.•
__________
Wiegand is information technology director for a local company. He previously spent eight years at Eastside Community
Investments, a former neighborhood development organization.

Please enable JavaScript to view this content.