Tony George is trying to bring Formula One racing back to the United States—but not necessarily to the Indianapolis Motor Speedway.

George, who was IMS and Indy Racing League chairman until last June, was in China for several days earlier this month to attend F1's Chinese Grand Prix in Shanghai April 18 at the invitation of F1 boss Bernie Ecclestone.

While there, George met at length with Ecclestone and Zak Brown, founder and CEO of Just Marketing International, an Indianapolis-based motorsports marketing firm that represents several high-level F1 sponsors.

Brown and other sources close to F1 said George was there to discuss the series' future in the United States, examine China's motorsports sponsorship base, and meet with global motorsports sponsors who could potentially back a U.S. F1 race.


George
Despite interest from IMS and local tourism officials in bringing the event back to Indianapolis, that might not be George's intention.

The Speedway hosted an F1 race from 2000-2007, but the event left after George and Ecclestone couldn't come to an agreement that made financial sense for both sides. F1 also has hosted a race in six other U.S. cities since 1980. Each failed, primarily for financial reasons.

Still, the allure of the growing international racing circuit is undeniable.

"Certainly, a Formula One race would be a high-profile event that could boost our region on a number of levels," said Indianapolis Convention & Visitors Association CEO Don Welsh. "The international draw is very appealing."

But bringing a U.S. Grand Prix to New York is Ecclestone's No. 1 choice in returning the series to American soil, and George could be part of a deal to make that happen—and could even play a part in organizing the race, Brown said.

Oddly, Chris Pook, former head of IRL's nemesis, Champ Car, has been one of Ecclestone's recent lieutenants in establishing an F1 presence in the U.S. market.

Jeff Belskus, who replaced George last July as head of the Speedway and IRL, said George was not in China representing the Speedway or IRL. Belskus added that he was not apprised of George's trip in advance.

Belskus said the Speedway would be interested in bringing an F1 race back under the right financial circumstances. Motorsports business experts said Ecclestone would have to lower the F1 sanctioning fee, which ranges from $10 million to $30 million annually, to make the race feasible in Indianapolis.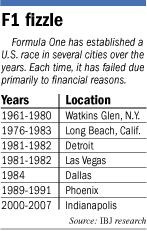 Belskus added that he does not think George would work against Hulman-George business interests.

"I believe we have a good relationship with Tony," Belskus said. "That's how I'd characterize it."

The Speedway and IRL's board fired George after last year's Indianapolis 500. The board—which is composed of George's three sisters, mother and family attorney—offered to keep George as head of the IRL, but he declined.

George continued to operate his IRL team, Vision Racing, through 2009, but folded it earlier this year, citing lack of sponsorship money.

George sunk $30 million of the Hulman-George family fortune into building the 2.6-mile serpentine road course and other infrastructure needed for the USGP at the Speedway. George earlier this year resigned from the board of the Hulman-George family of companies, and protecting and maximizing a return on that investment may no longer be his primary interest.

Ecclestone has made it clear that he prefers to put an F1 race in a city larger than Indianapolis. Though there is no formal relationship between George and Ecclestone, George could be a player in the deal to get that done, sources close to the discussions said.

"Would Tony George love to broker a deal to bring back a U.S. Grand Prix? Sure," said Brown, who confirmed his part in the discussions between George and Ecclestone.

Ecclestone has invited George to several F1 races this year and was eager to hear the IRL founder's input on bringing F1 back to America, Brown said.

"Tony has a lot of contacts in motorsports, and he knows how to put on a U.S. Grand Prix," Brown said. "I think if there's a role for Tony in trying to bring Formula One back to the U.S., he'd be willing to help. Tony and Bernie have a very good relationship, and Tony has a lot of interest in seeing F1 return to the U.S."

Given his departure from the Speedway, it's difficult to say where George's interests in F1 lie. Brown said George simply wants to see motorsports of all types flourish domestically.

Ecclestone also has an eye on other U.S. markets, including San Francisco, Las Vegas and Miami. Brown said long term, Ecclestone may have interest in holding two races on U.S. soil. F1 sponsors have not been shy about voicing their interest in getting into American markets.

A major thrust by F1 into the United States could imperil IRL sponsorships and other business interests, said Tim Frost, president of Frost Motorsports, a Chicago-based motorsports business consultancy.

Randy Bernard, the IRL's new CEO under Belskus, didn't discount that notion.

"Anything in the entertainment world from the NFL to F1 is a competitor," Bernard said.

He hedged when asked if bringing F1 back to the IMS would be in the best interest of the financially struggling IRL.

"If it is good for the Indianapolis Motor Speedway, the city and the state, who am I to make a formal opinion to the contrary?" Bernard said. "But if it failed … the last time it was here, why would it come back?"

Brown thinks F1's U.S. growth would help all domestic motorsports.

"It would only increase the spotlight on the sport of racing, and that's good for the Indy Racing League," Brown said.

A return by F1 to Indianapolis would undeniably boost the Speedway's image as a premier motorsports venue, Frost said. But if F1 shuns the Speedway for another market, that could damage the facility's reputation.

"If the world's top level of motor racing returned to the U.S. and didn't locate at the Indianapolis Motor Speedway, you'd really have to scratch your head," Frost said.

George, who could not be reached for comment, would appear to have at least some interest in seeing an F1 event run at the track owned by his family's business empire.

"He still has an ownership stake in the Speedway," Frost said. "I'm not sure why he would work to bring it anywhere else unless he's simply convinced it wouldn't work there."•