Top Honoree, Community Achievement in Health Care

Riley Children's Health Well Newborn Team at Indiana University Health Methodist Hospital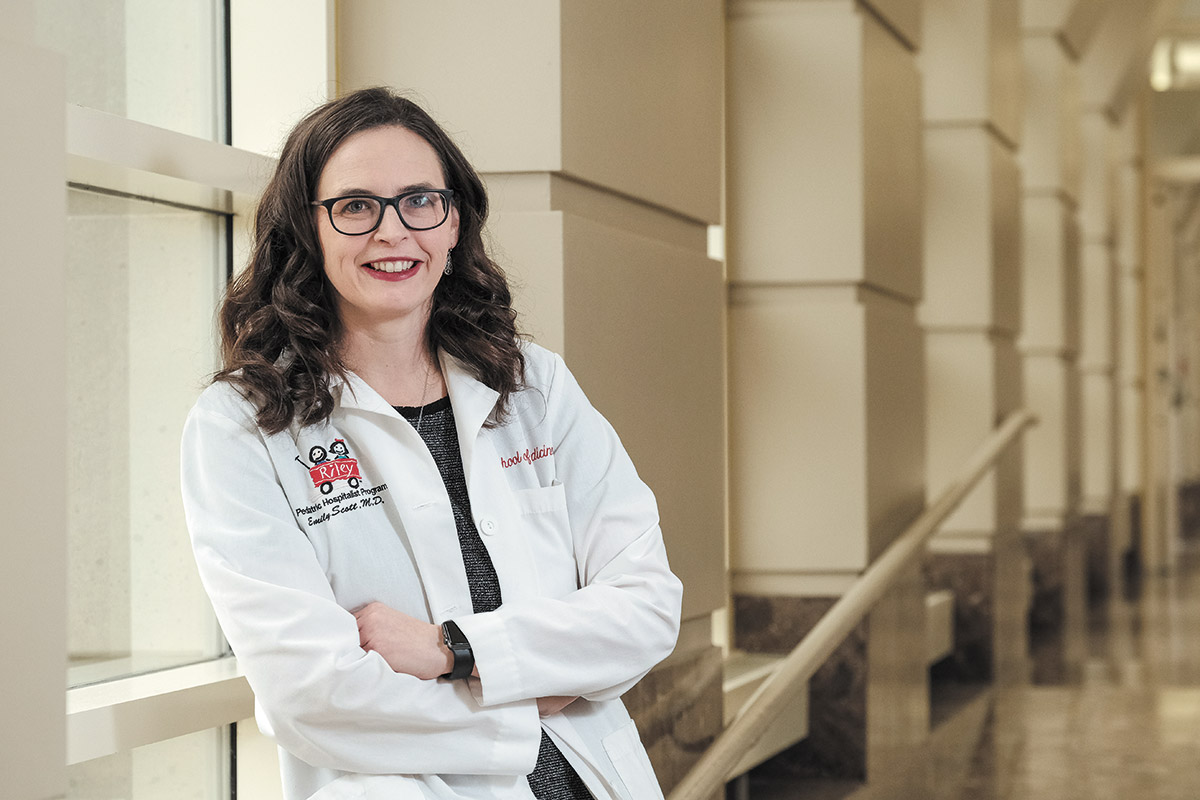 For opioid-exposed babies, Mom is the best medicine.
That's the principle that guides the work of Dr. Emily Scott, medical director of the well newborn unit at Riley Children's Health, and her team at Indiana University Health Methodist Hospital.
Scott moved into her role in 2014, at about the same time the unit was seeing a spike in the number of opioid-addicted mothers. The crisis presented a challenge to Scott and her team, but it also came with an opportunity to rethink how to give drug-addicted mothers and their babies the best care.
"We didn't have a standardized approach to dealing with these moms and babies," Scott said. The care team of physicians, nurses, lactation consultants and social workers knew only that the babies required more care and more time in the hospital. While the moms were being sent home in two days, the babies stayed for at least five and were then assessed to determine if they needed morphine to cope with their addiction.
The separation made the parents feel like spectators in their child's care. And it caused stress for the babies. "They were fussier and more upset when we took them away from their moms," Scott said. But the babies would calm down immediately when they were reunited. At about the same time, published research began to come out that supported what Scott's team had already figured out: Even where substance abuse is involved, babies almost always do better with their moms.
The standard protocol quickly shifted, resulting in happier moms and fewer babies who needed morphine to wean them off their addiction.
Five years into the new model of care, its effectiveness is borne out in recently released statistics. When Scott's team began keeping track in 2017, about 50% of opioid-exposed babies required morphine. In 2018, the number dropped to 39%, and last year, the number dropped to 30%.
For their work to improve care for opioid-exposed babies, the Riley well newborn team at Methodist is the top honoree in the Health Care Heroes Community Achievement category.
The team's "hugs before drugs" approach ideally starts long before the baby is delivered. Mothers in the hospital's Maternal Recovery Program get prenatal care in a group setting over 10, two-hour sessions. The classes cover standard pregnancy topics but also emphasize relapse prevention, breastfeeding, infant safety, smoking cessation and best practices in dealing with Neonatal Abstinence Syndrome, which can cause irritability, restless sleep, stiff muscles, gastrointestinal problems and tremors in exposed babies.
Since the program started, neonatal intensive care unit admissions have dropped significantly and breastfeeding rates for the mothers is higher than the hospital's overall rate.
Scott said her team typically delivers six to 11 opioid-exposed babies a month. The majority have mothers who have been through the special prenatal training and who have been drug-free at least 30 days, the minimum required for safe breastfeeding.
But even drug-addicted mothers who show up to deliver without any
preparation are treated with the same standard of care.
"We treat the babies the same way medically, and we try to empower the mom," said Scott, who has observed that having a baby often motivates women to break their addiction.
The entire well newborn team is trained to treat all mothers with respect and to "not look for the worst in the baby, but look for the best."
The good is easier to find when the baby spends time with Mom instead of alone in the NICU.
The decision to put a baby on morphine to help with withdrawal is made largely based on observation, Scott said. After five days, caregivers use a 21-point assessment that tracks symptoms of withdrawal. Scott said that, in the next year, her team will transition to the much simpler "Eat, Sleep, Console" model, which clears babies to go home without morphine if they are eating well, can sleep for an hour uninterrupted and can be consoled within 10 minutes.
Babies who pass the test and go home without medication are still likely to suffer some withdrawal symptoms. Preparing parents to deal with those symptoms and making sure the family has adequate support is a big part of the program, Scott said.
Dr. Patrick Clements, a pediatric hospitalist for Riley Children's Health, said a huge benefit is the potential for the program's best practices to be replicated elsewhere. Medical students and residents rotate through the program every month. "They get to understand best practices for providing compassionate care to these parents and their families—a lesson they can take with them to benefit their future patients."
The biggest reward for Scott, besides healthy babies, is seeing the potentially life-changing lift her team's non-judgmental approach gives mothers, most of whom enter the program with a lot of guilt.
"They often come in with the expectation that we're going to blame them," she said. "When they leave, they say, 'You didn't blame me. You treated me like a mom, not an addict.'"•
Please enable JavaScript to view this content.