As much as I admire the work of firefighters, I'm not certain that rescue photos are the best choice for decoration in a dining establishment.

That is, however, one of few criticisms after my first visit to Firehouse Subs, a Jacksonville, Fla.-born national chain making a push into the Indy market. Founded by firefighting brothers with a family history in this dangerous service, Firehouse Subs mostly succeeds in its effort to introduce hook-and-ladder spirit and real-life-action-hero portions to a crowded sandwich market. I sampled the goods at the Pyramid Place location (3516 W. 86th St., 334-1471) but there's another in Avon and, if management is to be believed, many more on the way.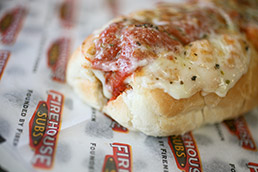 Meatballs are bathed in melted cheese on a signature sandwich at Firehouse Subs. (IBJ Photo/ Perry Reichanadter)
The emphasis here is on steamed sandwiches (without microwaving) and the highlight of my visit was the Firehouse Meatball (like all the hot specialty subs, $5.49 for an 8-inch medium, $7.89 for a 12-inch large). I don't often order meatball sandwiches at fast-food eateries—even those I trust with hamburgers. But I may change that rule thanks to this combo of hearty, flavorful meat, sweet Marinara sauce, Italian seasoning, cheese that's duly melted, and a sub role that's up to the job. I sided it with a cup of Firehouse Chili ($3.49), which was miraculously still steaming even after I devoured half of my sandwich. One of the Firehouse gimmicks is a wide array of hot sauces available for supplementing (including its own, available for takeout in hydrant-shaped plastic, $5.99). This chili didn't need the accenting.

You'd expect a place with a name like this to give some gimmicky monikers to its goods. The Engine Company stacked smoked turkey breast and roast beef under a blanket of melted Monterey jack cheese. The Engineer Sub replaces the roast beef and Jack with Swiss and sautéed mushrooms. And the Hook & Ladder Sub features turkey breast, honey ham and Monterey Jack. Getting a sandwich "Fully involved" means adding mayo, mustard, lettuce, tomato and onion and siding it with a dill pickle spear. Our order didn't quite make it out to the table as initially ordered, but the friendly staff was quick to put together a redo.

Chain sandwich shops usually don't show a lot of variety in the beverage department, but here there's the non-carbonated choice of Firehouse's original Cherry Lime-Aid. A little thing, perhaps, but one that helps Firehouse step out from the rest. And this is the only place where $2 buys you a five-gallon pickle bucket. Proceeds benefit the Firehouse Subs Public Safety Foundation, which helps emergency services.•

–Lou Harry

__________

Third in our month-long series of "elemental" restaurant reviews.