This month, we're celebrating the all-American red, white and blue Fourth of July with an all-American restaurant and ones with red, white and blue in their names.

First up, All-American Clubhouse (3951 S. Meridian St., 781-1386). In the spot that used to house Oliver's, Gia Bellas and others, the Clubhouse's fairly non-descript exterior makes it an easy drive-past.

Its website doesn't do it many favors, either. Visit www.allamericanclubhouse.com and you'll find the Clubhouse's cartoon logo barmaid and a naughty looking live model, both clad in bust-enhancing referee garb.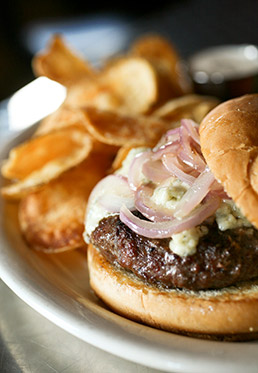 The Blue Cheese Grilled Onion Burger is a highlight of the All-American Clubhouse menu. (IBJ Photo/ Perry Reichanadter)
OK, you'd be justified in thinking, this is Hooters without the franchise.

You'd be wrong.

All-American Clubhouse is actually a family-friendly, non-smoking neighborhood pub. Its personable staff and ubiquitous (but turned down to a reasonable level) TV screens helped make our visit a pleasure.

Of course, it helped that the kitchen serves a consistent, if minimal, menu of traditional tavern offerings. Turns out that Karl Benko (with a track record that includes Peterson's and Sullivan's) and Stephen Graham (Tastings at the Conrad, Iozzo's Garden of Italy) had hands in crafting the lineup.

Without ever straying beyond the average bar patron's comfort zone, the Clubhouse's attention to detail pays off. Jumbo Wings ($8.95 as an appetizer, $15.95 as a two-pound entrée) aren't freakishly large, but substantial and appropriately sided with carrots and celery (we've griped here in the past about eateries that consider the veggies "extras").

The pizzas, using hand-pulled dough, range from a $10 cheese pie to a $15.95 All American with pepperoni, Italian sausage, ham, bacon, ground beef, caramelized garlic and a house cheese blend. We enjoyed a Margherita version ($10.95) with fresh Roma tomatoes and a light garlic taste. We took half of it home, where it warmed up nicely a day later.

We spent more time sampling from the sandwich menu, which is highlighted by the Blue Cheese Grilled Onion Burger ($8.95). Like the BBQ Chicken sandwich ($6.95) and the well-above-average Beer-battered Cod sandwich ($8.95), it came on a soft brioche bun. Sides include the always-tempting fresh-cut French fries, but the kitchen also adeptly fries its own potato chips.

What was missing? Well, we didn't see a deep-cleavaged referee, but that was perfectly fine with us.•
__________

First in a month-long series of reviews of red, white and blue eateries.