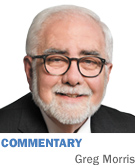 Making wellness a priority in your company is not a new idea. We've had a wellness program at IBJ for seven years. However, it became clear to me recently that we have only been scratching the surface with what should be a top priority. Yes, we have a great program available to those who would like to participate. We have success stories to report. Yet I feel we've missed something along the way. We've failed to integrate wellness into the fabric of our culture. I suspect most of the buy-in has been because of the financial incentives put in place to promote participation, but I don't believe we have genuine overall buy-in. The reasons for that are varied.

An individual's health is a personal thing. Also, we don't like to be told what to do, and we don't like our inadequacies pointed out to us. I know I don't want to be made to feel like I'm overweight. I already know that. Please don't tell me that I should be exercising more. I know that, too. I hope Dean Wormer in the movie "Animal House" wasn't talking to me when he said, "Fat, drunk and stupid is no way to go through life, son." OK, I get it. I know I've got a lot to work on. Baby steps.

Like many other companies, we've been moving our health insurance plan to a model that rewards wellness and makes us all more aware and accountable for what we are spending for health care. Now we have to care what those drugs cost and how much that MRI is going to be. Can we still get the quality health care we need and want, but get it cheaper by shopping around? If I lost weight and exercised more, I wonder if I could reduce my prescription drug regimen. It's the new order of things.

At the start of this movement, I was resistant. I can remember saying a long time ago in a management meeting that I felt like the "breaded tenderloin police" would follow me to lunch and report back that I ate an unhealthy meal. Punishment would follow.

That was then. By now, we all should know that unhealthy lifestyle choices hurt productivity and the bottom line. But getting everyone on board is still the trick.

I have so much to say on the topics of health care and wellness, it would take days to cover. We'll continue the conversation in the months ahead. For now, I just want to say that I am a recent convert to the wellness movement. I'm talking true buy-in. Managers need to lead by example, and it is my job to weave wellness into the fabric of our company. We are ramping up our wellness efforts, and I urge you to do the same if you haven't already.

I had a little help getting passionate about wellness recently. I reviewed a very large stack of applications from companies competing to be chosen one of the Healthiest Employers of Indiana. This program, now in its second year, is presented by Indianapolis Business Journal and locally owned Mavum Consulting.

After reading the applications, I can say I'm impressed by the incredible job so many companies are doing to promote wellness in their workplace. To learn more, you should consider attending our event, which will recognize 15 companies that champion wellness the right way. We are honored to welcome Gov. Mitch Daniels as the keynote speaker. His efforts to promote good health for all Hoosiers are well-known. Several industry experts also will share useful information in multiple breakout sessions. The place to be is the downtown Westin, Aug. 24, 8-11:45 a.m. The cost is only $35 and you can register at ibj.com. We will also publish a supplement highlighting the success stories of all the finalists and winners in the Aug. 30 issue of IBJ.

As individuals, we all want to lead healthy and happy lives. As employers, we want the same for our valued employees. Let's all help one another in that pursuit.•

__________

Morris is publisher of IBJ. His column appears every other week. To comment on this column, send e-mail to gmorris@ibj.com.